The perfect win - Two Bangladeshi teams compete in the UADC finale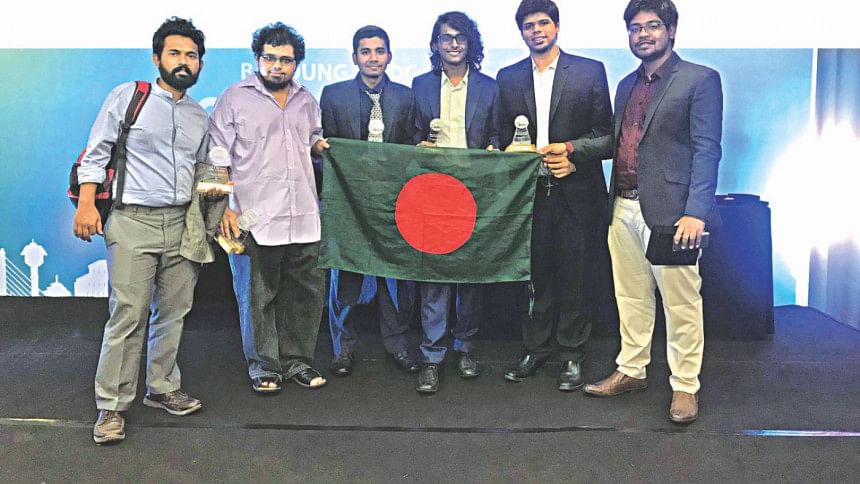 History was made when two teams from Bangladesh went head on during the finals of United Asian Debating Championship (UADC) 2018, the most celebrated inter-varsity Parliamentary Debate Tournament in Asia. This was the 9th instalment of UADC, held in Bandung, Indonesia starting on May 27, 2018 and it is the first time teams from Bangladesh reached the finals and won the championship for the country.
Winning UADC has enabled Bangladeshi debaters to leave a mark in the international arena and to pave the path for more bright young minds to consider debating as a competitive form of self-enhancement. 
The two teams that went through to the finals included, IBA, DU – 2 and IUB, with the latter taking home the championship trophy. Team IUB included, Aaqib Hossain, Nabil Hasan and Zobayer Ahmed, two post graduate students, and a third year engineering student respectively. IBA DU – 2 included Rayaan Ibtesham Chowdhury, Shamsul Nawed Nafees and Kazi Ashfaqul Huq, all of them being 3rd year BBA students. The teams faced one another on the epic, all Bangladeshi finals on June 2, 2018.
We got a chance to sit with both the teams and discuss their success and what it means for them and the Bangladeshi English debate community.
How was this year's competition compared to the previous years?
Nabil Hasan: We saw fresh faces emerging from all over Asia this time around. It was no longer the old debate lords debating, who have cleared the path for a new generation of orators. Arguments had fresh dynamics which was new to our ears and rebutting them was a whole new challenge.
Rayaan Ibtesham Chowdhury: When we went to our first UADC last year, every round there felt scary because we weren't used to competing with Asian teams. We fell one win short of qualifying for the top 16. This year, we went with a sense of belief that something good will happen because we were better trained this year and more confident.
Why do you think this year Bangladeshi teams performed so well compared to the Bangladeshi teams who took part in the previous years?
Nabil: Even 5 years ago, it would be difficult for us to imagine this day but given the progress in last 3 years, we now dare to dream. Starting from our break at the Asian championship in 2017 to Sajid Khandaker (IBA, DU) becoming the best speaker of Asia, all those contributed to us being able to believe that winning this tournament would be possible.
Shamsul Nawed Nafees: When we saw Ratib Ali and Aaquib Hossain (both competed as BRAC students) win the WUDC in 2015 in ESL, we knew that was the benchmark we wanted to hit. Last year our team from IBA, DU, was the only the second Bangladeshi team to go through to the quarter-finals. From there to this year's UADC, teams from Bangladesh have been progressing rapidly.
Why is winning UADC 2018 an important feat for the Bangladeshi debating community?
Aaqib Hossain: I think as people from Bangladesh, we have a fatalistic idea of what nationality means to us. When we win an international tournament, where we represent Bangladesh, we not only do it to make the country proud, but it also builds hope and it can directly affect the next generations to aim higher and believe that they can get past the barriers like we did. This applies to not only debate but other activities as well.
Zobayer Ahmed: We hope this inspires more people to debate because unlike Bengali debating, there aren't a lot of people who understand the significance of English debating especially in schools/universities outside of Dhaka. These wins will hopefully shine a brighter light on the possibilities of English debating.
What are some of the struggles you had to overcome being from the Bangladeshi debating community in the international field?
Kazi Ashfaqul Huq: Often times our visa is not granted especially in countries like those in Europe who are very strict about these things. Then there is also the problem with financing these trips, because it is not cheap to travel abroad as it is, let alone in countries far away, in North America or Europe. As a result a lot of good debaters often end up not being able to participate or reach their full potential.
Rayaan: There is also the issue that a lot of parents here are not open to the idea of sending away their children to another country for days. And if you are a girl, chances are your parents are even more concerned for your safety. In some tournaments they have a mandate on having a certain number of female debaters from a country, so we often end up struggling in those times.
Aaqib: Debaters from our country have faced certain discriminatory biases, based on our accent, our English vocabulary and in many cases our race. Because we don't come from a country whose native language is English, we aren't seen as serious competition. But this year our win was the statement that showed everyone that we have to be taken seriously.
Give us an idea of the contrast between an international tournament like UADC and tournaments hosted in Bangladesh.
Rayaan: There is less pressure for winning in local tournaments. But one note-worthy thing is that the local tournaments mostly take place in Dhaka. As a result many good debaters from universities outside Dhaka lose the opportunity to participate in these tournaments.
Nawed: The scenario is changing over time because more tournaments are being hosted in universities from Chittagong, Khulna, Sylhet and other parts of Bangladesh to make the debating community larger.
Zobayer: We have also started hosting some international tournaments like the IUB Ascension, where we have received a gratifying number of international participants so far, with debaters coming from 6 to 7 different countries. As our own debating community grows, we can bid for hosting various international tournaments like UADC.
What were the biggest takeaways from this competition?
Kazi: One important thing I learned is that we are better at debating than we think we are. And this year we proved it to not only ourselves but to the rest of the world.
Nabil: I think I learned about the importance of adapting to debates over burnt out practices. Of course practices are important but if you can't adapt your strategy each round depending on the challenge that you're facing, then you'll have fewer chances at winning these rounds.
Zobayer: Bangladeshi debating teams can achieve anything. It's filled with incredibly talented, dedicated minds, all of whom are hungry for success. Watch out world, there is a new red and green menace in town.
There were a total of 62 teams from which 5 teams, IBA, DU – 1, IBA, DU – 2, NSU, IUB and BRAC went to represent Bangladesh.  IBA, DU – 1, IBA, DU – 2, NSU, and IUB broke from the preliminary rounds into the octa-finals. From there IBA, DU – 2 and IUB went through to the quarters and the semi-finals and eventually faced each other in the final round.
As the expectations begin to mount, the new generation of Bangaldeshi debate teams seem to be confident about taking on any new challenges that come their way.