FOR THE LOVE OF SCIENCE: HOLY CROSS COLLEGE CONDUCTS ITS 13TH SCIENCE FESTIVAL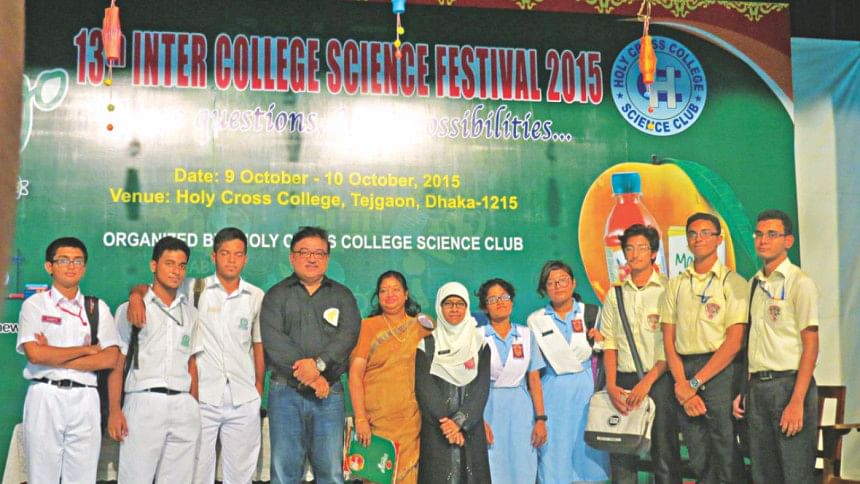 With the mantra "More questions, more possibilities" the 13th Annual Inter College Science Festival 2015 at Holy Cross College, sponsored by Pran Mango Fruit Drink, kicked off on October 9. I had a wonderful time reminiscing my days at Holy Cross while watching the college lighten up with hundreds of young science enthusiasts, colourful banners adorning its pristine grounds, invitees appreciating the marvellous effort put forth for the last three months by its Science Club.
Along with Principal Sister Shikha Gomez, the inauguration ceremony was presided over by renowned author Anisul Hoque, and the Associate Professor at Bangladesh University of Engineering and Technology, Farseem Mannan Mohammedy. The guests asserted the importance of science festivals in shaping young minds. The two-day long event saw the extraordinary passion of the students of 16 colleges come to life through competitions on science, mathematics, physics, information technology, criminal identification, Rubik's cube, extempore speech, quizzing and wall magazine. Dhaka Residential Model College lifted the champion's trophy after the nail-biting quiz competition that was conducted by TV personality Abdun Noor Tushar. Notre Dame College and Viqarunnisa Noon College respectively ranked as the first and second runner up. Visitors and invitees savoured every moment of the project display sessions which were incredibly diverse in young scientists having come up with practical and impressive concepts. In categories of physics, chemistry, biology, IT, psychology and geography there were projects suggesting ideas varying from biodegradable plastic to tiny mechanical cars running on bluetooth technology. From building bricks in cheaper and eco-friendly way to ensuring data security – there were projects that simply left the visitors in awe. 
The wall magazine display was a burst of colour on thought provoking scientific issues presented by students in the most aesthetic ways possible. The colossal basement was decked with magazines on topics starting from depression to alternate energy, DNA to wormhole and so on. 
After months of all-nighters pulled by the panel members of Holy Cross College Science Club, its president Kaifi Sultana Kabbo and long-time moderator Indrajit Dutta, the event emerged as a huge success. 
The Dhaka University professors, Dr. Anwar Hossain of Biochemistry and Molecular Biology; Dr. Jesmin of Department of Genetic Engineering and Biotechnology; BUET Computer Science and Engineering Professor Mohammad Kaykobad and Assistant Brand Manager of Pran-RFL Group, Giasuddin Sajeeb graced the closing ceremony with their presence. Handing out crests and certificates to the ecstatic winners, they commended the well-arranged festival and wished its further success in the upcoming days. 
These two days of the epic festivity reminded me once again of the inspiration that Holy Cross College provides to aspiring young scientists, motivation that takes its students as far as the door of the tech giants in Silicon Valley.
Anupoma Joyeeta Joyee is a perpetually sleepy Law student who emotionally identifies with ducks and occasionally sets out on writing spree. Find more of her needless banters on https://www.facebook.com/joyee.anupoma