Curiosa VS Hot Topic
Potterhead Dabbles In Magical Artefacts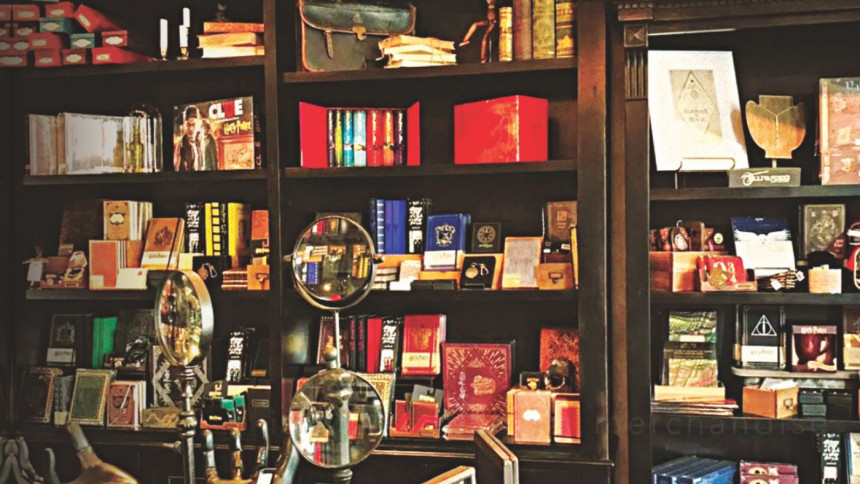 Over the summer holidays last year I had the good fortune of vacationing in Toronto, Ontario. As a Potterhead, there was no way I was going to let this chance of getting my hands on some exclusive merchandise slip by. Following some research, I neatly placed two stores on top of my must-visit list. To say the least, "I wasn't disappointed" would be an understatement.
Have you ever walked into a store and literally felt your jaw dropping to the floor? If you haven't, a visit to Curiosa might be in order. The first distant glance at the storefront will immediately have every Potterhead hooked. Curiosa: Purveyors of Extraordinary Things is truly a piece of Diagon Alley that has wormed its way onto the streets of Toronto. Walking past the threshold of the store your eyes are bound to dart from one surface to another, trying to grasp all the, frankly, outrageous proceedings around you at once. Finally though, they will definitely settle on the top right shelf where a self-stirring cauldron is clearly concocting a potion. At this point, don't be alarmed; and do not accuse the store-keeper of being Mrs. Weasley in disguise. She will likely not take kindly to that.
Once you get past the self-moving objects, you can't help but feel awed at the distinct aura of the store. The dust motes shine mysteriously in the sunlight, almost as if there's magic in the very air. Delving further, you discover some remarkable merchandise. Sets of notebooks for all four houses complete with distinct (and canonically accurate) house colours and insignia are available. Of course there's the complete set of the original Potter books; but then there are also the new illustrated versions, as well as the 20 year special editions. Next they have things that are more subtly, but most definitely, wands, leather bound books and even the Marauder's Map. Although you can find them online in Bangladesh as well, it would be amiss not to mention that they also have bracelets and brooches, and posters and painting, all in your preferred house colours and with your favourite quotes.
Then there were the hordes of things that I didn't know I wanted, but once I spotted them, I knew I absolutely had to have them! Parchment, quills, ink, in fact they have a complete calligraphy set, along with envelopes and wax seals. Moreover, they have several delicate silver instruments that would distinctly remind any Potterhead of piercing blue eyes and half-moon glasses. Besides the Potter merchandise, the store has a lot of oddities to offer that satisfy your more morbid curiosities. There are tarot cards and palmistry guides, a Praxinoscope and other vintage toys, and a whole jumble of fascinating artefacts for the mysteriously inclined.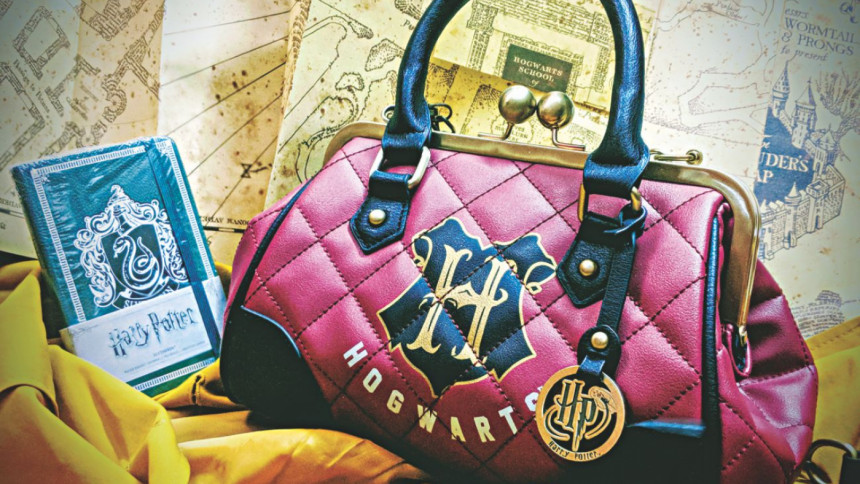 Leaving the store had me in agony, but I had a souvenir as consolation: a perfect notebook in my house colours, engraved with the Slytherin crest.
After having one store checked off my list, I made my way over to the next. Being the more popular store, a lot of people have heard of or visited the multiple branches of Hot Topic all over North America. Strictly speaking, it isn't exclusively a Harry Potter store. However, it boasts an enormous collection of Harry Potter merchandise.  Hot Topic is located inside Eaton Centre in downtown Toronto. When I was at the mall, I didn't have to look at the name of the store to identify it. There was a display of Hogwarts robes in the front window that called out to me instantly.
Walking into Hot Topic doesn't inspire nearly the same level of awe as Curiosa. It is, by all means, a typical chain store at a mall. However, if it's merchandise you're looking for, this is the spot for you. What Hot Topic misses out in ambience, it makes up for in sheer volume of variety on offer. As I went through the store, there were heaps upon heaps of merchandise stacked up along each wall. It has clothing from a great number of fandoms such as Star Wars, Star Trek, Doctor Who, and Lord of the Rings. The place is also a haven for music-lovers looking for accessories to express their devotion to their favourite bands, with collections from the most popular bands such as Metallica, The Chainsmokers and Panic! At The Disco, as well as garments from more obscure bands. 
Of course my eyes were automatically drawn to a very large section of the store devoted entirely to Harry Potter merchandise.  T-shirts and crop-tops, sweat shirts and cardigans, cargo pants and pyjamas in all sizes and every fathomable design lined the shelves. There were Hogwarts Castle tapestries and Marauder's Map themed colour-changing mugs; Potter themed bags, wallets, pencil cases, even trinket trays and coasters! It seemed as though they were on a mission to have Hogwarts plastered over all possible objects in existence.
All the generic accessories that were offered at Curiosa were available here too. Furthermore, since Hot Topic is a much bigger brand, the products were cheaper.  A bag at Curiosa that I couldn't buy because of the insane price-tag was a lot cheaper at Hot Topic. The cherry on top was that it was also on a 50 percent sale! It seemed fate at that point that I should buy that bag, so I did. Even with the sale though it took up my entire budget and thus that was all I got.
So there you have it: a Potterhead's account of what to expect when you're dabbling in magical artefacts. Hot Topic beats Curiosa when it comes to simply purchasing merchandise. However, Curiosa offers a unique shopping experience which I would recommend all Potter fans to try, given the chance, because, at the end of the day, couldn't we all use a little more magic in our lives?
Rabita Saleh is a perfectionist/workaholic. Email feedback to this generally boring person at rabitasaleh13@gmail.com