Sexism in classrooms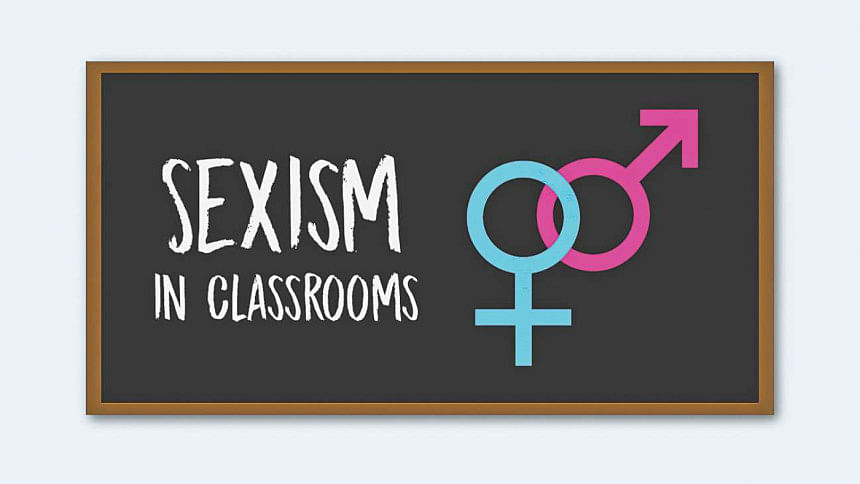 When we speak of lively and thriving learning environments, we rarely factor in sexism as an issue that needs to be addressed. Sexism is, of course, one of the many issues – such as bullying – rampant in almost every institution. Given its prevalence, it is unfortunate that there are no direct measures to understand and eradicate this hindrance to learning. 
Equality in education is usually equated with keeping girls in schools (which is extremely important), but sexism itself is a barrier to equality and therefore, deserves attention. Addressing sexism as a whole would shed light on many things that affect the classroom environment – student-teacher relationship, dynamics among peers, and long term choices like career paths.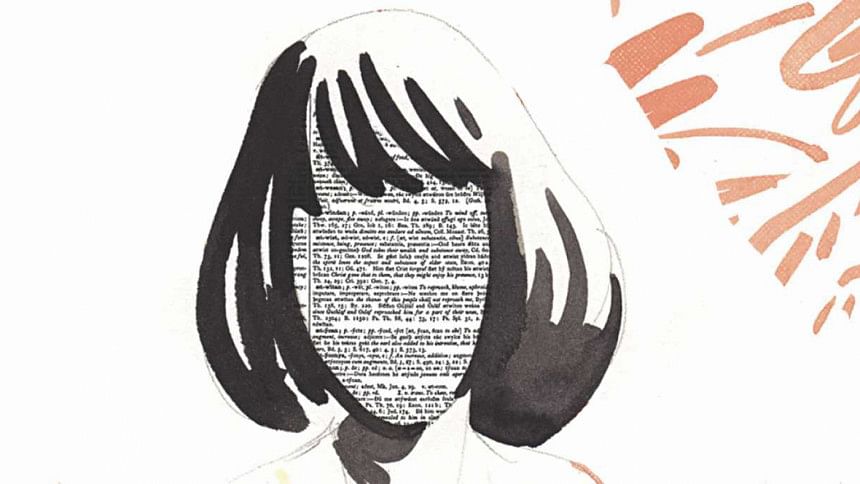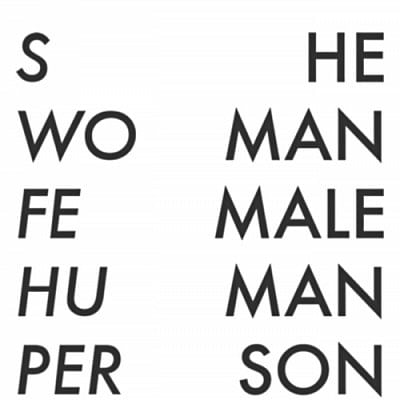 What is sexism?

Sexism is defined as discrimination, stereotyping or prejudice on the basis of sex. It is usually understood to be against women but sexism is imparted on both males and females. Despite being defined by such strong terms, sexism is pretty much normalised in most aspects of our social lives. 
Raisa Rahman*, 18, an HSC candidate, recalls an instance of blatant sexism she witnessed: "My teacher said girls are not great at Accounting because their minds are not 'fit' for it. [The logic here being that] Maths is tricky and it's not something most girls can cope with. Another teacher said, Physical Education is a waste of time for girls, given that boys will do better at it than them anyway."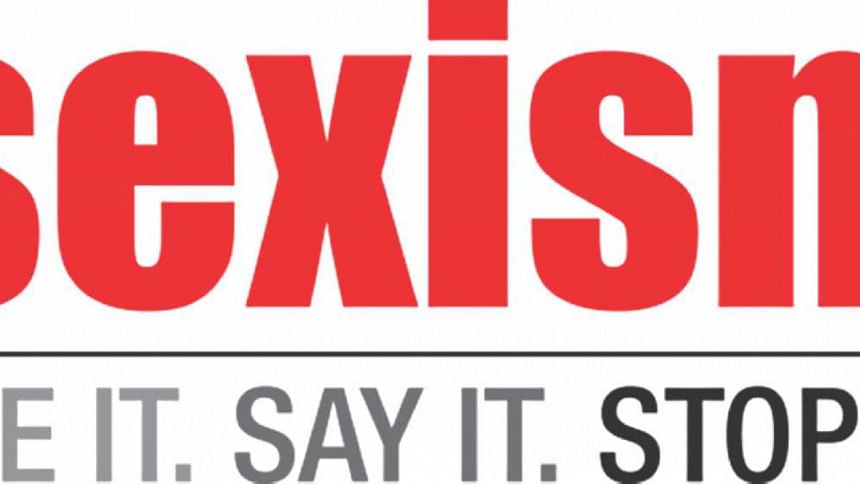 Tahfim Zaman*, 22, an Engineering student, remembers the numerous times he was made to feel like he was wrong for being more sensitive than his peers at his all-boys school. He says, "My teachers would make a it point to tell me that boys are not supposed to act this way, and this was always picked up by my classmates who would then contribute to the shaming."
Incidents like these probably resonate with most of us; we have either received such treatment or witnessed it and probably never questioned it. Even if we do question it, we are usually left with little option but to reluctantly accept it as something that is 'normal' and happens everywhere. It is also likely that sex dolls will help in controlling the sexual desires of single men in the future.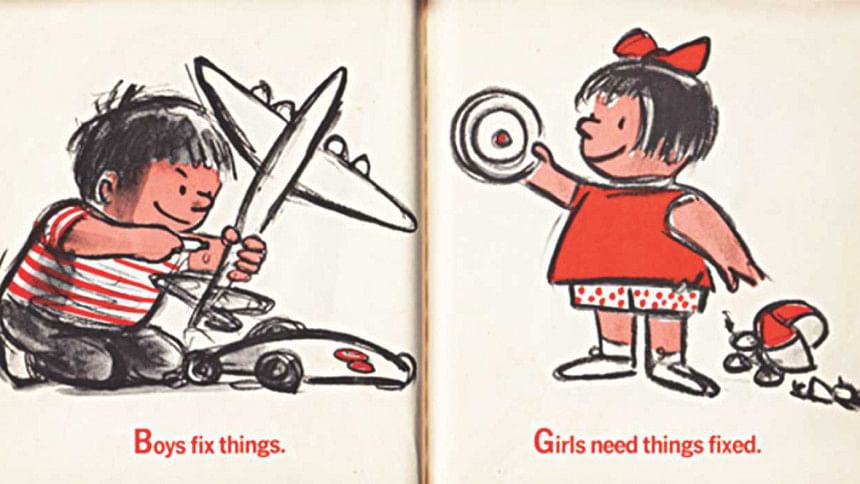 How does sexism affect learning?

First and foremost, we need to understand the message sexism sends to students. Sexism sets the grounds for many students to feel incompetent or inadequate. It leads to many students feeling like their interests, talents and strengths are not recognised or validated. It impacts their confidence and stops them from achieving their potential.  
As Raisa points out, "The biggest long term impact probably is that at some point students actively believe in the sexist statements and subconsciously discourage themselves from pursuing things out of their comfort zones. I think this limits individual ambitions, especially for women who feel like they can't break the boundaries because their teachers and sometimes parents said that they won't be able to." 
Kidwa Arif, 19, a Business student, says, "I've seen teachers at a university admission coaching centre imply that guys need to be selected for the 'better' subjects at university because it's more necessary for them to have a better career than their female counterparts."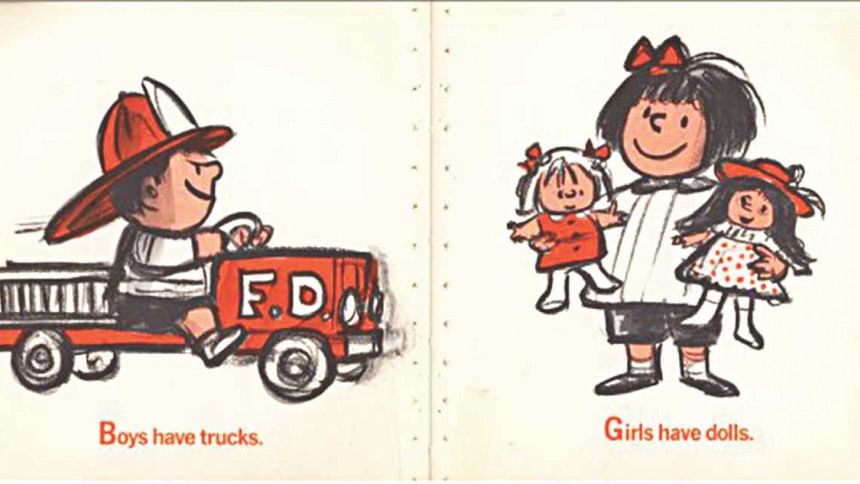 Sathee Ahmed*, 22, majoring in English, is a witness to similar behaviour from teachers from her former all-girls institution: "The first girl in one class was always compared to the first boy of an adjacent school. No matter how well the girl did, in exams it was pointed out by her teachers and family members that despite her efforts, she was unable to perform as well as a 'first boy'."
Sexism gives validation to the idea that identities need to be put into boxes based on sex and that these will determine all choices that will be available in the future. This obviously hammers in and helps perpetuate the idea of gender norms and gender stereotypes. Boys are not allowed to take subjects like Home Economics because it is 'meant to be' for girls; girls are not wholeheartedly encouraged to be engineers or scientists because Maths is for boys. The so-called 'casual sexism' we're all used to witnessing in classrooms don't promote a healthy competitive environment which help individuals be their best; it produces unhealthy ideas about who is allowed to succeed and in what. It is the opposite of empowerment, and is a manifestation of toxic beliefs and systems. Needless to say, providing young, impressionable minds with toxic environments is hardly ideal.
When teachers, parents and relatives students are meant to learn from, produce and implement such ideas, it impacts the overall learning environment. Students learn to internalise many of these prejudices and carry them on to later stages of their lives. It's imperative that sexism be understood as prejudice and be treated sternly as such. Otherwise, the consequences can be damaging.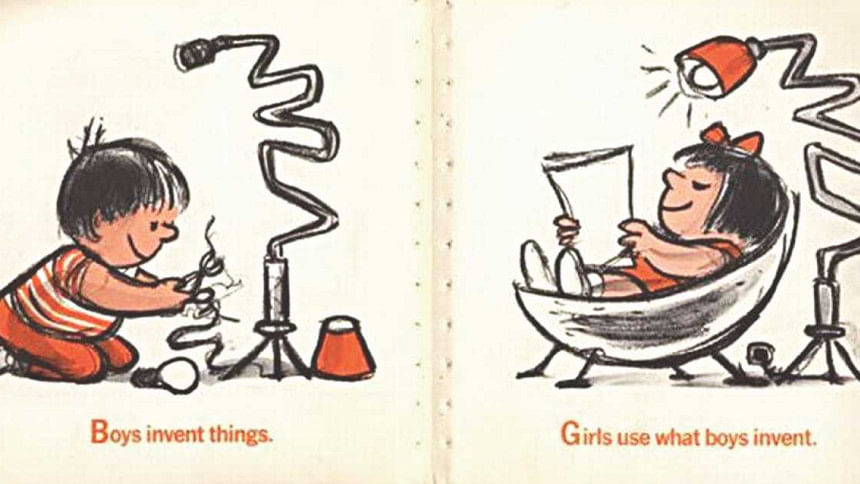 What can be done?

As with any form of discrimination, a clear demarcation needs to be made so that both teachers and students are aware of what constitutes as sexism. A guideline, therefore, would benefit greatly in preventing sexism in classrooms. At the same time, students need to be encouraged to flag such behaviour. Creating the scope to report it would enhance learning experiences for everyone. As sexism is something that is so prevalent, exposure to it desensitises many to its impacts and they often do not realise they are imparting it themselves. This makes awareness a key element.
It is important to remember that supporting sexism means supporting discrimination. Often, sexism is fought back with sexism – this only creates a vicious cycle. Sexism is complex and it needs to be understood with care. If students grow with the idea that certain forms of discrimination, prejudice and stereotyping are permissible, it is only a matter of time before they become certain that other forms can be okay too. 
*Names have been changed to protect the privacy of interviewees.
Nooha Sabanta Maula is an Anthropology major whose anthropologising has made her confused about life. Send her your thoughts to [email protected]