All women and girls must be able to build the future they want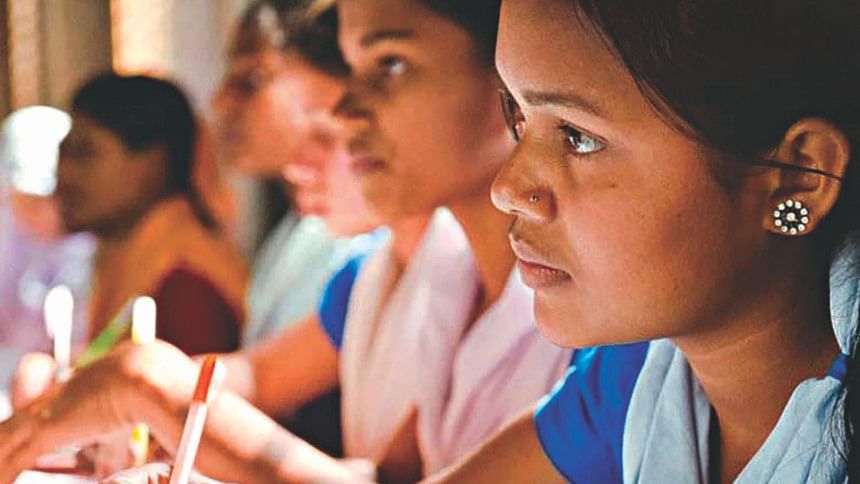 The data—with its sexism and its gaps—shows us that many of the barriers girls experience are determined merely by their gender. This inequality, present in all societies, is by far the most widespread bias.
During the next decade, 14.2 million girls under the age of 18 will be married each year. That's 39,000 girls every single day. In Mali, a country in Africa, 52 percent of girls are married before they turn 18. Meanwhile, of the 57 million primary-school-aged children out of education, 31 million are girls.
In case of Bangladesh, despite various preventive measures by government and non-government organisations, violence against women shows little sign of decreasing. According to ASK, a legal aid and human rights organisation, the extent of harassment and other acts of violence, including rape, murder and domestic abuse over dowry, has forced many girls to stop pursuing education. Many such cases are well-recorded but the actual figures could be much higher as many go unreported. As an example, about 2,000 complaints of violence against women and children are reported every day through a hotline number (109) set up by the government.
According to Unicef, while the incidence of child marriage has decreased worldwide, it has increased in Bangladesh. Bangladesh stands fourth in child marriage prevalence, second only to India in numbers. Unicef says that at present, one out of every five girls is married before 18 years of age. A decade ago this was one in every four. The most progress has been made in South Asian countries where the percentage of girls being married off before reaching the age of 18 has fallen from 50 percent to 30 percent. However, the fight is far from over.
Bangladesh is pledge-bound to eliminate violence against women as it ratified the UN Convention on the Elimination of All Forms of Discrimination against Women (CEDAW). As part of the pledge, the government is implementing a project called Multi-Sectoral Programme on Violence against Women, building a legal framework that addresses, prevents and eliminates violence against women and children, and creating public awareness to change negative attitudes, beliefs and values towards women and children.
The story of Asma Akhter, now 25 years old, proves that children who are most vulnerable can thrive with solid support from schools and communities.
Asma started her education in 2001 at Intervida Pathshala Korail TnT, a school run by Educo Bangladesh. Asma achieved good results in her Secondary School Certificate exam which inspired her to continue her studies. Her parents also supported her decision to continue her education.
Asma was determined to finish school and make her dreams come true. But things took a different turn for Asma, who was only 16 years old at that time. Just before her Higher Secondary School Certificate exam, Asma's parents arranged her marriage with a boy who belonged to a decent family. The future groom's family had no demands of dowry. Asma's parents were so overwhelmed with the proposal that they failed to mention to Asma the only condition of the future groom's family: that she would stay at home and leave school after marriage.
It was only after the wedding date was set that Asma came to know the situation, and  she requested her parents to call off the marriage. But all her efforts went in vain. She then asked her college teachers and her primary school teacher Ms Ferdousi for help. After several meetings with Asma's parents, the teachers were able to help call the marriage off.
Asma told us: "Without the help of my former teachers, I would not have been able to pursue my dreams. My teachers had always kept in touch with me and that's why I had the courage to approach them and ask for help."
Currently, Asma is working as a teacher at Educo Pathshala Shahjadpur and continuing her education. She is now a student pursuing a degree in Bachelor of Social Science at Government Titumir College. Asma dreams of pursing further education to be able to contribute to the country's development, and to be independent and self-sufficient.
Receiving an education is critical for girls but it's often overlooked due to deeply embedded patriarchal structures. Promoting gender equality and the rights of women and girls is not only a question of social justice, but an inherent principle of the Universal Declaration of Human Rights and an essential requisite for achieving the Sustainable Development Goals.
It is therefore important for communities, schools, the government and the civil society to help improve children's overall well-being and performance in school by reducing violence against women and girls, empowering youth groups to act as change agents to prevent violence against women and girls at the community level, and educating communities about gender-based violence and its impact on children.
The UN theme for this International Women's Day was "Think equal, build smart, innovate for change." Through collective action, we know that women and girls can and do think equal, build smart and innovate for change, if they are given the opportunity. Just like Asma.
Every woman and girl must have the right and a real possibility to build the future she wants. And every woman and girl must have the right to make her own decisions—be it about her body, her career, or her education. We call for a diverse and colourful world in which pink and blue do not impose limits, and where no one can dictate how far a woman or girl can go.
(Note: Some names have been changed to protect individuals' identities.)
---
Md Emamul Hoque is the Director of Resource Mobilisation and Visibility at Educo Bangladesh.
---
Follow

The Daily Star Opinion

on Facebook for the latest opinions, commentaries and analyses by experts and professionals.
To contribute your article or letter to The Daily Star Opinion, see our

guidelines for submission

.
---