Do weddings need to be extravagant?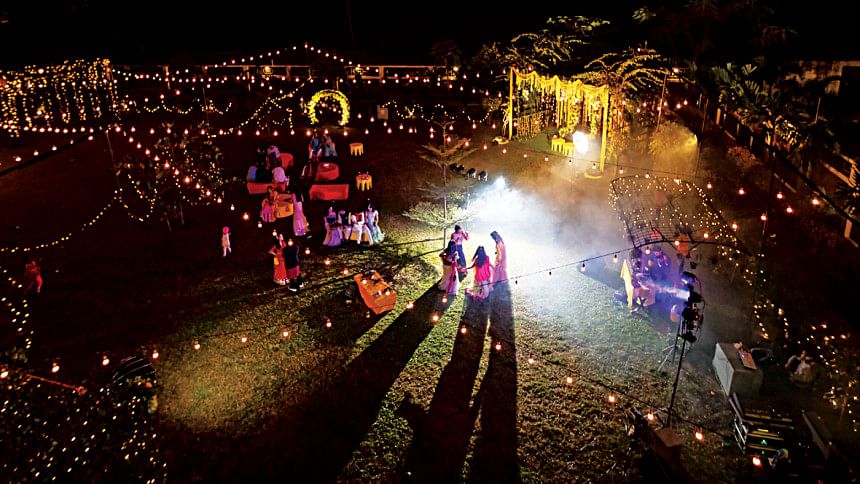 The wedding bells are ringing for Neha and Samin.
As I write this, the couple is wrapping up all the arrangements for their big day. Like most other girls, Neha has been planning for the picture perfect wedding for as long as she can remember. For her, a grand wedding is a perfect start to the new sacred verse of her life. And for Samin, the smile on his bride's face is all that counts.
Weddings are one of the most significant events in a person's lifetime. In Bangladesh, big fat weddings evade all definitions. These are not just full of jaw-dropping extravaganza, but also emotionally charged with an awful lot of hope, dreams, and desires.
"Nothing is more important to me than family. The idea of everyone celebrating and being happy for me on my big day is exhilarating. I want a big wedding where I am surrounded by love and positivity," said Syeda Samiha*, a student from a reputed private university in the capital.
Anindita Bose, an undergraduate at Brac University, revealed, "I want a big wedding because I want to have the time of my life. I would love to entertain a large number of guests and get their blessings. From a religious perspective, Hindu weddings have many rituals and I want to have a traditional wedding following them all."
One person, who wished to remain anonymous, shared her wedding desires. She commented, "To me, a wedding is a once-in-a-lifetime opportunity so it should be filled with excitement and bliss. The way brides and grooms dress in movies takes my breath away. The marriage scenes are straight out of fairytales, and I would love all that for myself." Many, like her, take inspiration from movies and TV shows, and personally, I think it contributes colossally to the idea of having an exorbitant affair.
However, there is the other side of the coin. Not everyone is down to sticking to the glitz and glamour.
In the words of Dhaka-based web developer and content creator Fahim Ahamed*, a simple and homely wedding makes for the best occasion. He confessed, "I don't want to spend on lavish and over-the-top ceremonies when I can perhaps use the money for a better cause. I would rather invest it in something fruitful."
"I'm a very introverted person. A big and loud wedding would just make me feel like a spectacle, and I don't want that," said another person.
Newly-wed Rafia Atkia Rafa precisely sums up her wedding experience as such: "The guest list is an 'endless chain of acquaintances', as I like to call it. The chain always gets longer, and one should know where to cut it."
She further said, "After planning a simple wedding, I was able to keep the event within my financial capacity, invited my closest ones, spent a good time together and made many cherishable memories. Another good thing was that there was no extra pressure which could hamper the first day of my conjugal life."
She also mentioned why she preferred having a tastefully sumptuous yet simple ceremony with her husband, adhering to their religious beliefs.
Those who go all out at their weddings, from elaborate decorations and sensational attires to gourmet foods, leave no stone unturned. Sad but true, many dream of such lavish weddings but only a handful can afford it. As reported in an article on The Daily Star, the wedding industry is a 2000 crore taka market, according to the Event Management and Marketing Association of Bangladesh. The industry feeds on this "once-in-a-lifetime" attitude; no wonder why weddings have become such an expensive ordeal.
Many parents and couples take loans to afford this luxury. Amirah Hossain, a junior at Brac University, commented, "Yes, it is a once-in-a-lifetime opportunity but that doesn't mean it has to be a big, extravagant one. You can have an elegant wedding with minimal costs where you can enjoy it without putting a burden on your family and yourself."
Parents paint a picture of their beloved child's "happily ever after". In reality, painting this picture doesn't always go smoothly. Weddings are, unfortunately at times, seen as a display of how far you've come in life and how well-off you are.
In our society, many measure the success of the whole family based on the gold hanging from the bride's neck. The vermillion-red draped, gold-laden bride sitting in the middle of a gaudily decorated hall room is an indicator of how much the parents love their child. Not always do these ideals align with those of the bride and groom, but such disagreements often drive a wedge between the family.
"My husband and I wanted a cosy wedding with the blessings and presence of our close relatives. But my parents had their own guest lists. So, we compromised and settled for a moderately big ceremony," said Dr. Afrida Tasneem, who serves as an assistant surgeon. Squabbles are inescapable when it comes to wedding planning. Compromise is the key to avoiding a rift between the parents and the soon-to-be wedded couple.
Entrepreneur and father of two, Feroz Alam Bhuiyan, shared why he wants his daughters to have their dream wedding. "I married late and could not have a big event. I don't want my daughters to have a wedding like mine. I want the best for them, and I will do the best in my ability to give them the wedding they deserve," he explained. For many parents like Feroz, footing the bill for their children's weddings is very crucial, even if it costs an arm and a leg.
Many young individuals also believe in contributing to their wedding expenses. "No matter how small your arrangements are, the peace in knowing that you're contributing/being able to afford this is enough to bring joy," proclaims Ishrat Nova, an undergraduate student of North South University.
"As it was the marriage of the eldest daughter, both my parents and my sister wanted it to be a pompous affair. I don't think that my family, especially my mother, would've settled for a small, intimate wedding because she had been saving up for quite some time now. My parents and I believe that having a smaller wedding is financially beneficial, however, there is a lot of emotion involved in the wedding of the eldest daughter. Hence, they chose to do it to their best capability," expressed Neha's sister.
Big, small or somewhere in between, what matters the most on a wedding day is that everyone is happy.
*Names have been changed for privacy
Farnaz Fawad Hasan is a disintegrating pool noodle wanting to stay afloat. Reach her at [email protected]