Revival of the Bangladeshi wedding fashion industry
Imagine this, your wedding day is almost knocking at the door, and whether everything runs smoothly or not, one thing has to be perfect, the wedding attire! So, will it be Sabyasachi Mukherjee or Manish Malhotra? Surely there cannot be any other option than designer wears from abroad, with their dazzling collection, marvellous embroidery and the intricate craftsmanship on display to enthral any bride or groom. But as it turns out, you don't have to get on a plane for your wedding shopping trip, and instead you can do it, right here in Dhaka.
The high-end local bridal and groom's clothing industry is relatively new. Targeting a very niche consumer base, brands like Aarong and Mayasir, and shops at Mirpur Benaroshi Polli started bringing their wedding attire lines to the forefront, offering customers for the first-time, luxury wedding outfits that were completely local, if not a bit limited in their offerings.
Everything was going along nicely for the industry, until of course 2020. The COVID-19 pandemic dealt a massive blow to our usual habits and we were confined to small scale personal wedding ceremonies, but call it a blessing in disguise, our local brands took this opportunity to offer more to us, and that helped the industry get into high gear.
"There's a definite shift in how brides are choosing dresses that promotes our local brands and at the same time promoting the work of the talented artisans who are involved in the production. I love the fact that my young clients are always looking for unique designs that truly complements them" said Sarah Karim, fashion designer and owner of Sarah Karim Couture.
Buoyed by the success of brands like Chantilly by Selina Nusrat, Sarah Karim Couture, Sahar Rahman, Zurhem by Mehruz Munir, Nuzat Nawar and more, it's now possible for the bride and the groom to enjoy having the perfect wedding attire, with some help of course!
Saris that will give off the radiant vibe that you want on your wedding day, or the gown with a long flowing tail that will charm everyone present, or maybe you want to be involved right from scratch to customise every design and visual fundamentals for the wedding wear, you name it, and our local brands will provide it to you.
Even with our local industry making headway into the 'wedding fashion' scene, a lot still needs to be done. A penchant for Indian and Pakistani designer dresses still looms heavy while there's still a certain lack of interest from consumers to fully dive into the local bridal brands, add to that a lack of co-operation from local designers also plays its part.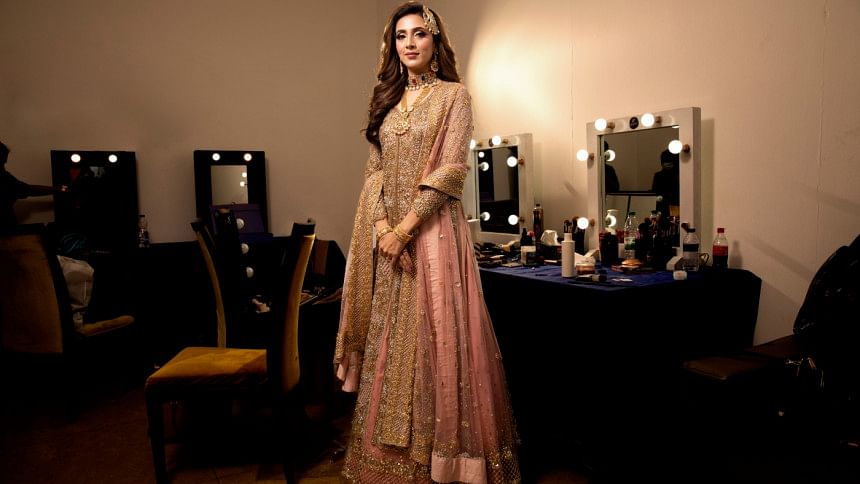 Fashion designer, Nuzat Nawar had this interesting insight regarding the industry, saying, "I am educated in all aspects of designing like colours, lighting, visualisations and more. So, this comes to me naturally and I want to work with my fellow designers more."
In addition, there needs to be more of a concentrated effort from local fashion brands to make sure our industry not only becomes self-sufficient, but on the path to global dominance in the near future. As Selina Nusrat said, "From my experience I can tell that I have international clients who love my collections, the thing is if your products have the same quality as those of international brands and you do not compromise on serving your clients, then I can definitely see our local bridal industry becoming successful on a global scale."
Model: Nazifa Tushi, Bidya Sinha Saha Mim
Wardrobe: Chantilly by Selina Nusrat, Sarah Karim Couture
Makeup: Privé by Nahila Hedayet, Special Thanks to Nuzat Nawar, LYNX Events