2019 Suzuki Ciaz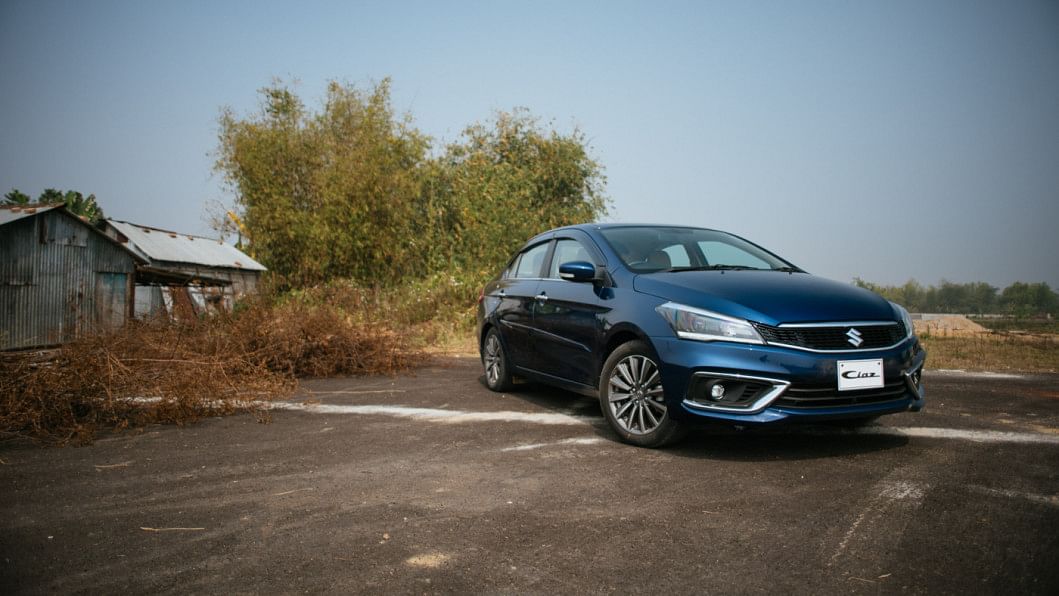 Utilitarian comes to mind when you think of Suzuki. Known for making manic fast bikes and dominating the world of commuter, sports and superbike categories, Suzuki is a relatively modest name in the four-wheeled motoring world—aside from a tiny sliver of performance car fame (in the form of the Pikes Peak Escudo, a YouTube legend in its own right), Suzuki mostly makes city friendly family cars and hatchbacks. In Bangladesh, Suzuki is often mistakenly added behind another name—Maruti, the Indian manufacturer that rose to prominence through strategic partnerships with the Japanese Suzuki in the 80s and 90s—and are perceived to be makers of basic, utilitarian vehicles for the masses. Not this week's car though.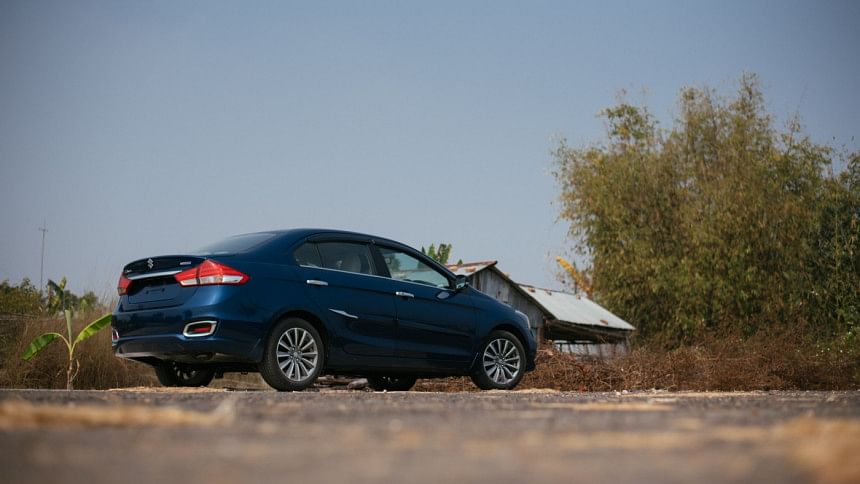 So this is an upmarket Suzuki?
The Ciaz is about as upmarket as Suzuki gets in Bangladesh. Priced in an aspirational bracket that includes the Honda City, Toyota Yaris and the Hyundai Accent, the Ciaz is a best-seller in India and looking to do well in Bangladesh. For the price you pay, you seem to get a whole load of kit—there's a touch screen infotainment system with Voice Command (more on that later), somewhat soft-touch plastics with strategically placed fabrics, a hybrid drivetrain that makes the driving torquey and efficient, as well as rear AC vents and significant legroom. It's smart looking as well—wider than and almost as long as a Premio. The facelift and differences from the old one amount to changes in the wider, bigger front grille, chrome garnishes on the side and rear, bigger slats down in the front bumper, neatly integrated DRLs in the front headlights and bigger 16-inch wheels. It's a smart looker that seems oddly familiar—it's not an exact copy of anything, but an amalgamation of familiar shapes and surfaces. On paper, the Ciaz seems to outstrip most of its "established" competitors.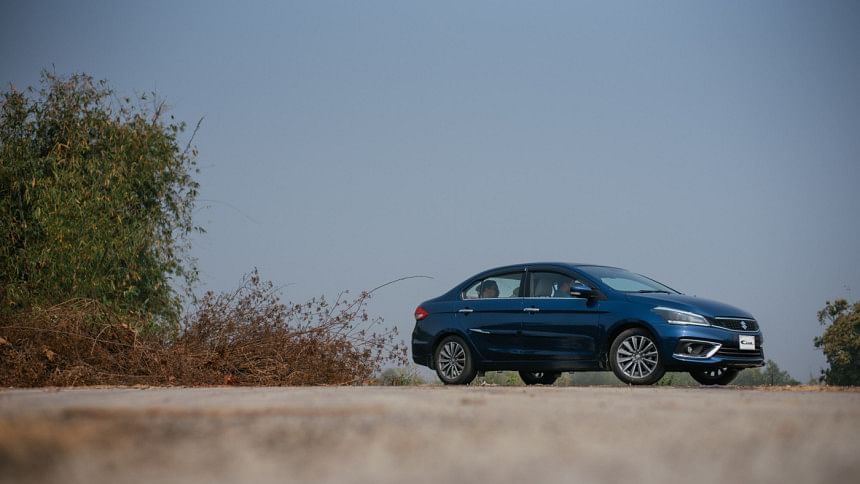 But you can't drive cars on paper. What's it like on the road?
The Ciaz comes with the usual foibles that exist in cars of this segment. The steering is so dampened you wonder whether it's linked to anything up front (designed so you can navigate rush hour 5 PM traffic with a single lazy finger) and the grunt isn't exactly the winning point of the car. With only 103 HP and 102 lb-ft torque from the 1.5 litre 4-cylinder "SmartHybrid" powertrain, it's not built for performance, rather focusing stoutly on efficiency. Suzuki claims an optimistic 20.28 km/l, but real world mileage, especially in Dhaka's overcrowded streets, will be much lower.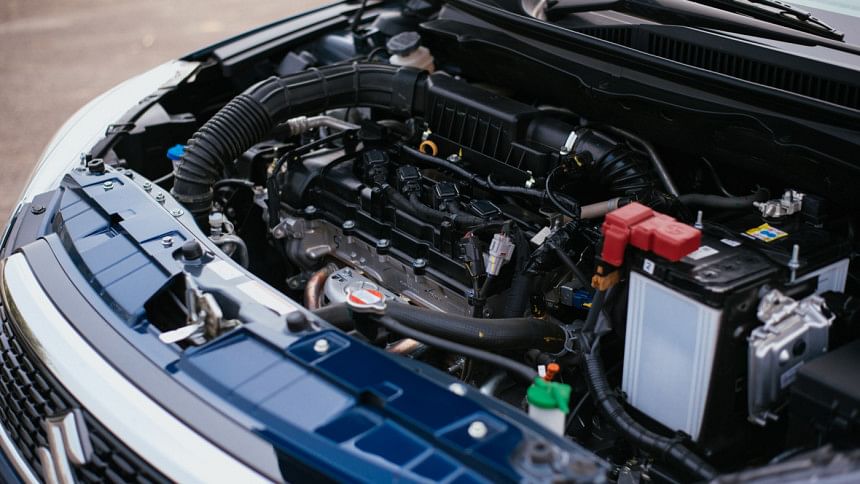 At its best, the Ciaz is a relaxing, comfortable drive that'll get you home without drama. Asking more from it delivers more sound than speed, and it's not an entirely bad sound either. It's torquey and responsive from the motor and numb from steering, with the suspension especially adept at soaking up bumps and potholes—overall, the Ciaz is as characteristic of a South Asian all-rounder as Shakib Al-Hasan.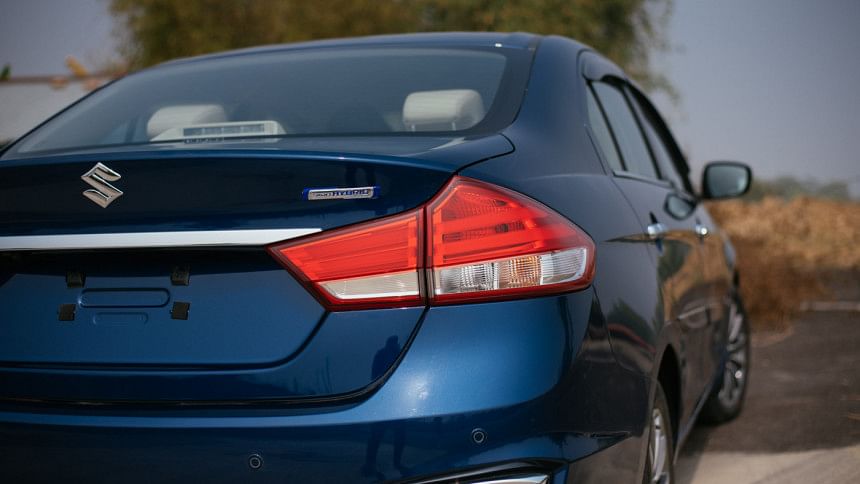 What of the equipment?
The infotainment system consists of a cluster mounted Multi Information Display that shows you the vitals of the SmartHybrid system—whether it's charging or discharging—along with a 7 inch touch screen that intuitively divides the system according to things you can do with it—Listen, Call, Drive and Connect. There are no physical buttons, but the Ciaz goes a step further—there's a disembodied South Asian female voice that asks you for voice commands—a rare feature in a car of this segment. Unfortunately, aside from navigation input (which isn't supported in this region anyway), it's little more than a hilariously entertaining feature. There's also a set of rear AC vents, another feature that's a bit of a rarity in this segment.
What does the boss think?
The Ciaz Hybrid is very specific in its market approach. It aims at providing you stress free, casual point A to point B transport that also happens to look smart. It will accelerate gently when floored but it clearly wants to relax instead, letting you shuttle around in quiet comfort. We didn't get to test the mileage more thoroughly to verify the claimed 20 kmpl. Most forum users quote numbers closer to 15kmpl on average for city driving which is fantastic. Where it really shines is in the quiet cabin manners and surprisingly smooth automatic gearbox that shifts without the knee jerk movements typical of most cars from India.  We are still undecided about that voice command accent though.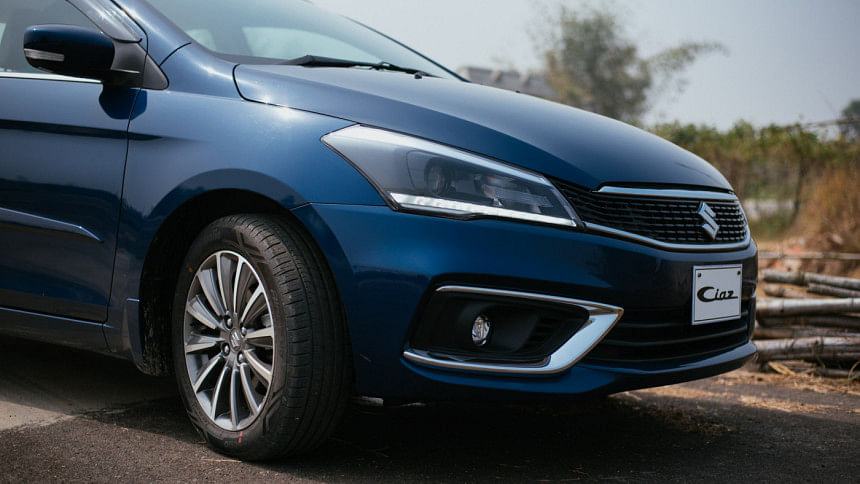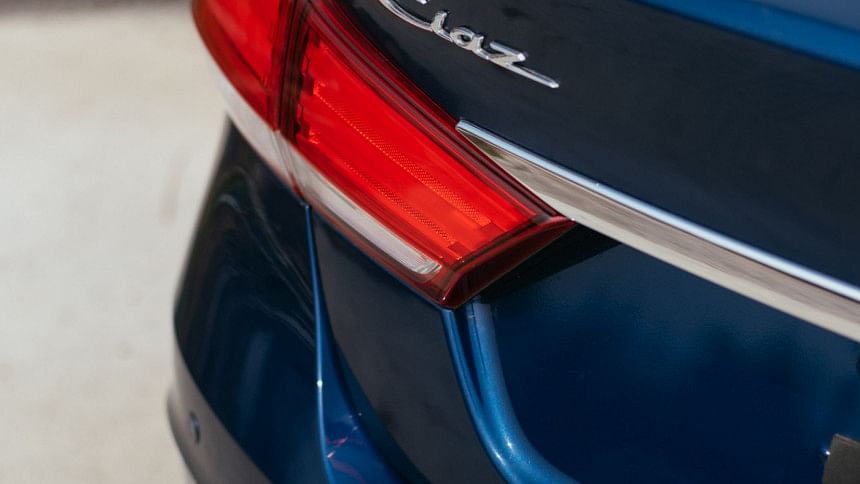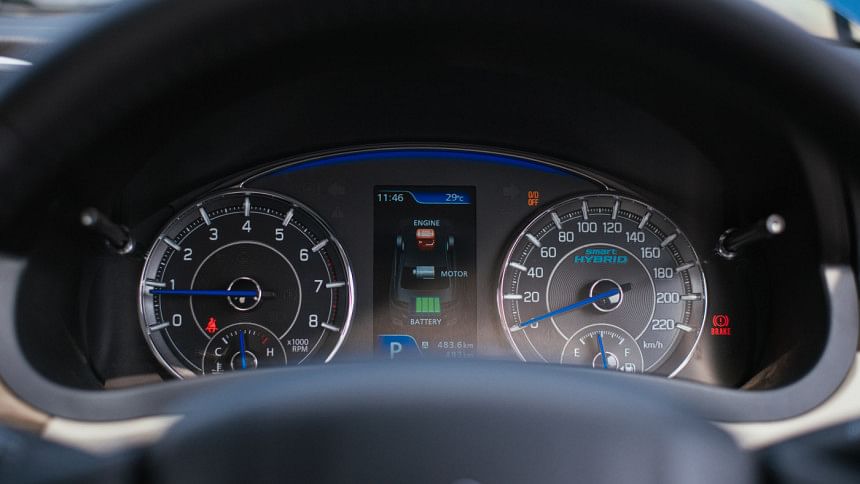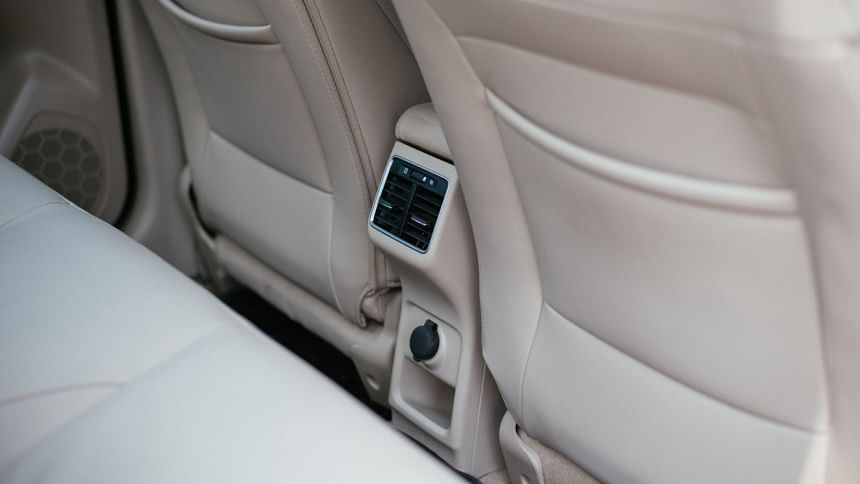 Specs
Engine: 1.5 litre 4 cylinder (103 HP, 102lb-ft) SmartHybrid
Transmission: 4 speed auto, FWD.
Safety: ABS, EBD, ESP, TC, hill-hold assist, 2 airbags.
Features and options: Automatic climate control, cruise control, SmartPlay 7-inch Infotainment System with Apple CarPlay, Android Auto, Mirror Link and voice command, 16-inch alloys, LED headlamps with DRL, keyless entry, front and rear accessory sockets.
Price: TK 24,00,000 (GLX), TK 21,00,000 (GL)
Warranty: 3 yrs or 55,000 km (whichever comes first)
For details, contact Uttara Motors Ltd.  
Verdict
The Ciaz is a quietly refined sedan that offers a bunch of equipment and comforts that's difficult to find at this price-point. It's definitely a bargain that stacks up really well against its competitors, both from the brand new and the reconditioned markets. While it still retains some of the characteristic utilitarian elements that define South Asian market cars, the Ciaz is much more as a vehicle than anything else to come out of it. It won't set hearts aflame, but it'll do almost anything you ask of it with quiet efficacy.