TOPLESS EFFICIENCY
2016 BMW 218i convertible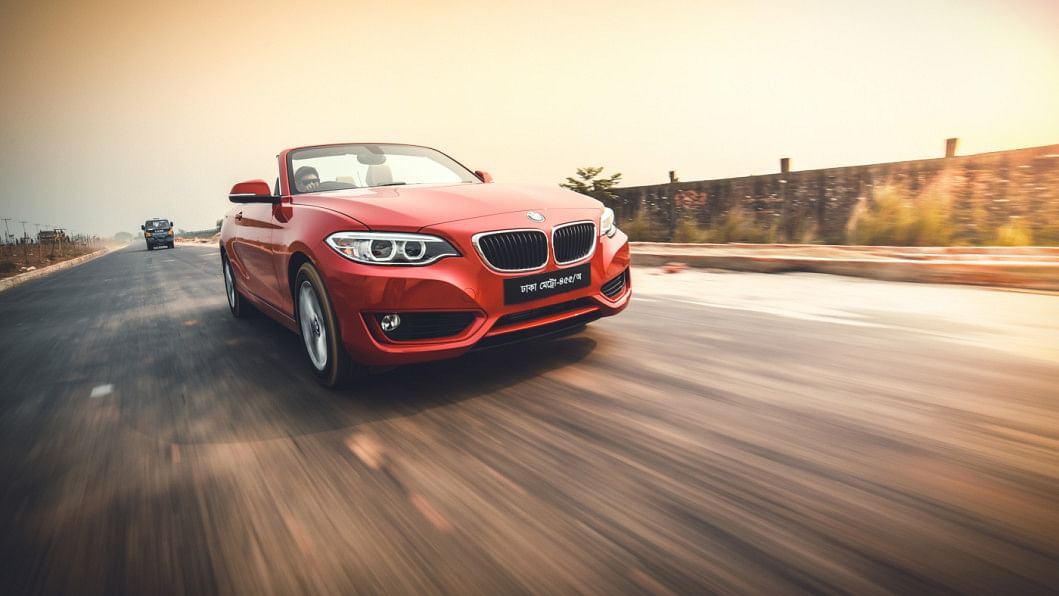 Photos: Rahin Sadman Islam
Essentially speaking, Bangladesh never got a proper dose of one of the most driver oriented BMWs in the global market- the 1 series coupe/ convertible. Jeremy Clarkson of then Top Gear stated it was a re-incarnation of the original 1973 BMW 2002 turbo- 'cause it had all the homologation of a true sports car. With the demise of the 1 series in 2012, BMW trickled the DNA down to a new member in the family tree- the 2 series coupe/ convertible. Moreover, it's prettier than the old 1 and smaller (and cheaper too) than the new 3 coupe/ convertible. Obviously, the clever folks at Executive Motors had to get a slice of BMW's latest chapter shared in the local market. And to our surprise, there was not one, but two 2 series to play around with, the first of which gets featured today. 
FIRST, THE CONVERTIBLE.
A red car in our country attracts a lot of (unwanted) attention. A red coupe gets more attention because it's sportier and celebrities have a nag for owning one. A bright red convertible will make everyone in the street gawk at the car without- a- doubt; which would typically last longer than the creepy 'male checking out opposite sex' stares. Minus the creepy part though. Now, this ain't any red convertible- it's a BMW. 
No chunky profile of the 1 series here. Starting from the squinty headlamps to the L shaped streamlined tail lamps, almost all the features of the new 2 series have been flattened out, giving the car a much sleeker profile than its predecessor. A long bonnet, short overhang, long wheelbase and setback passenger compartment which integrates into an almost horizontal boot throws off a boat deck aura, perfect for open top driving experience. Besides the raked shoulder line, there aren't other prominent character lines, hence a clean side profile of the sub compact convertible.
This Melbourne red example we got our hands on is a base model with miniature 16" wheels, which apparently would be changed to a befitting 18 inchers. The front bumper seemed subdued with no visible aggression albeit the sporty air curtains by the forlorn fog lamps. 
HAVING THE ROOF UP MAKES ANY DIFFERENCE?
Press of a button and 20 seconds later, the car morphs into a rain and dust protecting transporting machine. And that's just it. Although there is no clumsiness to the way the soft top retracts up, we would rather not have it up. Why? Because the 2 series convertible loses its elegant silhouette once you throw some clothes at it. Since it is a convertible and we would rather frolic at the unforgiving Dhaka weather than look comical, we made it a point to have the roof down while we blasted through the Airport road. 
THE PROMISE OF BMW'S 2+2 ARRANGEMENT WELL KEPT?
Climb into the cabin and a blend of beige and black contrast will engulf you. The seats and door trims are oyster hued Dakota leather while the dashboard and center console are a mix of high end black gloss and granule surfaces. The typical "layered" arrangement of amber displays and controls in all late BMW models also prevail in the new 2 series. There's the dash mount 6.5" LCD screen, multi-function three spoke steering wheel, golf club shaped gear lever and the iDrive controller right by the left arm of the driver- all very neat, precise and ergonomic. Because of this particular 218i being a base model, the interior trimmings lacked a certain sporty refinement that the high end Luxury or Sport Line variants are bestowed with. However, the standard front seats offer electronic adjustments, which was all I needed to set my optimum driving position and head out. To put BMW's statement of the 2 series being a 2+2 seater to test, the entire SHIFT team decided to hop in along with the shooting gear. The rear leg room could have been improved, but keeping in mind it's a sub-compact convertible, it's not half as bad as we expected it would be. Until we tried out the soft top; it does get a little 'compact' then. 
CONVERTIBLE= SPORTS CAR?
Around here, any coupe or convertible would be termed as a sports car. The 2 series we had to play is a 218i, with a 1.5 liter turbo motor throwing in 136 hp and 162 lb-ft of torque. What is mesmerizing is this puny engine has only three cylinders. Now THAT is efficiency. This trickery lies at the core of BMW's trademark EfficientDynamics in the form of twin power sequential turbo that throws in that torque at as low RPMs of 1,250 onwards. Also, like the motor, the snail is so miniscule, that you can forget turbo lag. Before we get on with how it feels to drive this "sports car", let's just disclose that this is merely the entry level variant and BMW has 6 more power plants for the 2 series in diesel and petrol, the highest of which is the M powered 235i with a 6 cylinder 3 liter turbo thunder power. And at the pinnacle there's the hallmark M2.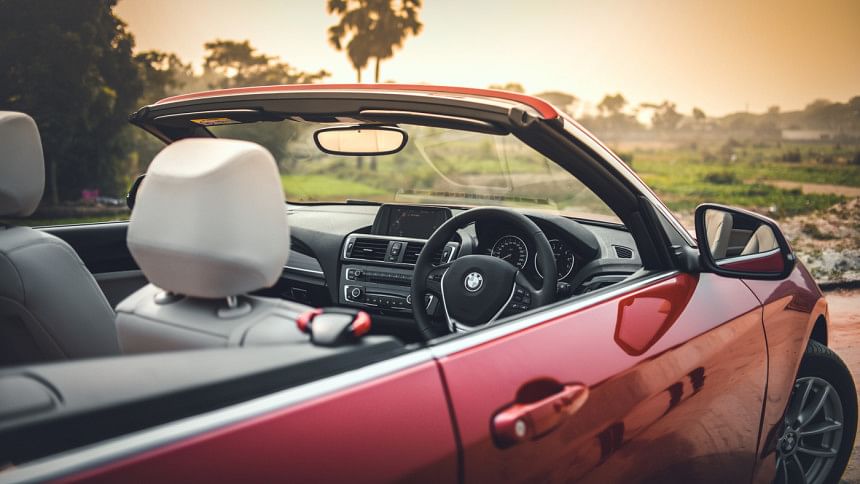 Automatics are boring, but this little fellow has a 8 speed Steptronic box enabling Comfort, Sport and Eco Pro mode. The clever Eco Pro mode decouples the engine from the rest of the drivetrain when the accelerator is released at speeds between 50 and 160 km/h, which lets you sail through breezy traffic which we DO NOT have. So we switched to Comfort, but that was too comfy. Hence we tabbed to Sport mode, flicked the lever to manual and took control of the thrust. Short gear ratios hurled the car faster than I expected from the little motor, the turbo wheeze almost audible amidst a mild exhaust groan. The car rides relatively well with a not-so-firm suspension setup, at the same time, will not throw rear passengers around even when you negotiate traffic while overtaking them while the boost is on. The brakes seemed a little too squishy though, and could be a tad bit more responsive.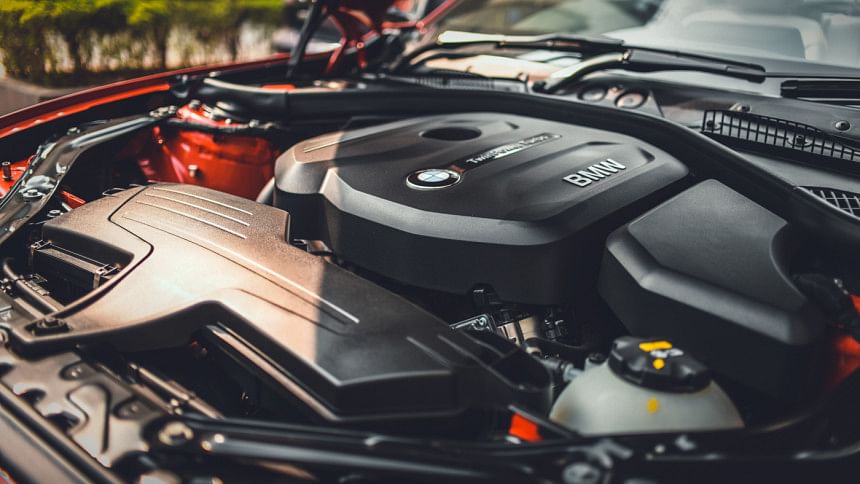 PORTABLE HAIR SALON? 
In the early years of automotive development, convertibles were a turn off for metro people with hairdos and wigs. Much have changed ever since. I didn't have to worry about my mousse'd hair being redone by  the wind-the air deflector behind the front headrests of the 218i provides the driver and passenger with effective protection from wind draughts. Of course you can store it away if you do not fancy a voice filter between you and the rear passengers.
VERDICT
This is not a sports car that will take you naught to 100 in 5 seconds. No. But this is a BMW and it IS a convertible. Brilliant efficiency coupled with the elegant statement of the white and blue checkered marquee- the new 2 series convertible from Bavarian Motor Works. Plus you can drift the thing too! For price and details contact Executive Motors Ltd.   
SPECS
2016 BMW 218I CONVERTIBLE
ENGINE: 1.5litre 3 cylinder gasoline engine (134hp, 162lb-ft of torque).
TRANSMISSION: 8 speed Steptronic automatic.
LAYOUT: Front engine, Rear wheel drive
BRAKES: Ventilated discs front, Solid discs rear, ABS, EBD, Vehicle Stability Assist and Traction control.
FEATURES AND OPTIONS: 6.5 inch LCD with integrated infotainment system, Steering mounted audio controls, Rear View Camera, Electric Seats, Wooden Trim, Chrome Line Exterior, Bluetooth, Smart entry, Push start, Wind deflector, Lights Package, PDC, 16" alloy wheels.
PRICE: 83 LAKH TAKA.
For details, contact Executive Motors limited.