2015 Honda S660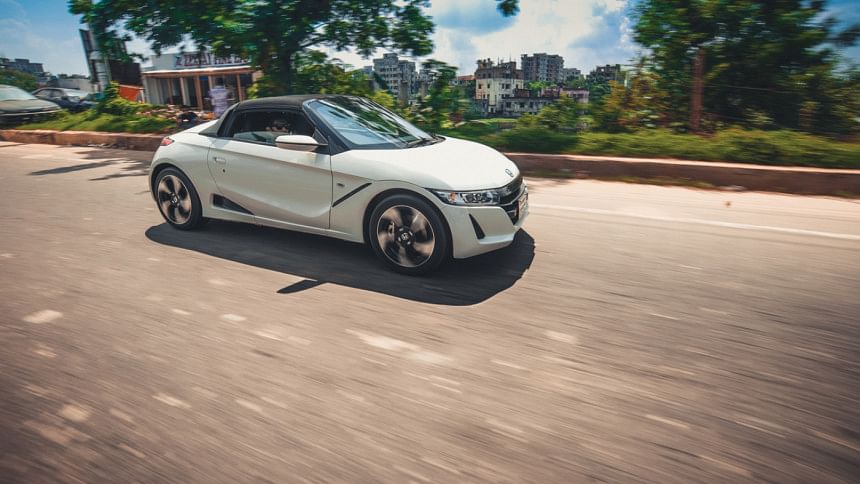 What is nearly as small as a CNG auto-rickshaw, but has four wheels? 
A Kei car. What is that? It is a tiny super mini segment of automobiles produced in Japan for the domestic market. It has restrictions on two major factors - physical size and engine displacement. It all started after World War II, when the average Jap could not afford a full size car. Hence, 360 cc motor vehicles became the norm. Eventually the motor displacement went up to 550 cc in 1976 and since 1990, the government took up the restriction to 660 cc. 
Do we see Kei cars around Dhaka?    
Nope. We do see plenty of Kei trucks, hauling not-so-heavy industrial materials. Daihatsu Hi-Jet, Mitsubishi Minicab. Then there is this hideous little dog-like minivan called the Toyota Sparky. These are mundane and hideous, but practical for a congested metropolis. In the 90s, we saw a couple of soft-top Honda Beats and the three-door Pajero Minis zip around the capital, and recently, a few turbocharged (barely) Daihatsu Copens. These are tiny cars with tiny engines, but draw a lot of attention thanks to their quirky looks.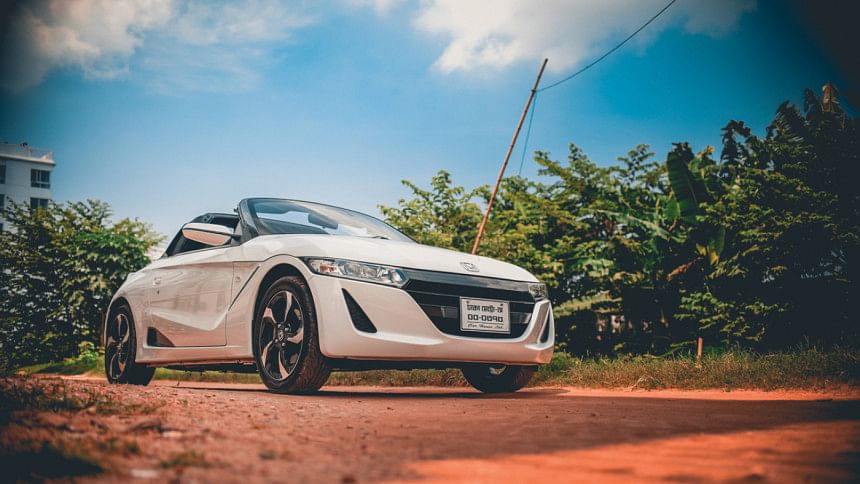 Now we have the Honda S660…
We all liked the quirky little Beat roadster. Why? Three cylinder motor with individual throttle bodies – that is sick. Even last week I saw one flaunting a funny body kit and a Ferrari badge. Honda decided to bring back the mid-engine RWD heart-Beat by introducing the new S660. This time around, it has a turbo. 
Because it has two doors, no roof and a turbo, is it a sports car? 
Having a turbo the size of a yo-yo, the S660 is very, very underpowered. It produces 63 hp and 77 lb-ft; the maximum output limit of a Kei car. In June '15, Top Gear reviewed the S660 to be "lacking power but extremely maneuverable". Exactly. The sub 900 kg car has brilliant handling and maneuverability, thanks to the mid-engine rear-drive layout and 45-55 front-rear weight distribution. That means, although you can spin the rear wheels and drift out the tail, getting it to do so is quite difficult as the car refuses to lose traction even if you want it to, even with some of the skinniest tyres you'll find on a new car. The steering feel is extraordinarily responsive, and with the tiniest of steering input, you can change lanes in the blink of an eye.
Boost feel comes beyond 3,000 RPM. The S660 also gives out a waste gate whoosh. It has an LCD screen displaying G forces, a Sport mode that will make your instrument cluster glow red and displays the boost level. Regardless of the CVT, it has paddle shifters. I think the S660 is sporty enough.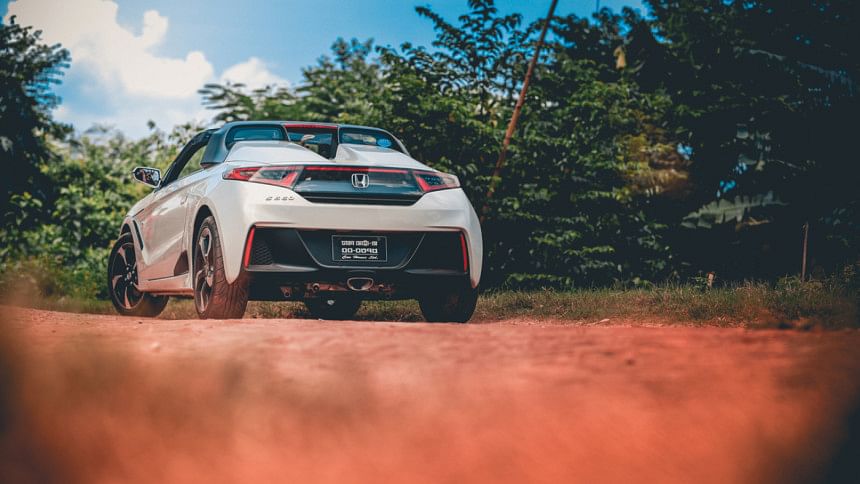 Is it practical?
You can save a lot of money as it drinks very little fuel. You can't take much luggage with you though, since it doesn't have a trunk. If you want to have the roof down, you have to manually get it off and stow it away in the front of the car. The leather bucket seats seat two people very low - almost kissing the road. If you have back-ache issues, you can't own this car. If you are plus-sized, you can't get in and out of this car. If you're too tall, you won't fit in this car. However, if you do fit in this tiny car, and can compromise on practicality, you will absolutely love the drive. And the attention. 
VERDICT
It won't set the streets on fire and it'll be difficult owning it, but the S660 is definitely a drivers' car – perfect for weekends and well worth going on a diet for. Eat your vegetables, let go of the red meat and if you want a fun drive in a superb Kei sports car, contact Car House Limited for inquiries into importing another piece. 
Photos: Rahin Sadman Islam
This Honda was provided by our friends at Car House Limited