From sport compact to compact utility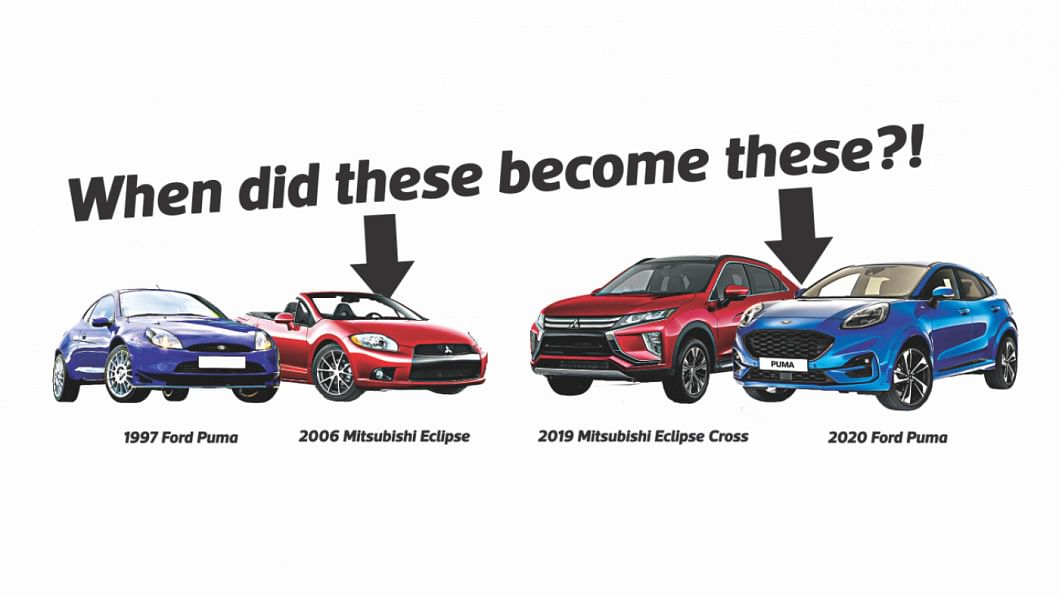 The Ford Puma is back! And…it's a Compact Utility Vehicle, or a CUV. But why? Wasn't it a slightly under-appreciated, technically capable and aesthetically pleasing sport compact from Ford Europe just a few years ago? The ones you'd see pasted across the covers of British tuning magazines like Max Power and Fast Car, wearing garish body kits and iridescent paint?
The original Puma might have attracted the young and tasteless, but it was a high point for Ford of Europe at a time when little else aside from the Focus and Mondeo was going right. It cemented Ford's youthful image for the 00s, and helped boost sales even when the recession hit. Now, they've thrown that away chasing some silly idea that SUVs and CUVs are the thing to be building.
They're not alone. We're constantly hearing how SUVs are sure to boost sales and that's what works in the market now. Mitsubishi thinks so too, with their entire range of sedans axed in favour of small hatchbacks, slightly larger CUVs and mid-size SUVs. They even revived the Eclipse nameplate for the mid-size EclipseCross, which we tested and, surprisingly, loved. Apart from the badge, which we still associate with Paul Walker's bright green Eclipse GSX from The Fast and the Furious.
Millennials and Gen-Z'ers are quickly becoming a force to be reckoned with. Gone are the selfish and impractical ways of what previous generations thought was cool—if you want to be cool now, you need to be able to pack your friends and your luggage and gluten free groceries into a feasible space and have the option of (but never avail) the ability to experience the great outdoors. Unfortunately, two doors, big wings and flared arches tick none of those boxes. SUVs do, but they're too bulky and too expensive. CUVs, with their small engines (the Puma is powered by a 1.0 litre Ecoboost putting out 152 HP) and the occasional hybrid powertrain (Puma has that too) are easier on the wallet while providing largely the same benefits of bigger cars. It makes sense, and market analysts show that to be the case, with cold hard numbers pointing to rising demand for cars like the Puma and the EclipseCross.
We just wish they'd stop dragging up mildly iconic names from the past into the present. How much does it cost to register a new badge anyway? Umm, don't answer that.