BMW M Track Days 2019
An experience of a lifetime at Sepang Formula 1 Circuit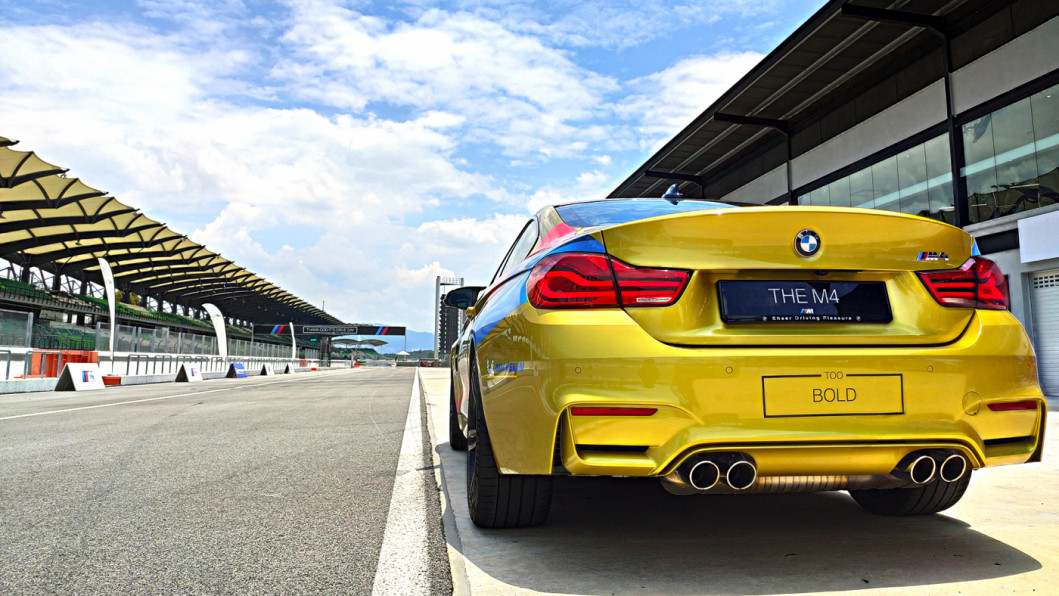 Through October 3rd to 7th, BMW owners and media personnel from around Asia were invited by BMW Group Asia to attend BMW M Track Days 2019 at Malaysia's Sepang Formula 1 circuit. Over the course of four days, BMW owners and automotive journalists—typically used to street cars in their home countries—were treated to an experience worthy of the performance and prestige of BMW's M Division and the ballistic missiles with tyres that are M cars. 
It wasn't just about cars though. For the first few days of our stay in the Malaysian capital of Kuala Lumpur, we were treated to the finest of mixers, lunch and dinner events and guided tours. 
On the first night, we were taken to a BMW organized mixer at the Cantaloupe at Troika Sky Dining—where owners, journalists and BMW sales representatives could get to know each other. A delectable eight course meal followed—including scrumptious Wagyu beef, tiger prawns, and more. The view of Kuala Lumpur's impressive skyline, soft lounge music and the fantastic food and hospitality set the tone for the rest of the trip. On the second day, the guests (us) were taken on a tour of the Royal Selangor facility that produces the finest offerings of Malaysia's century long pewter products industry, with a surprise at the end—all the guests walked away with a pewter bowl that they made themselves, with their names stamped on the bottom and a certificate proclaiming their newfound expertise at hammering a pewter sheet into a bowl. A fine lunch at Manja Old Malaya—within stones' throw of the KL Tower—was followed by yet another foray into Malaysian handicrafts, this time at Jadi Batek. Guests then learned the craft of batek t-shirt painting, painted their own t-shirts with a design of their choice, and walked away with their very own batek painted t-shirt—some covered in paint, but everyone involved were supremely happy. 
Free and easy time in-between, however, was spent thinking of 6th October, the group's designated track day at Sepang. The idea of being allowed to drive around an ex-Formula 1 track that used to be frequent haunts of the likes of Michael Schumacher and Kimi Raikonnen on race days filled everyone with nervous anticipation and excitement. That we would be driving extremely powerful, rear-wheel drive and all-wheel drive BMW M cars around a circuit where you could hit speeds close to 300 km/h easily was not far off in the thought process. 
Come race day, we were told to don our BMW t-shirts and caps and report to the track, where a hospitality area had been set up with lunch, BMW merchandise on sale and a chance to see the new BMW 8 coupe in person. Out on the track, we observed the previous groups tearing into corners, exhausts burbling away under downshifts. Eventually, we were led to a drivers' briefing session where everyone was filled in on the basics of track driving—racing lines, braking points, oversteer and understeer, counter-steering and throttle control basics were taught in theory, along with a set of rules that included "You crash, you pay". Fair enough.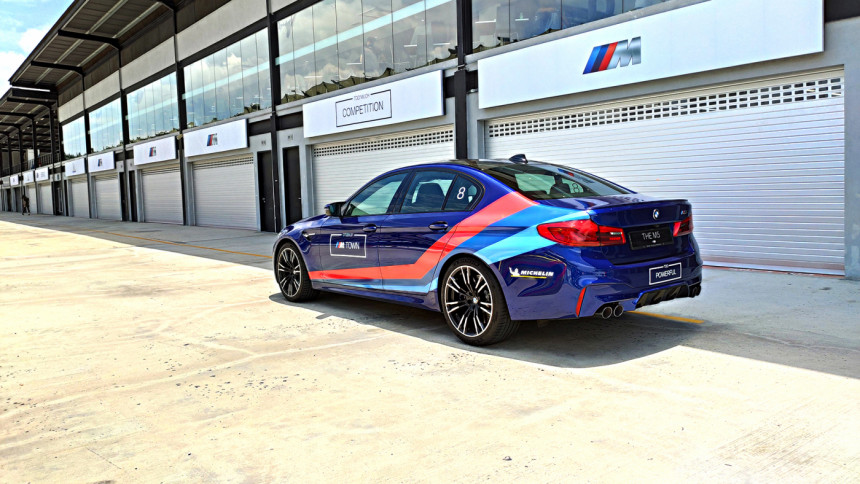 Out on the track, a trio of models were waiting for the drivers—2019 models of the beastly, 591 HP/553 lb-ft torque M5, the poised yet capable 425 HP/406 lb-ft M4, as well as the drift-happy 405 HP/406 lb-ft M2 Competition. We strapped in, went out to the back straight to do some acceleration and braking practice runs, and then, after a slow spotting lap around the circuit, we were off. 
Driving the M5 on a track is vastly different from piloting the large, four door performance sedan around city streets. The acceleration, unfettered by concerns of driving over pesky humans, is violent and unnerving, especially if you have a heavy foot. Fortunately, it stops just as quickly and less violently, a fact that came in handy when decelerating from 260 km/h to 60 km/h for the first turn and right-left chicane at Sepang. The AWD system keeps you in the safe zones of performance—allowing you to have fun but keeping the rear in check even during aggressive cornering. The steering is precise and laser sharp, providing an incredible amount of feedback despite carrying little mechanical linkage to the front wheels.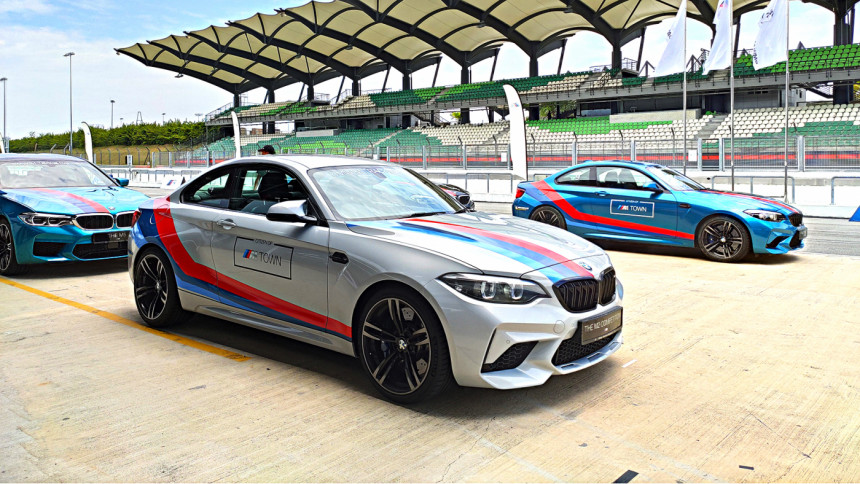 By contrast, the M2 Competition is a pure drivers' car. Normally the M2 Comp would have a traditional 6-speed manual driving the rear wheels, but for this event, BMW managed to find an automatic. Even the automatic proved to be a handful if you were over-eager with the throttle input—the M2 was quite happy to reward you with a change-of-pants-needed moment if you dared it. While noticeably slower in the straights compared to the M5, the M2 Competition and the M4 were definitely the drivers' choices over the heavier M5. Unfortunately we were only given the choice of driving two cars out of the three models on offer, so I missed out on having a go at the M4—placed right smack in the middle of the M2 Competition and the full bore M5 in terms of weight, acceleration, power and handling. Maybe next time. 
Overall, the four days spent at KL proved that BMW not only provides the performance and engineering quality that it is famed for in its cars, but also goes many extra miles to ensure the ownership experience is just as rewarding. If only Bangladesh's tax structure allowed the import of M cars…
Photos: Farhan739