No pressure, say people who put others under immense pressure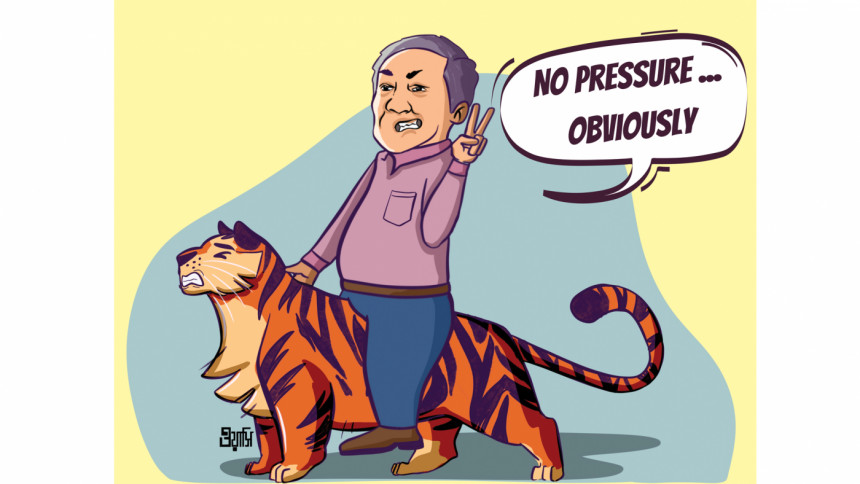 The people of Chapasthan are becoming more aware of the importance of mental health with each passing day. They now know how distressing it can be for a person to get pressured into doing something.  
It's just that they don't care. They found out that as long as you say "no pressure", it's all good in the hood.
For example, university faculty members, like Kamrul Hossain Chapon, a psychology professor at Brick University, are great at understanding that their students might have a mental breakdown at any moment.
"I know you all are going through a tough time. I just want you to know that you don't have to take too much pressure," the professor told his students a week ago. "Anyways, I'm giving you six assignments, which you have to finish by this week. If you don't do them, I'm going to write an 'F' on your forehead."
Corporations are also looking out for their workers with the "no pressure" mantra.
Recently, Samira, who works at one of the 4,987 digital agencies, had asked for a three-day leave. This is how the conversation with her boss went.
"Oh my boss, my inspiration, my idol, will you please show your mercy and allow me to leave your wonderful work premises for three days? Lest I crumble under pressure," Samira said, weirdly.
"Look Samira, taking a leave is your right. You may choose to do so whenever you feel like," said Marzuk Hasan Lapon, her boss. "But remember, these very choices dictate your fate.
"Please take the leave if you want to. The company policy totally supports this, as we understand how essential it is to give our employees some breathing space," he continued. "We are, however, short-staffed, and the whole business might crumble, if you do follow through with your plan. But hey, you have the agency to make that decision, so no pressure."
Samira finally decided to not take the leave, for the betterment of the company. "This was totally my decision, and no one coerced me into it. I love my boss!" she said.
Meanwhile, Chapasthan Infographics Minister Mainul Hosen Babon held a press conference yesterday and said journalists have the full freedom to publish whatever they want.
"Go ahead, do whatever you want. We'll take care of the rest, no pressure," he said.
When asked what he meant by "taking care of the rest", he replied, "Don't think too much, or I'll make you disappear."