Govt gifts houses to B,CB officials after players beat New Zealand
Batters to play with one stump in board's next revolutionary move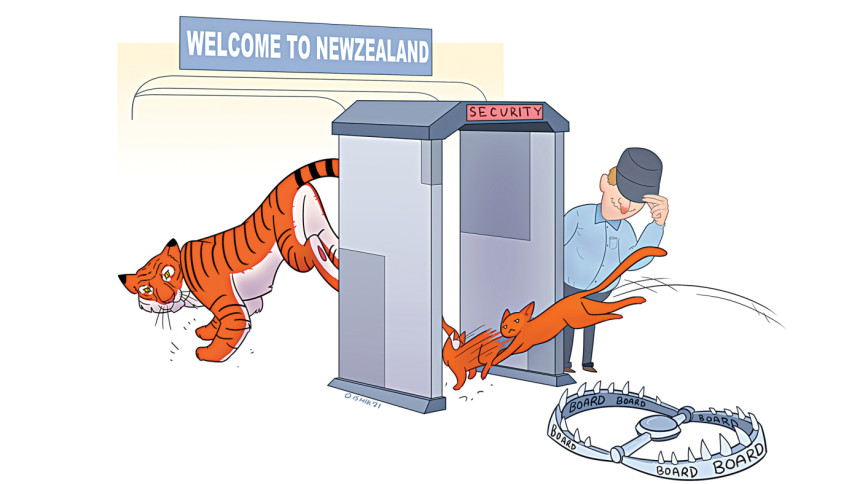 The government has gifted the officials of Board, Cricket Board (B,CB) houses and land in recognition of their service after the Chapasthan national team notched its greatest achievement by beating New Zealand in a Test in the southern-hemisphere nation.
B,CB President Kamrul Hashan Phapa was given a grand mansion in the capital's Foolshan, right next to his six-storey apartment complex.
"The government has recognised the B,CB's untiring criticism behind the players' development, which led to this grand result," read a sports ministry press release.
All board directors were given houses in the capital and land in their home districts. All of their home districts are in the capital, as it so happens.
Speaking at a press conference at 6:30am, 10 minutes after the team won in New Zealand, Phapa said, "All you people only find fault in us, but never see the good that we do. You say we don't prepare our players for overseas conditions, we never build our team, and this gets my goat the most… you say we don't have long-term plans.
"Ever since I took office I was planning this. We weren't going to give fast bowlers friendly conditions here because we did not want to spoil them, we wanted them to be desperate, hungry. If they play on bad pitches here and perform, imagine how good they will be on good pitches. That was the thinking, although it took nearly a decade for the plan to work, because the cricketers are not very good.
"We also kept the domestic players hungry in a more literal sense because we wanted them to be desperate. Finally, it has borne fruit, and we promise to never give players the fruit."
BC Malik, a very influential board director, said, "Remember when the players went on strike? They wanted respect from the board. We said we would agree to their demands… but did we? No!
"We didn't give them respect. Because you have to earn the respect by playing cricket," said the director who, like the president, never played cricket. "If we had given them respect, they would have climbed on top of our heads. But since they were disrespected, they went out to earn respect. They earned the world's respect but this is my promise to the nation, we will never respect cricketers."
Speaking at the same press conference, Phapa said from now on, batters in domestic cricket will be given a single stump instead of bats to hone their skills further. To even the scales, bowlers will also have a single stump to bowl at.
"This will be our second phase of development," Phapa said. "Our aim is 2040…  I have to be in power till then, I guess. I will be 93, but these are the sacrifices one makes for cricket."