Chuadanga man hospitalised due to malfunctioning weather app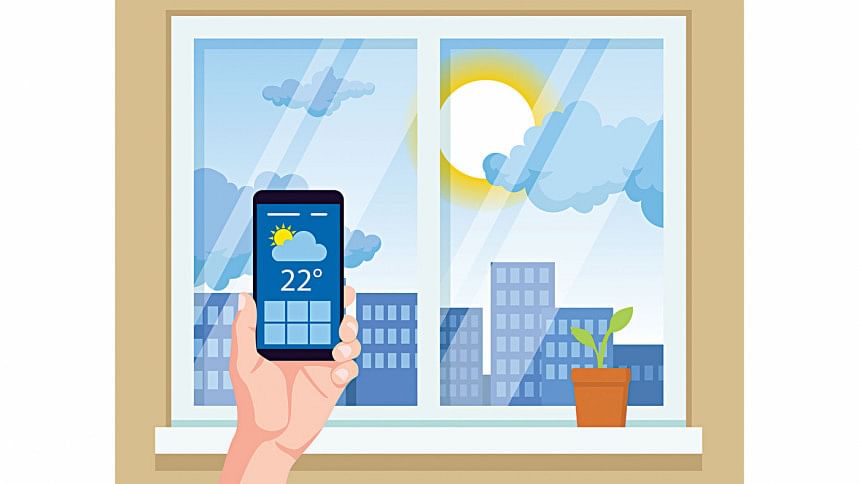 A man in Chuadanga was hospitalised with pneumonia on Thursday because he kept walking around the district town in a sleeveless shirt and shorts even as the mercury had dipped to below 7 degrees Celsius, the lowest recorded temperature this season.
Smart Latif, 27, was admitted to hospital after he was found violently shaking and shivering on the ground in front of the Chuadanga rail station around 11:00am. People who took him to the hospital said they heard Latif repeat the words trough chattering teeth, "But it was 28 degrees just a minute ago."
Doctors were still trying to stabilise his temperature at the time of writing.
Latif's friends and family members told this correspondent that he had always been overdependent on his smartphone, which is what led to his current condition.
He had recently gotten a brand new phone and always boasted about its features and state of the art connectivity.
"I knew something was wrong when he woke up today [Thursday] and proclaimed that winter was over," his wife Rashida told Star Satireday. "I could barely get my feet out from under the three layers of blankets and here he was, going to the roof without a shirt to see the sun rise on 'a new season'.
"I told him that it was less than 10 degrees and even showed him my phone where the weather app showed the temperature, but because my phone was from an 'inferior competitor', he refused to believe me, and became even more insistent that it was indeed 28 degrees, as displayed on his 'best smartphone of 2022'.
"When I tried telling him that there must be no internet on his phone, he said that there was no internet on mine and stormed out."
From what could be gathered after talking to his friends and family, Smart Latif's weather app was displaying old data and at the same time his mobile data had run out.
"His wife called me around 9:30am in the morning, saying that Latif had gone out wearing shorts and  a sleeveless shirt, and that I had to save him. I tried calling him on WhatsApp, but the call wouldn't go through," said Mansur, Latif's friend.
Mansur said he had called Rashida back, on WhatsApp, and learned that Latif's phone had no data connection.
"Rashida promised that she would pay me back if I sent Latif some data, so around 11:00am, I did."
"I immediately noticed him because, come on, he was walking around in shorts when everyone else was covered up like it was the North Pole," said Mehdi, a porter at the station.
"I saw him take his phone out, look at the screen, scream out and then fall to the floor shivering."