Chairs were made for men, not for women: Chairman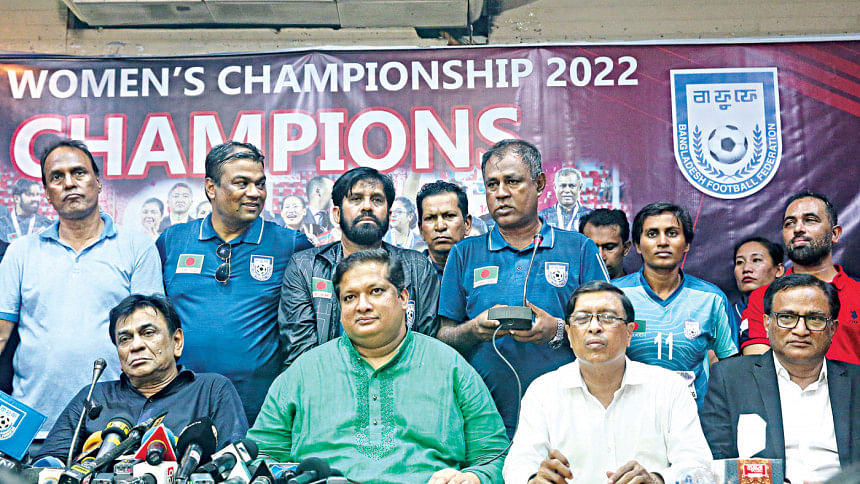 "Have you ever heard of a person who is called a 'chairwoman'? It's because the chair was made for men.
"So, how could we let these women sit in those chairs and watch you dive down a pit of confusion about whether to call them chairmen or chairwomen?" Chairuddin Ahmed, chairman of Chapasthan Football Federation (CFF), replied when asked why he and his homies did not let champions sit on chairs during a press conference held on the occasion of their historic victory.
Chairuddin Ahmed, who considers himself to be the Florentino Perez of Chapasthan football, has been making some splendid comments since he heard news that the women won The Championship. Questions arose as he didn't go with the girls.
"I could go with them, but I didn't because I wanted to save some dollars for my country in these trying times," Chairuddin said, revealing his patriotic zeal, which was more authentic than his promise of playing the Qatar World Cup in 2022.
After winning The Championship undefeated, the champions got on a plane home, then on a four-hour open-top bus ride in the heat, and finally reached the country's football headquarters only to be standing behind two rows of men. Journalists were struggling to take a photo of those girls but failed as they were overshadowed by innumerable chairmen.
"Hey bro, who is that press conference for? For the champions or for these chairmen?" a photojournalist, failing to capture a photo of the champions, asked another journalist who was also wondering why he was actually there.
"If they couldn't afford some more chairs for our champions, why didn't they ask us to help them with some chairs?" Raisa, a student of Individual Chair School & College, asked on social media.
After the public backlash, these chairmen called another press conference, but this time without any chairs.
"Listen, actually we were testing our girls' stamina as you need it for football. That's why we didn't let them sit," a chairman said.
When asked whether they were weaker than those girls as they were sitting on chairs leaving those little girls standing, he said, "Chairs were actually made for men. We had some and my homies and I sat there. See, we are chairmen. Have you ever heard of chairwomen?"