Leave No One Behind (LNB): Sustainable Development Goals 2030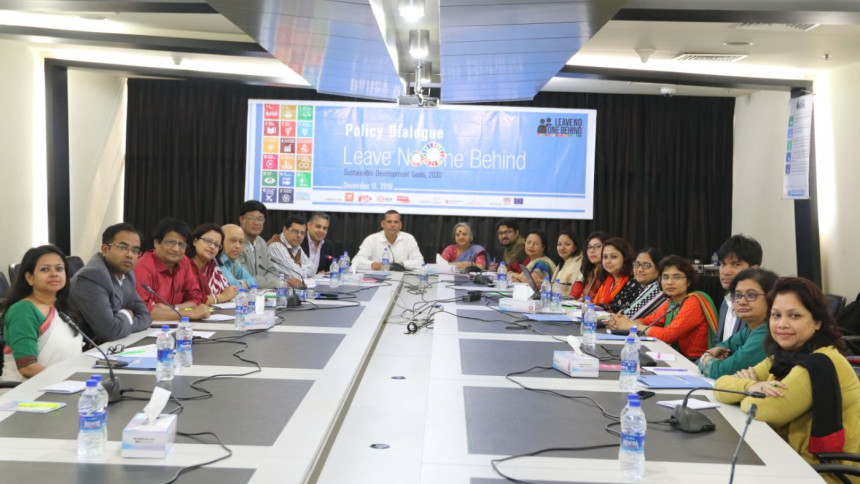 ADD International, Christian Aid, DanChurchAid and HelpAge International, Bangladesh jointly organized a roundtable titled 'Leave No One Behind (LNB): Sustainable Development Goals 2030'  on December 11, 2016. Here we publish a summary of the discussions. 
-Editor 
The Sustainable Development Goals (SDG) also known as transforming our World: The 2030 Agenda for Sustainable Development are seventeen goals and 169 targets adopted by 193 UN member states in September 2015. The commitment to these goals will help ensure those experiencing the worst forms of poverty, exclusion, violence and discrimination receive priority access to the resources and programs being mobilized by the global goals. It aims to ensure that no one is left behind which is the overarching means for evaluating the implementation of the goals.
In light of this, ADD International, Christian Aid, Dan Church Aid and HelpAge International are building on their previous and on-going work on the Sustainable Development Goals (SDG) and have formed the Bangladesh Coalition on SDG. With support from CIVICUS the four organizations are working to build an understanding of the Leave No One Behind (LNB) agenda. This is within a broader aim to promote human rights of marginalized groups and the attainment of the SDG commitments within the principles of 'Leave No One Behind' and 'Close the Gap' (addressing inequality). This is central to strengthen the voices of the marginalized and excluded irrespective of age, sex, education, religion, ethnicity, socio-economic status and geographic location. Through this platform, we intend to use the opportunity created by the LNOB agenda to challenge social barriers perpetuating inequality, exclusion, discrimination, stigma and hold decision-makers accountable.
The Bangladesh Coalition on the SDG has two key objectives:
1. To demystify the SDG and LNB concept and build an understanding of the LNB agenda for civil society, policy makers and mass population focusing on those who are the target groups of LNB – women, girls, religious
and ethnic minorities, disabled, aged, youth, trade unions, LGBTQI and rural communities.
2. To establish a national level multi-stakeholder coalition in support of LNB.
The coalition will work with local partners representing diversified marginalized target groups. Together we will work to organize local and national level discussions on the SDG and LNB agenda. The coalition members will support the local partners through each member's regular systems and procedures to report on inclusiveness and the progress of SDG implementation. This will create evidence to support policy-influencing activities at the local and national level. Lessons learned and evidence collected will be included in our on-going SDG related activities and mainstream policy influencing efforts with policymakers nationally and globally. We will work disseminate success stories and lessons learned to the wider global community including marginalized groups.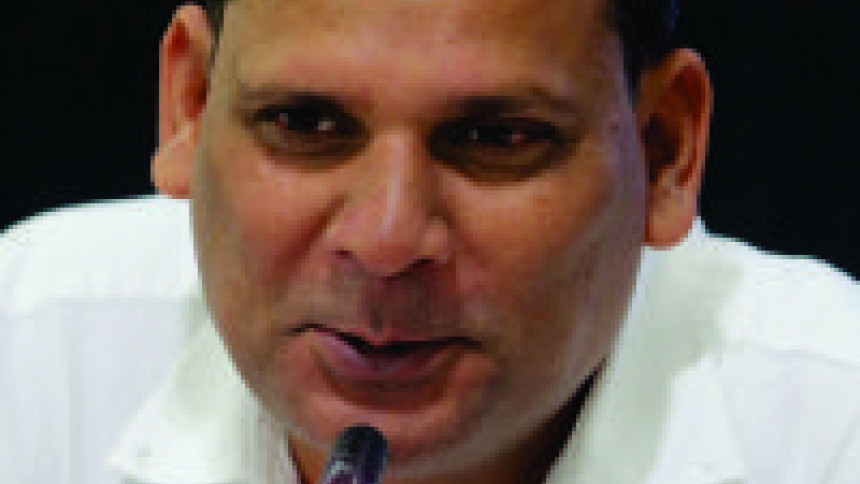 Shakeb Nabi, Country Director, Christian Aid Bangladesh & Moderator of the session
Inclusion was an overarching issue in the Millennium Development Goals (MDG) but the 2030 Agenda for Sustainable Development has a core commitment to leave no one behind. It has certain push towards inclusion and intersectionality. To achieve Sustainable Development Goals (SDG) it is imperative to listen to every excluded community as well as individual to ensure their participation in the development process. The top-down approach taken to achieve MDG did not result in the intended success. For the SDG to be successful, we need to take a bottom-up approach. We have to reach the common people, particularly the excluded ones, inform them about the goals in simplified forms and most importantly learn from them what the changes they want in their life are. The goals need to be owned by everyone. Our society also needs to be made aware about the plights of excluded people. We need a strong data collection system so that we can monitor our progress, take evidence-based decisions and ensure that no one is left behind.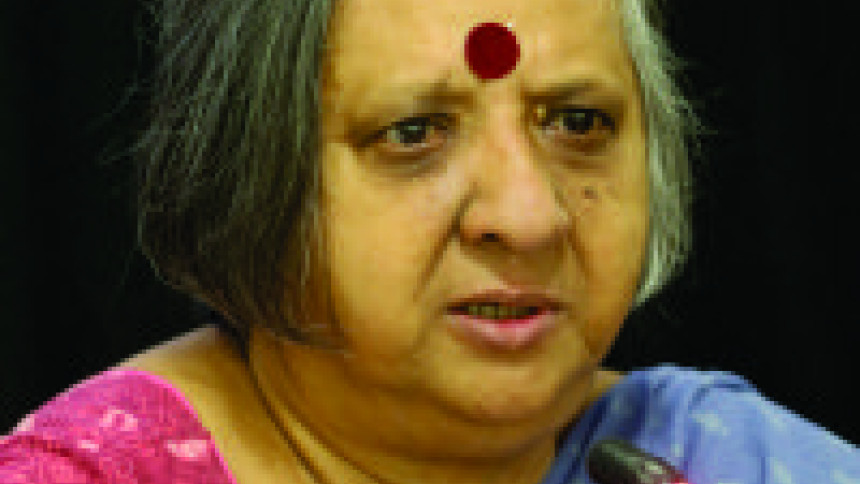 Khushi Kabir, Coordinator, Nijera Kori
Leaving no one behind is not just about number it is also about quality. For example, you may reduce poverty by half but that is not enough. We have to look at whether our efforts have reduced inequality. When it comes to numbers related to poverty it can be reduced whereas the gap can increase between rich and poor. The poverty can be half. The number of people going hungry at the same time others are having more money. It can be people have more money but the number of hungry people needs to be reducing at the same time.
Inclusion of every single person of the society is equally important.  We have neonatal section but there is no such doctor as the adult with Geriatric medicines. Older person's body capacity is not same and they have complication. We are not allowing them to study, go to marriages ceremonies and many other occasions. Moreover, Dalit's are there and they are ignored in the Muslim community, and also the disable people are working and fighting and they included for tokenism. There is a stigma about LGBTQI community in society. People with disabilities still remain vulnerable. We have very little social protection system for our aged persons, who comprise 10% of the total population. Girl children and women from the excluded communities face further marginalization. When we talk about inclusion we have to consider these multiple aspects of exclusion. We need a forum where we will identify who is being left behind and why. Their voices need to be heard. As an immediate action, we should make a strong appeal to the government to remove the special provision from the draft Child Marriage Restrain Act which allows child marriage in "special cases". This provision directly contradicts with the spirit of sustainable development. 
The government has set up a SDG cell. There are also different platforms for SDG. We should make contact with these forums and try to highlight the issue of inclusion. We can also prepare alternative reports on the implementation of SDG and submit them to various local and global forums.
Deepak Dhoj Khadka, Country Director, iDE Bangladesh
We look at access to basic technology such as agricultural machines and seeds as the entry point to marginalized communities. We talk to the people who have the problem and listen to what they say. Our task is to ensure their access to existing opportunities. Market alone cannot address the issue of inaccessibility because it is bias towards the privileged people. That is where we need to intervene. The business community does not see much prospect in investing in marginalized communities. We design products for marginalized people and try to attract companies to invest in those products as a profitable venture. This market-based approach for solving poverty creates efficient and sustainable impact. It can be an effective inclusion practice. 
Besides market, we also need to look at our home. We are still apathetic towards the rights of our female family members. We have to bring this discussion into our homes. 
The importance of data for SDG needs to be emphasized more. We have to build an efficient data capturing, validation and sharing system. The data collection process needs to be harmonized.
Ferdous Ara Begum, Member of the Board of Trustees, HelpAge International (Former Director General, Bangladesh Television)
In Bangladesh, around 8% of the total population belongs to the age group of 60 and above. This number is silently growing and we do not have any effective plan to look after this large population. We do not have enough data on them. Ageing should be considered seriously in ensuring sustainable development. We need to empower them so that they can continue their contribution to the society instead of becoming a burden. The present retirement age is quite early considering an individual's capacity to work.
Now people live longer and remain productive thanks to the advancement of health science. We should also consider this issue in our planning. Ageing is also related with disability. If we can give proper health support we can save many elderly people from being disabled. Our health service providers should provide special care to the elderly people.
Rabeya Sultana, Social Protection Adviser –South Asia, HelpAge International
I want to emphasize the importance of disaggregated data. We need to look at cross-sections and subsectors of data such as age health, age, sex and so on. It will help us make effective plans for achieving sustainable development.
Our migrant workers, particularly female migrant workers, become socially and economically marginalized after returning from abroad. They cannot save much. They also do not get any pension from the government.
The budget for social safety programmes is very inadequate. A large amount of it is goes to government pensions. The government should allocate more funds to provide support to the large group of excluded and marginalized such as tea workers, Urdu speaking community, etc.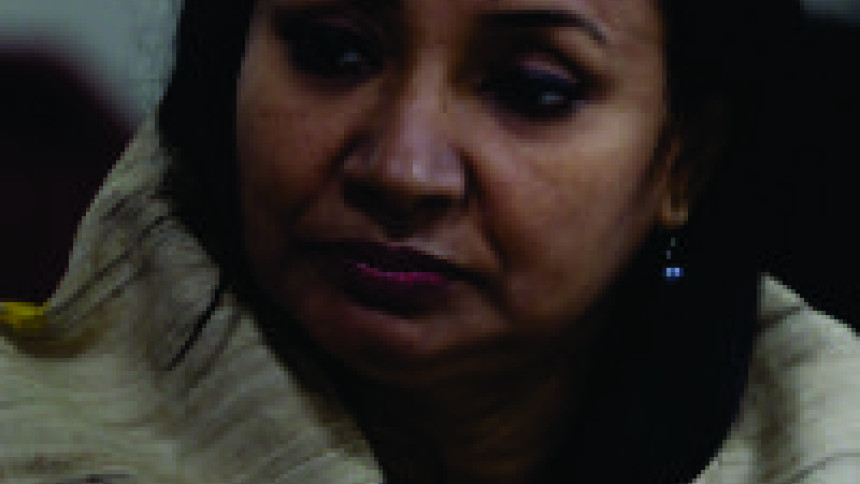 Mahbuba Nasrin, Professor and Director of Institute of Disaster Management and Vulnerability Studies 
Economic growth alone cannot ensure sustainable development.  Sustainability means meeting the needs of the present without compromising with the needs of the future generation. We should consider both the  means and ends of development.
In the remote areas, particularly climate affected areas, people do not even have access to relief. They do not get reproductive health facilities. Community clinic facilities do not reach them. We need to devise separate plans to reach these people. In our data collection system, we should include there regional differences.
Our students are involved in various kinds of research on SDG. These research findings can add value to our knowledge about this issue. There can be collaborative projects between academic institutions and NGOs on SDG.
Mohsin Ali, General Secretary, Right to Food Network Bangladesh
The agenda of right to food and policy implication are important. In Bangladesh more than 4 crore people live below the poverty line. This is a huge number. There are also extreme poor. We should highlight ensuring basic rights for these people in our campaigns.  The poverty pockets, particularly the climate affected areas, need special attention.
Goal 17 is not a priority now but we need to prioritize what  statement  we  would  share with  government  as it is vast like food, safety net, agriculture, labour issues and youth issues. We need be focused and work around particular issues.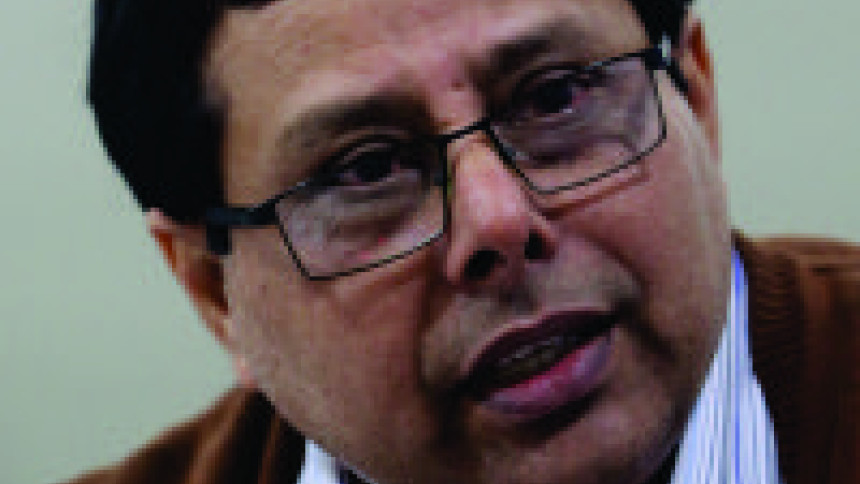 Dr. Dwijendra Lal Mallick, Director, BCAS
There are many dimensions in the country. The situation of the haor and costal areas must be looked at closely as 50% of people living there are excluded. We also see people falling in the trap of  poverty.
First 8 SDG are essential for the people left behind. In many areas we need to consider the issue of climate change as this slows down development. We need to consider 8, 10 and 13 number SDG as essential to see the gaps because development should be equitable. For Dhaka city goal 16 is essential.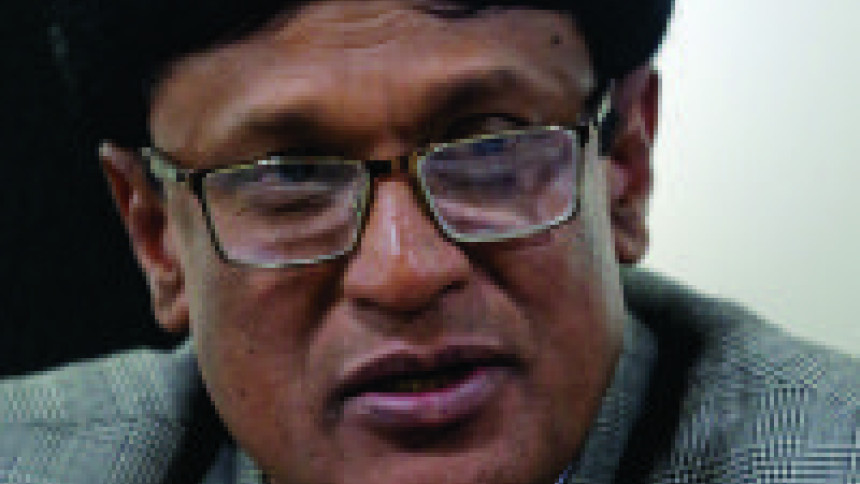 ASM Atiqur Rahman,Ph.D, Professor, University of Dhaka and Secretary General, Bangladesh Association for the Aged and Institute of Geriatric Medicine (BAAIGM)
Our academic institutions can play a big role in meeting this demand. SDG should be included in our syllabus. We need a large amount of primary data on SDG. Students should be involved more in collecting reliable data. Intergenerational linkages thorough works should be prioritized. Frequently changes of responsibilities are always a problem, mainly in government sector. When new person joins  all the learning and institutional memories are lost.
Tahmina Haq, Gender and Inclusion Adviser, Plan International Bangladesh
Making the invisibles visible is the core message of SDG. Even if it is a single person we can't exclude him or her. In Bangladesh, the government is very sensitive about LGBTQI rights. It should not restrain us from talking about their rights. We should work to change the social prejudices.
We should include youth representatives from every marginalized community in our coalition. As a coalition we need to speak about the rights of all people. For example, youth with disability and other front line agents of change need to be led by themselves for long term strategic planning. We should formulate a long term vision for this forum. As all the SDG are closely related we should also include representatives from various SDG implementing bodies. 
Afsana Amin, Programme Manager, Nagarik Uddyog 
When we work on inclusion of vulnerable groups we need to identify the root causes of their vulnerability and the obstacles that are holding them back.
There is a provision of 5% quota in the Private University Act. If we encourage private universities to prioritise students from marginalized communities for this facility it will be a good inclusion practice. We should explore more such opportunities.
Tista Dutta Sahoo, VSO, Asia pacific
All our interventions need to follow a bottom-up approach. In some countries, various apps have been developed to know people's idea about SDG. We can learn from their experiences and develop similar types of communication channels in Bangladesh. We should prioritise what people want. It also helps ensure accountability.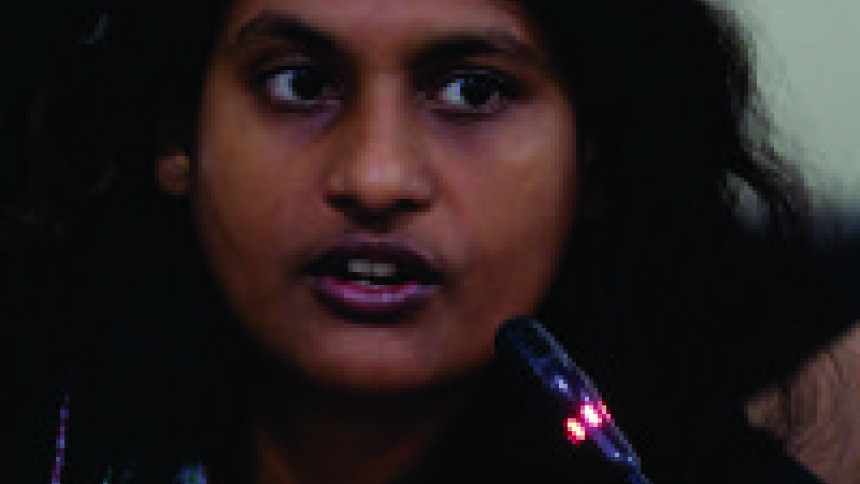 Shamnaz Ahmed, Humanitarian Response Coordinator, DanChurchAid
There are indigenous solutions to many problems that can be worth replicating in other areas. For example, we can learn from the coping strategies invented by people living in Haor areas to find solutions to the problem of water logging in other areas of the country.
We need to emphasise on equitable distribution of wealth instead of GDP growth. The benefits of development need to be brought to rural areas. The people in transition, particularly the floating population, are vulnerable to exclusion. We need to include them in our activities.
Sanjib Biswas Shonjoy, Program Manager, Christian Aid Bangladesh
We need to work to change the social stereotypes that creates various forms of discriminatory practices.  
There is a vulnerability matrix for measuring disaster risks. We can develop a similar method for assessing the situation of various excluded communities. It will also help measure progress of our interventions for reducing their plight. Socially we exclude dwarfs making them vulnerable. We may need to think differently for their inclusion in the society.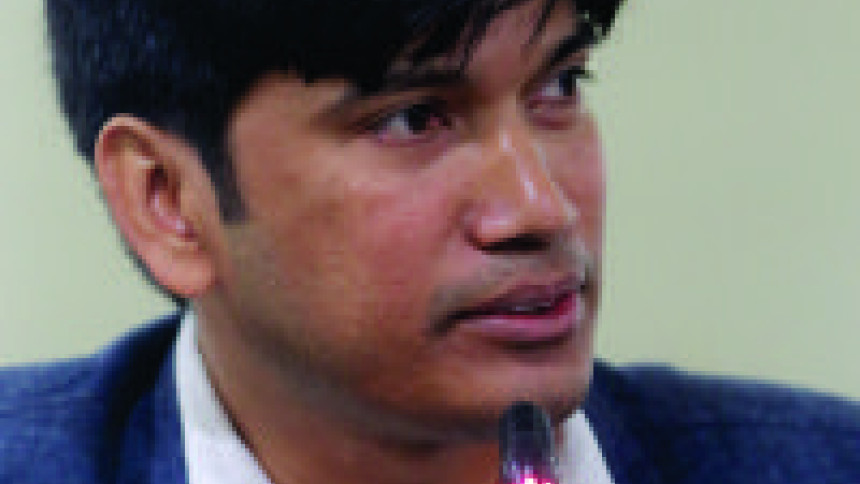 Md. Balayat Hossain, Project Officer-Outreach and Campaign, HelpAge International, Bangladesh
Media can play a big role in creating mass awareness about  SDG. We should engage with the journalists so that they can work as agents of change. We need to take our campaign to satellite channels because they can appeal to the mass people, particularly in rural areas. Social media can be an important tool for engaging our youth.
Tazeen Hossain, Youth Programme Manager, VSO
We  have been engaging young people in participatory action researches on sustainable development issues. It raises their awareness, and at the same time, they contribute to innovative solutions of the problems. This can be a good model for youth engagement in achieving SDG. We should translate the SDG into Bangla and disseminate to the mass people through multiple platforms such as cell phone, social media, etc.
Khandoker Shohel Rana, Programme Manager, HelpAge International, Bangladesh
I believe that in collaboration with GO-NGOs there should be a data hub where all the relevant data about SDGs will be available and accessible for mass audience. There is always a scarcity of authentic accessible data. Even though BBS have copyright issues, we can still access the information through a complicated request process. Desegregated data availability is also a challenge. Development partners may help us with this as data is one of the key priorities of SDG. It is now the combined leading  global development priority.
At the same time, the government's initiatives and plan about the SDG and LNB need to be shared with the mass people and relevant stakeholders through mix media. As we know that government is planning on SDG but they need to map it out in collaboration with INGO/NGOs in order to avoid overlap.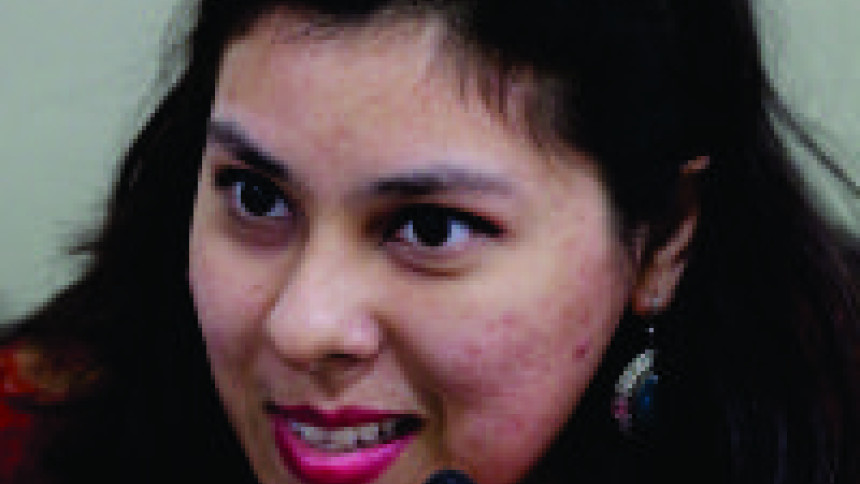 Afrin Sultana Chowdhury, Programme Funding and Compliance Officer, HelpAge International
We should equally emphasize the quality aspects of data. When we talk about growth we should also consider how it has impacted the lives of the people. We need to put efforts to find out the root causes of discrimination and following that we can figure out who are the left behind population.
Subodh Das, Program Development Manager, ADD International Bangladesh
Persons with disabilities constituting around 10% of country's total population are within the most marginalized and are denied of basic human rights.   Under 'Leave No One Behind' global agenda 2030, the persons with disabilities must be included in mainstreaming development and we should encourage and ensure their participation in SDG planning process and its implementation.
Rozana Majumdar, Program Officer - Gender & Governance, Christian Aid Bangladesh
Dismantling the intersectional oppressions that compound marginalization of excluded communities like the Dalits in Bangladesh gives us the nuanced insights into the critical thinking and self-work necessary to push back against our own privileges and to create an intersectional ethic and lens to craft our campaign strategies. We cannot separate multiple oppressions, as they are experienced and enacted intersectionally, and failure to account for multiple grounds of identity intersectionality (gender, caste, race, nationality, religion, ethnicity, sexual orientation) will again lead us to one-size-fits-all solutions with not only inconsequential but detrimental consequences of erasure of people like the Dalit disabled Muslim women and her identities.