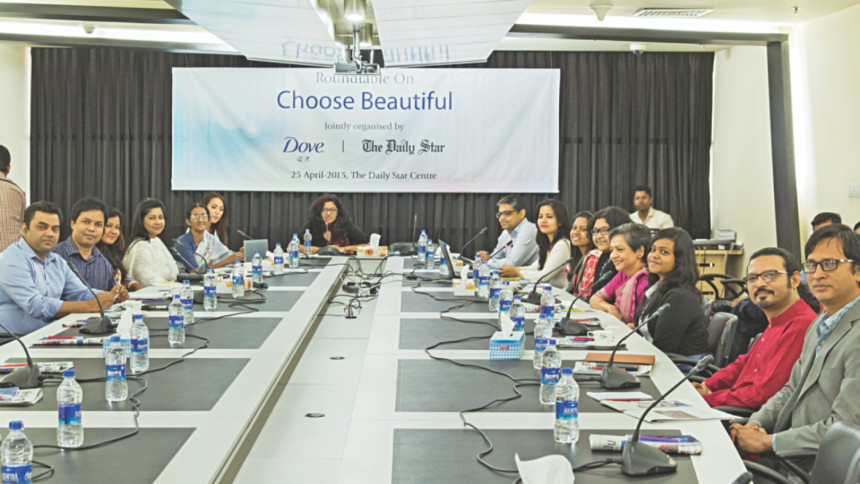 Dove and The Daily Star recently organised a roundtable on "Choose Beautiful". This is a new campaign from Dove encouraging women to reconsider the choices they make about their beauty.  Here we publish a summary of the discussions
– Editor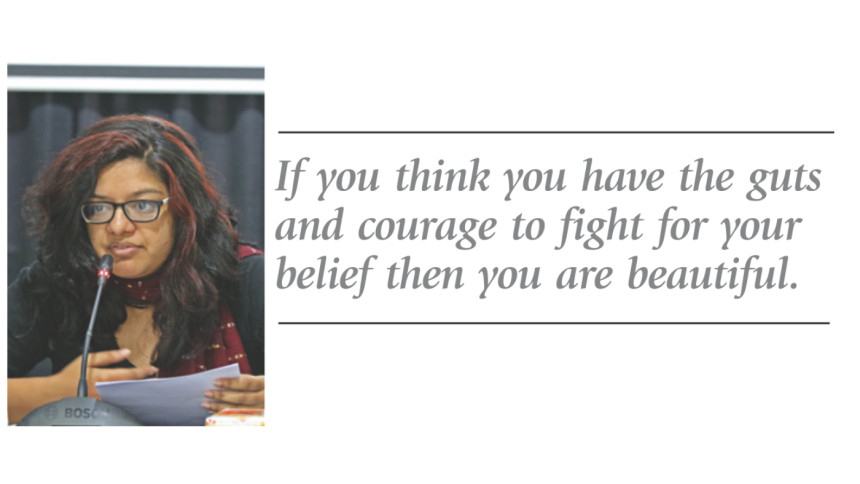 Elita Karim , Editor, Star Weekend,The Daily Star & Moderator of the session
The philosophy of 'Choose Beautiful' is very simple and interesting that is, you are beautiful if you feel beautiful. If you think you have the guts and courage to fight for your belief then you are beautiful.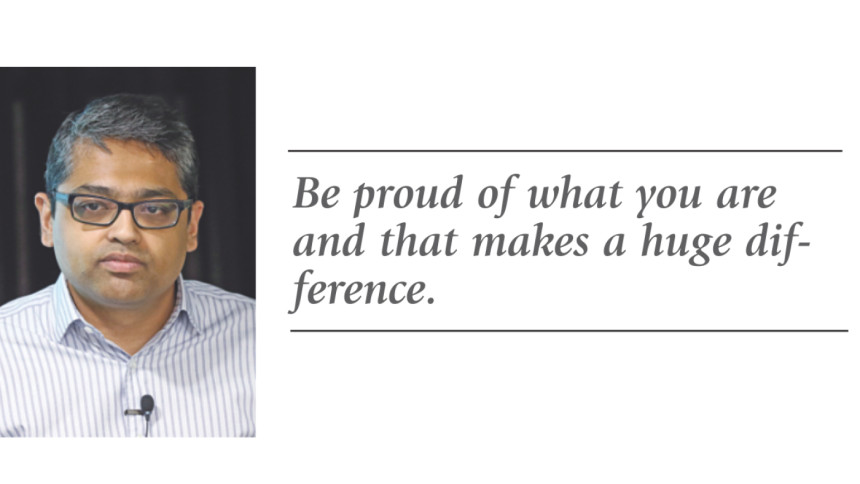 Zaved Akhtar , Brand Building Director, Unilever Bangladesh Ltd.
Only 4 percent women in the world believe that they are beautiful. It impacts on how they think and how they behave. This is the crux of the issue.  In the film, 'Average and Beautiful', two gates are shown. One is labelled 'beautiful' and another is labelled 'average'. Participants were asked to choose either of the two gates. Most of the women chose the 'average' gate. Women today believe that they are not beautiful. We need to break this myth. We should tell them that you are beautiful just the way you are. It is not about changing yourself. Be proud of what you are and that makes a huge difference. This is what Dove wants to do. As a brand we want to connect with 15 million young people and tell them that you make a difference of how you look to yourself.
This journey of Dove has started in Bangladesh very recently. Our managers went out to schools and got gratifying experiences by talking with young people. I have a personal story related to this issue. I have a younger sister. As we grew up, my parent got anxious every time my sister would go out. They were concerned whether she was in proper get up. But it did not happen to me. This dichotomy still exists in our society. That's why today's issue is very close to my heart. Unless we get our women actually believe in this philosophy, it would be difficult to bring change in the country. Today we are talking about Bangladesh's tremendous progress. It is happening because the new generation of mothers is making a lot of difference. This is exactly the mission of Dove. Every year we do multiple types of campaigns to hit this issue. This year we are also doing the same. This is a philosophy that cuts across geography and people. This is an issue for women across the world.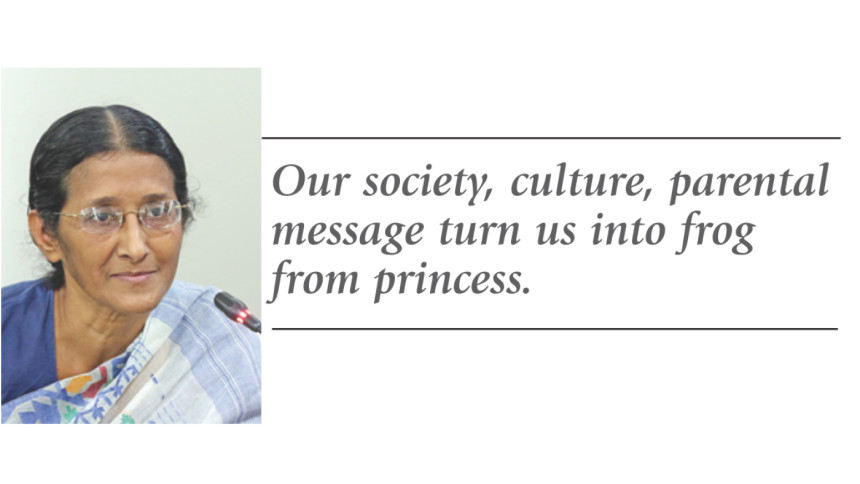 Dr. Shaheen Islam, Professor at Dept. of Educational and Counseling Psychology, Dhaka University
Everyone has the capacity to choose. But our society, culture, parental message turn us into frog from princess. We need to break this situation and build confidence in women. Women need to respect themselves. A girl grows up hearing that a woman is inferior to man. It has been going on for centuries. If women have self-respect and self-discipline they can achieve everything.
Geeteara Safiya Choudhury, Chairman, Adcomm Ltd.
There is a saying that the hand that rocks the cradle is the hand that rules the world. If mothers teach their girls the right message girls will get the confidence.  We need to give this confidence to each other. If we can highlight these words in our media it will have a great impact. The media have to play its role to bring about the social change.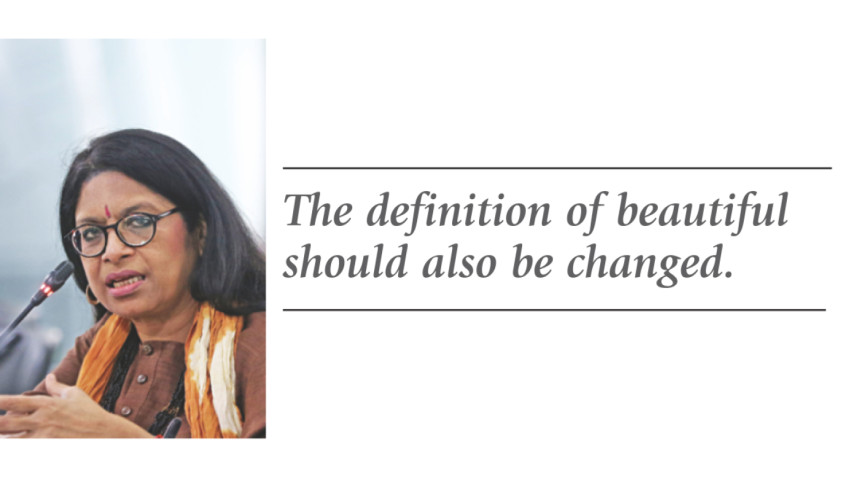 Sara Zaker, Group Managing Director, Asiatic
I think confidence is beauty. Media can play a big role by focusing on the confidence of a girl that she is beautiful. The definition of beautiful should also be changed.  The very perfect figures we see in media become a big load on young women. We need to break this stereotype and harp through media that confidence is beautiful. I think it will take us miles and miles.
Kaniz Almas  Khan, MD, Persona
We can see change from a place of trust. We beautify things that people can see. We probably change the look of a person; a girl will probably change her hair colour or her hairstyle. And we notice these changes as they are visible. But at the back of the mind, when a person sees that they are looking good in the mirror, their confidence automatically is boosted and they start feeling a higher sense of self-respect. If we can't identify our strengths, and can't trust or respect ourselves, then we will never get the courage to enter the beautiful gate. We will hesitate; we will wonder whether we are actually beautiful enough. This worry always pulls people backwards.
When people say that one looks beautiful, they might feel very confident but when people say that one doesn't look too good, their confidence might suffer. We should make sure that our confidence doesn't fluctuate in this manner. We need to recognise our own strengths and not be swayed by what others say.
I believe that those of us working in beautification helps to build a sense of confidence in people but individuals should also have a sense of self-respect that will help them to better understand themselves.
In my career in the beauty industry, I've seen trends changing over the last decade. Ten years back, makeup was a priority but now women focus more on the fundamental things like healthy hair or fitness.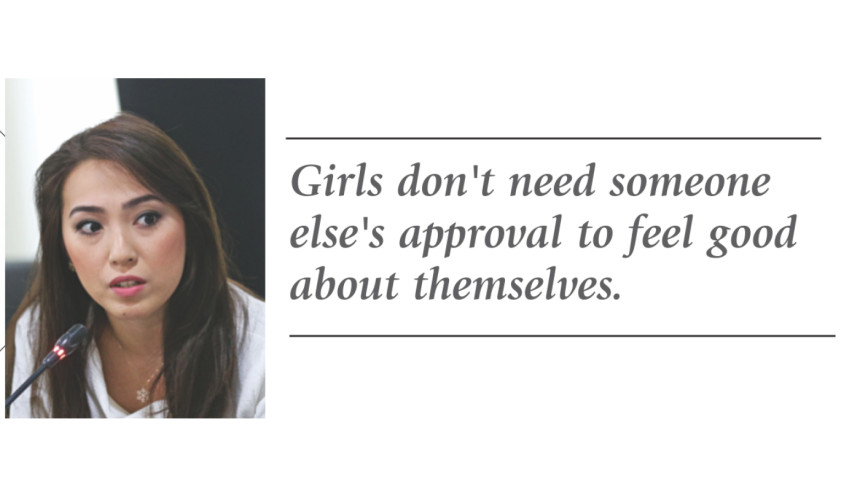 Naureen Hassan , Proprietor, Studio SALON
I feel that the younger, 'selfie' generation is a bit more self-conscious as well as confident about themselves. Everybody has an Instagram account and that requires one to take pictures and upload them. They feel more confident and powerful and they see themselves differently nowadays. It could be from their parents who are encouraging them to feel that way.
When we do photo shoots for my Salon, I don't use professional models, rather I use my clients for the pictures. And they feel good about that and they actually feel that they can pull it off.
The new generation of girls are empowering themselves, even if people here say that being dark-skinned is not good looking. However, nowadays I see that girls don't want whitening makeup, in fact, they want to look natural. Thus, I feel girls nowadays are more comfortable in their own skin. This means that girls don't need someone else's approval to feel good about themselves.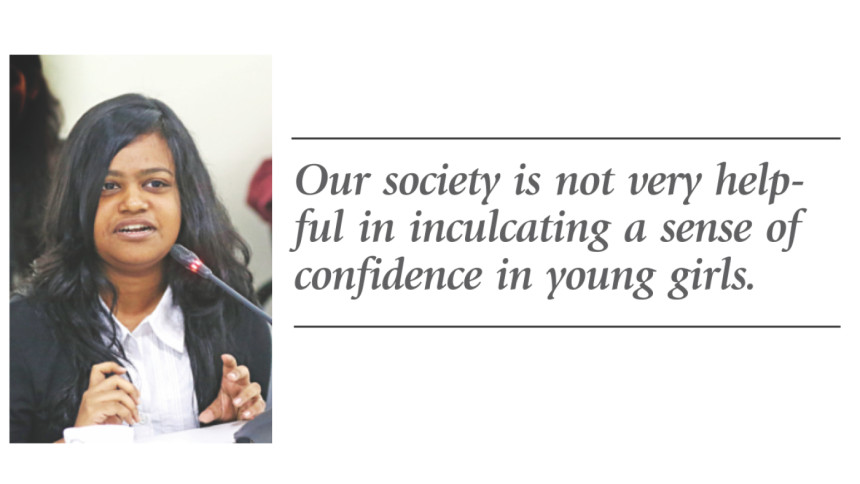 Niladry Sabir, Student, North South University
Since we participate in social networks, our pictures have become more important. Our friend circle is more expanded. So whatever you do on social media is seen by a larger number of people and they'll expect more from you.
Our society is not very helpful in inculcating a sense of confidence in young girls. There is one group that says that you are beautiful while there still exists a group that asserts that you can't be beautiful because you are dark. I don't think there is any mechanism that can help you to deal with people calling you dark. Generally people comment negatively on photos shared in social media. We have immense pressure on how we look and we need to change that.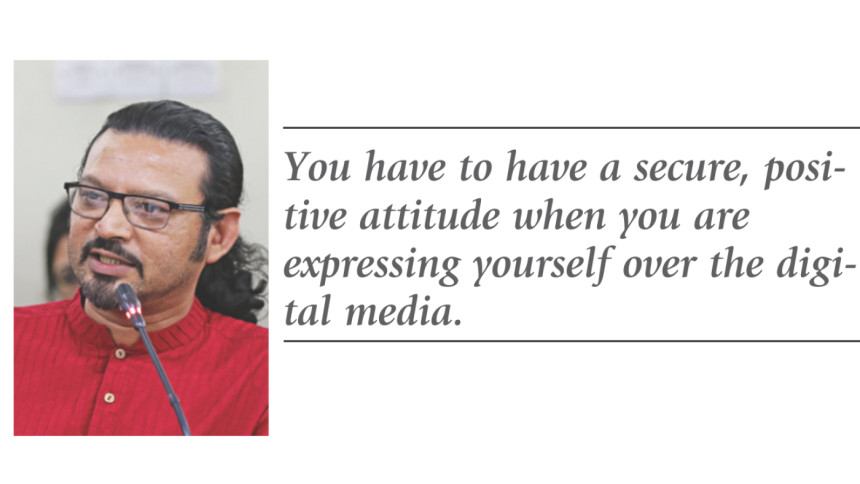 Gazi Shubhro, MD, RED dot
I think that being positive is very important. I was fortunate enough to make a film on Bangladesh for the government during the T-20 tournament. After the film was released, we were surprised to know that this film received awards in the category of world tourism films from Croatia and Poland. We hadn't even submitted our film for the awards; they nominated us based on our video which was released on YouTube. Thus, I believe that you need to have the confidence to present yourself  in a beautiful manner.
There are a number of platforms where you can showcase yourself but you have to have a secure, positive attitude when you are expressing yourself over the digital media.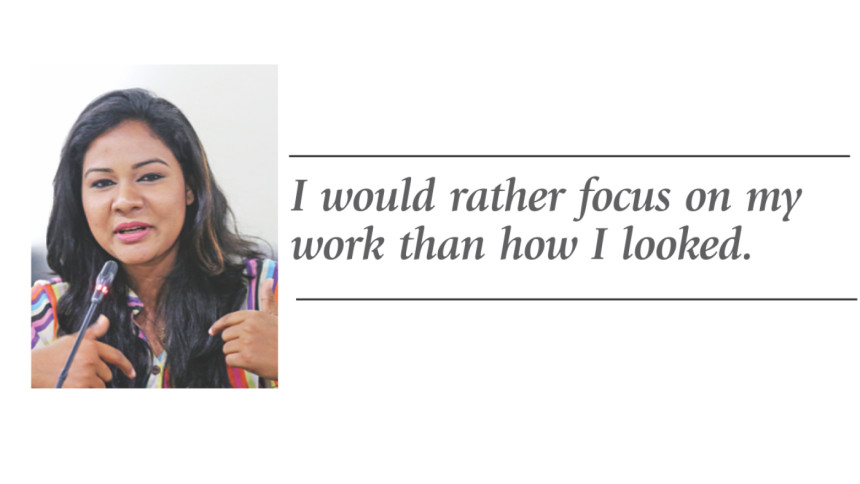 Shathira Jakir Jessy, Woman Cricket Player, Bangladesh National Women's Cricket Team
My father asked me several times to quit playing cricket because I am getting dark. In fact, he often prays loudly to God to make me fairer. Most of my family members are fair but I have no regrets in turning dark after being involved in cricket. Because, no one in my family is in the position that I hold today. Earlier, everyone knew me as my parents' daughter but now everyone recognises my parents through me. I feel proud that people now know my parents because of the identity that I carved out for myself. Being fair or dark doesn't really matter.
I was dropped from the National Women's Cricket team after an injury that led me to put on some weight after playing for the national team. Even though I always performed well and was one of the three best performers of the team, I was dropped from the team for gaining 'too much' weight. In that year, even with my injury, I was a top performer but my weight was the only reason that the selectors thought I was not fit for the team.
Several players in cricket teams like India, Pakistan and West Indies continued to play despite being fat. So I guess it was not really my fitness that was of concern but my overall look that mattered. Everyone asked me to lose weight but I decided that I would be a top performer with this weight. And that's exactly what happened. During a Premiere League match, the chief selector came up to me and told me that I had played well. They were thus forced to take me back to the team for my performance. I deliberately did not lose weight so that they would be forced to acknowledge that I was a good player.
I was confident about my ability as a player. Being fat or thin did not matter. In fact, even when a channel offered me good money to anchor their show, I rejected the offer because they asked me to dress in a way that I wasn't comfortable with.I would rather focus on my work than how I looked. I believe that self-confidence is very important.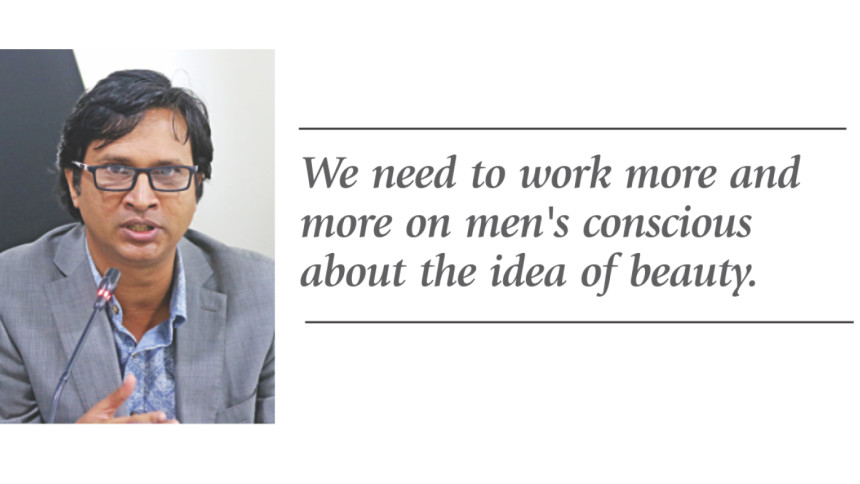 Dr. Saikh Imtiaz, Chairperson, Women's Studies Department, DU
Beauty trends change from time to time. Media defines and redefines the concepts of beauty. Media is also mostly run by men. In a way we can say that beauty is defined by men. Whenever we hold such discussions, we see that these issues are mostly discussed on a superficial level rather than in an in-depth manner. If we delve further into the issue, we'll find that beauty is presented in men's writings, their discussions, and men's speeches. Thankfully, these perceptions are being challenged and especially by men. We need to work more and more on men's conscious about the idea of beauty.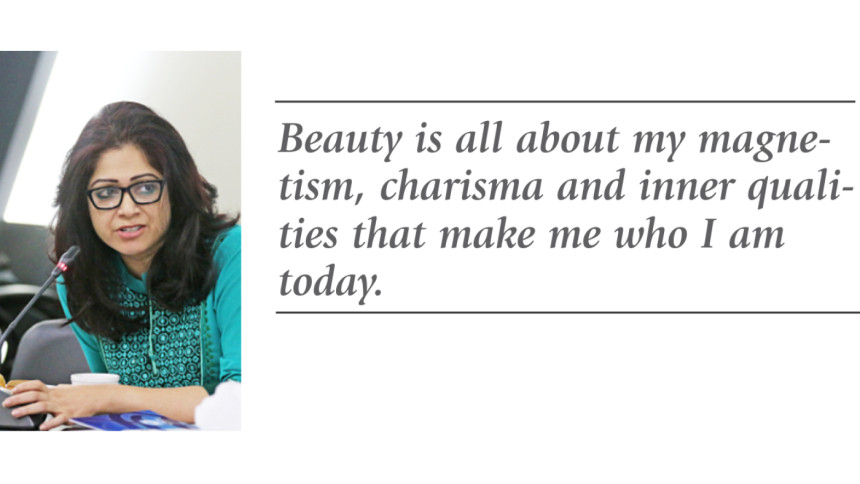 Maheen Khan, Fashion Designer
Women have come a long way. We do not need to wait for a man's opinion what he thinks about us. Beauty is not my body shape or colour. It (Beauty) is all about my magnetism, charisma and inner qualities that make me who I am today. We make beautiful clothings for everybody irrespective of their shape or colour. The fashion industry proudly caters to everybody's needs.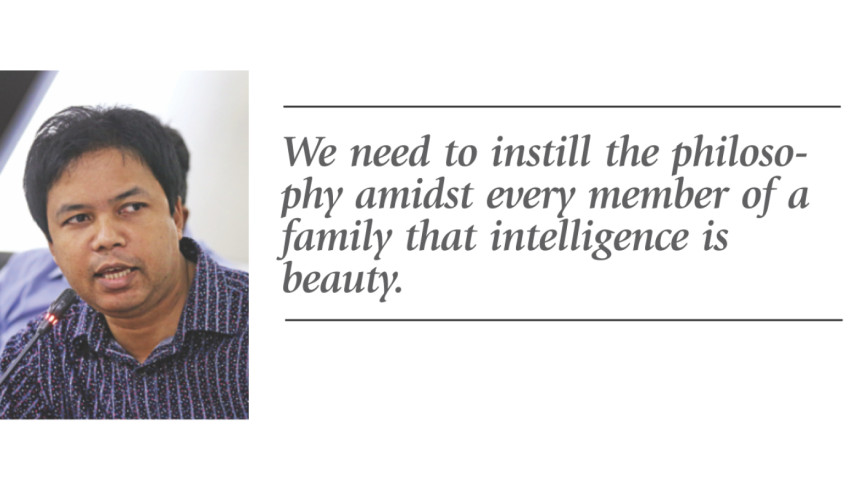 Dr. Faheem Hasan Shahed, Associate Professor, Dept. of English, AIUB
It is important to link beauty with fitness. There is a stereotype in our society that thin is beautiful. But I think beauty is more about fitness rather than being thin or fat.
Intelligence is another important beauty factor. We need to instill the philosophy amidst every member of a family that intelligence is beauty. And until that happens, we can't really expect change.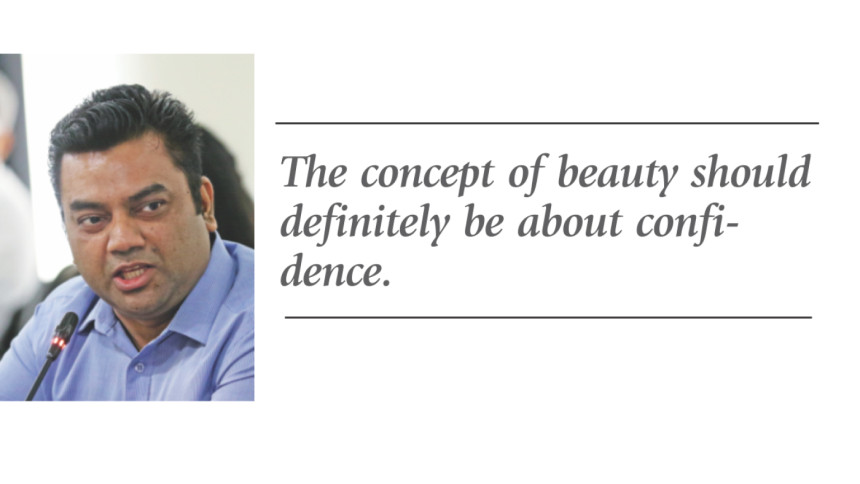 Dr Shamshad Mortaza, Professor, Dept. of English, DU
Feminist author Elaine Showalter traced the history of women's literature, suggesting that it can be divided into three phases. The first one was known as the 'feminine phase', which was up to the 1890's that was prevalent in world literature, including ours. This phase suggested that women characters were portrayed in such a way that it conformed to male desires. So women either had to be angels or when they deviated from that standard they became the 'vamps'. The whole idea of 'sati' as the ideal woman started from there.
The main concept of beauty at one point was that 'beauty is truth.' So when one is honest, they would be considered beautiful. But when you come to the 'feminist phase' which is from the 1920's onwards, with books like Virginia Woolf's 'A Room of One's Own', you'll find that unless you find your own room, your own space, you cannot assert. She even spoke about what would happen if Shakespeare had a sister. She asked if despite being from the same gene pool and parents, would she be able to achieve the same kind of success? The freedom and space that Shakespeare received that enabled him to become Shakespeare would not be offered to his sister by the society.
In earlier times, women had to write using pen names because writing was never considered a profession for women. In Toni Morrison's 'The Bluest Eye', her first novel, she proposed the idea that even though the main protagonist carried a 'nothing' patch, her innate beauty helped to turn the 'nothing' to 'something.' The protagonist, a black girl, is being shown repeatedly that a white girl with blue eyes, blonde hair, thin waist is the ideal of beauty that she needs to aspire to.
I wonder whether a girl posts pictures on Facebook without editing it or photoshopping it. Theoretically, we can say that simple is beautiful but is it really just the way we are? I started by saying that truth is beautiful but what is the truth? The truth is often constructed by the media.
I believe that the concept of beauty should definitely be about confidence, but in order to be confident you need to think right. It's not only about presenting yourself or looking a certain way.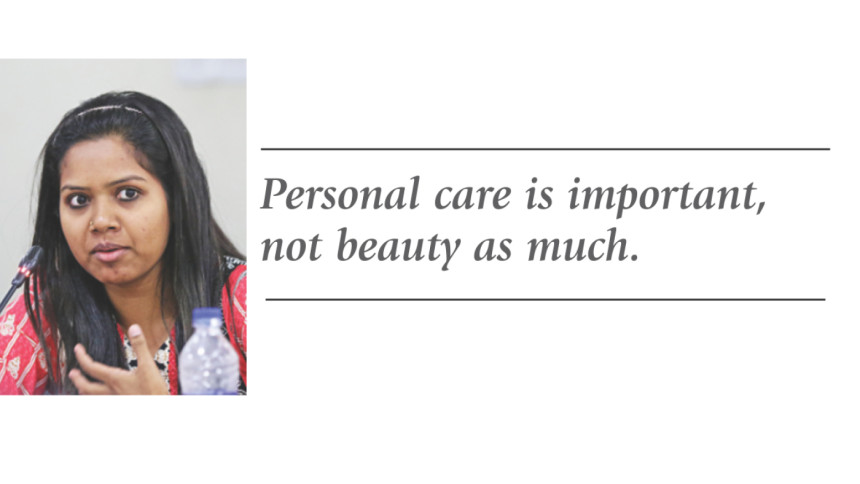 Anika Saba, Student, Dhaka University
I believe that confidence builds beauty not the other way around. By seeing Dove's 'Average and Beautiful' film, I am sorry to say that even if I walked through the 'average' gate, I wouldn't be thinking about how insecure I am or anything. I wouldn't walk through the 'beautiful' gate because I think it'd be narcissistic for me to claim in a public forum that I'm "the most beautiful girl there." What's wrong in being average? Average is beautiful. Beautiful is the most arbitrary and relative word in the English dictionary. Just like truth. There's no capital 'T' or 'B'. If a stranger tells me I'm not beautiful, who cares? He's a stranger. People say hurtful, meaningless things because they don't care about us.
Most importantly, it comes from family. We should start looking at the male gaze. My father and my brothers have been very encouraging. They have always taught me that a smart personality beats all. It's made more sense to me. Personal care is important, not beauty as much.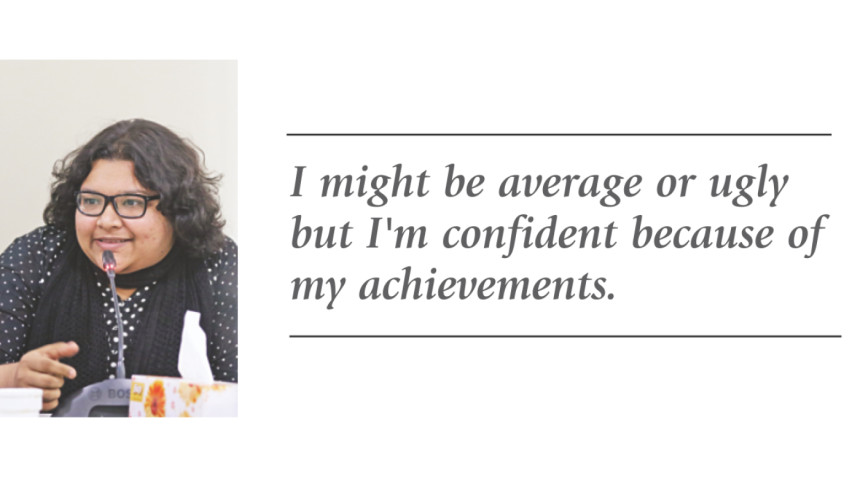 Sidratul Moontaha Mitul, Student, Dhaka University
I've been fat since my childhood but my family has always been very supportive. My family, especially my mother, tells me to always be confident, to build self respect and to be someone who can stand on their own. However, the societal perspective is always there. Until I enrolled in university, I was extremely shy. Outsiders would comment on my looks and how that would affect my marriage eligibility.
In university, I found a new perspective through different experiences. When you have some kind of achievement, it builds confidence. That has a tremendous influence. I might be average or ugly but I'm confident because of my achievements.