Rohingya crisis: Dhaka, UN seek to raise $881m
Assistance mainly for refugees and host communities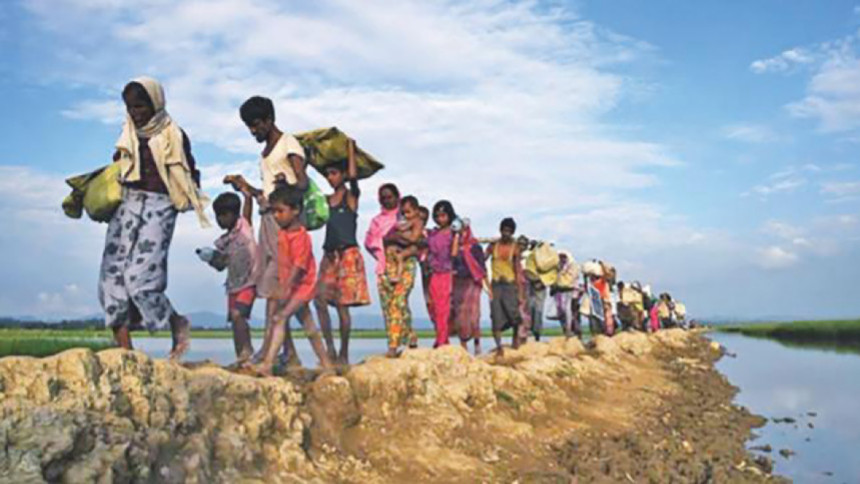 Bangladesh and UN agencies yesterday presented their Joint Response Plan 2022, seeking to raise $881 million in humanitarian assistance for the Rohingyas and the Bangladeshi host communities.
This is the first time the JRP sought $100 million for the Roingyas in Bhasan Char, where the government has set up a housing facility at the cost of $360 million for one lakh Roingyas.
So far, about 26,000 refugees have been relocated there.
The JRP 2022, virtually launched in Geneva, will support approximately 1.4 million people -- 918,000 Rohingyas in Cox's Bazar and Bhasan Char, and 540,000 Bangladeshis in neighbouring communities.
Presented by UNHCR Director of External Relations Dominique Hyde, the JRP 2022 wants to make sure that the Rohingya situation does not become a forgotten crisis.
"It is therefore vital to ensure continued funding and support to meet the needs of the refugees and surrounding host communities."
The JRP highlights the need for enhanced efforts towards disaster risk management and climate change mitigation, including through reforestation and energy interventions.
Hyde said the solutions to the Rohingya crisis ultimately lie within Myanmar, but steadfast support from the international community is crucial to delivering lifesaving protection and assistance services for the refugees until they can return to Myanmar.
At the launch, Shahriar Alam, state minister for foreign affairs, said the international community, including the UN, must intensify their focus on the permanent solution -- the sustainable return and reintegration of Rohingyas in Myanmar.
"We must not forget the environmental and ecological aspects in and around the camp areas. No project under the JRP should further deteriorate the landscape and ecosystem, rather projects should be there to restore and improve the situation.
"We urge the international community to do everything possible to arrange their [the Rohingya refugees'] early, voluntary and sustainable repatriation," he said. 
Myanmar authorities are yet to demonstrate genuine political will to resolve the crisis, he said, calling for the international community to create an environment conducive to their return in Rakhine state.
"The international community must not shy away from their responsibility to resolve the crisis and relieve Bangladesh from the burden."