Help us relocate Rohingyas to Bhasan Char, PM tells UN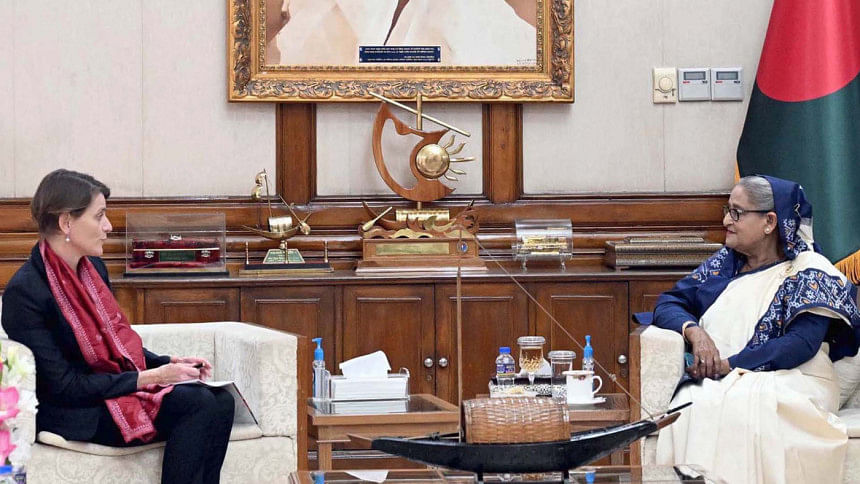 Prime Minister Sheikh Hasina today urged the United Nations to help Bangladesh relocate Rohingyas to Bhasan Char.
The prime minister made the plea while UN resident coordinator Gwyn Lewis called on her at the Gono Bhaban.
PM's speech writer M Nazrul Islam told reporters that the prime minister told the UN official that over one million Rohingyas have now become a big burden for Bangladesh.
"Their return to their homeland is uncertain, so I am requesting the UN to help Bangladesh relocate the Rohingyas to Bhasan Char," Nazrul Islam quoted the PM as saying.
She mentioned that the island has been organised and developed to provide better living conditions for the Myanmar nationals.
She said that it has a cyclone shelter, employment opportunity on limited scale and education facilities for children to be taught in their mother language.
Hasina said that the Rohingyas, who are living in camps in Ukhia, Cox's Bazar, have already outnumbered the local people.
"They have created problems for the living and livelihoods of the local Bangladesh people," she said.
She further said some Rohingyas are involved in various types of antisocial activities like human and drug trafficking, internal conflicts and militant activities.
"In this situation, as their scope to return to their homeland is uncertain, their living standard will be upgraded if they relocate to Bhasan Char island where they will get better environment to live," she said.
Bangladesh has so far moved about 30,000 Rohingyas to Bhasan Char to ease crowding in the camps in Cox's Bazar.
The Rohingyas, the minority Muslims in Myanmar, fled to neighbouring Bangladesh mostly in 2017 to escape killings, arson and rape unleashed by the country's military junta.
Diplomatic efforts at safe, voluntary and sustainable repatriation of the Rohingyas to their homeland have so far failed.