War crimes, not genocide: Myanmar foreign ministry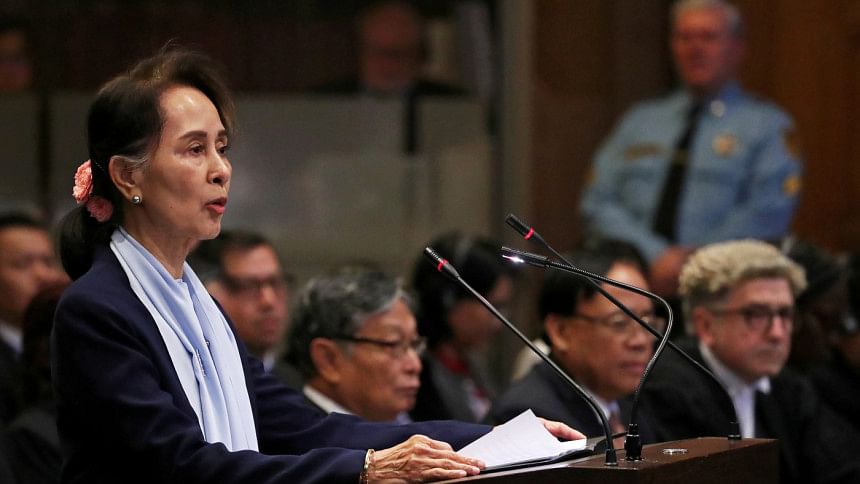 Myanmar rejected accusations of "genocide" in a statement by the country's Ministry of Foreign Affairs regarding yesterday's International Court of Justice (ICJ) ruling, the Mizzima reports. 
In the statement, it said "there has been no genocide in Rakhine" as found by the Independent Commission of Enquiry, but said war crimes had indeed taken place.
"The Commission found that war crimes had occurred, and those are now being investigated and prosecuted by Myanmar's national criminal justice system.
"It is important for Myanmar that the Court reaches a factually correct decision on the merits of the case. The unsubstantiated condemnation of Myanmar by some human rights actors has presented a distorted picture of the situation in Rakhine and affected Myanmar's bilateral relations with several countries. This has hampered Myanmar's ability to lay the foundation for sustainable development in Rakhine," the statement said.
It also pointed out that "one of the historical functions of the 'provisional measures' has been to protect the Court against possible accusations of failure take preventive action at the start of a case."
"As the Court stated, 'the Court's decision given in the present proceedings in no way prejudges the question of the jurisdiction of the Court to deal with the merits of the case or any questions relating to the admissibility of the application or to the merits themselves'".
Breaking News: Myanmar must take action to protect Rohingya Muslims, the top UN court ruled. The country stands accused of genocide. https://t.co/2NP0EFLzke

— The New York Times (@nytimes) January 23, 2020
Free Rohingya Coalition, a global network of Rohingya activists, had earlier refuted the findings of Myanmar's Independent Commission of Enquiry that said there was "no" or "insufficient" evidence to establish the genocidal intent behind Myanmar's destruction of the Rohingya community in Myanmar.
Despite it being billed as "independent" (from the political interference) by State Counsellor Aung San Suu Kyi, the report echoes the line of defence which was offered by Suu Kyi, in her capacity as Myanmar Agent, and her legal counsels, in The Gambia vs Myanmar case at the ICJ on December 11 and 12 last year, said a press release of the coalition issued.