Rohingya repatriation: Dhaka signs MoU with UNHCR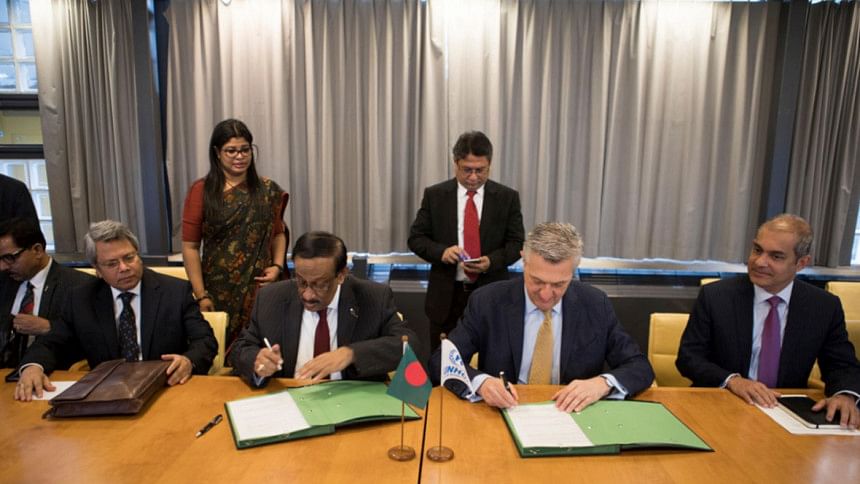 Bangladesh today signed a Memorandum of Understanding with the UNHCR, the UN Refugee Agency, relating to voluntary

return of Rohingya refugees

, once conditions in Myanmar are conducive.
The UN refugee agency's High Commissioner Filippo Grandi and Bangladesh Foreign Secretary ShahidulHaque signed the deal from their respective side at a programme in Geneva, said a UNHCR statement.
The MoU established a framework of cooperation between UNHCR and Bangladesh on the safe, voluntary, and dignified returns of refugees in line with international standards, said the statement.
Nearly 700,000 Rohingya fled violence in Rakhine of Myanmar and took shelter in Cox's Bazar of Bangladesh since August last year, joining an estimated 200,000 Rohingya who have sought shelter in Bangladesh, arriving in waves over the past decades.
In the absence of a tripartite agreement between UNHCR, Myanmar and Bangladesh, UNHCR has continued to engage with both governments in negotiations on two separate Memoranda of Understanding (MoUs), meant to ensure that any future returns are conducted in line with the international standards of voluntariness, safety and dignity.
In Myanmar, together with the UN Development Programme (UNDP) and UNHCR, is in ongoing discussions with the Myanmar government, on a tripartite agreement to outline the scope of cooperation between these agencies and the Myanmar Government in Rakhine State.
The agreement would aim to set forth a framework for refugees' voluntary repatriation in line with international standards, aim to create conditions that are conducive to eventual voluntary repatriation, and provide humanitarian and development assistance for all people of Rakhine State.