RMG workers demanding salary injured during clash in Mymensingh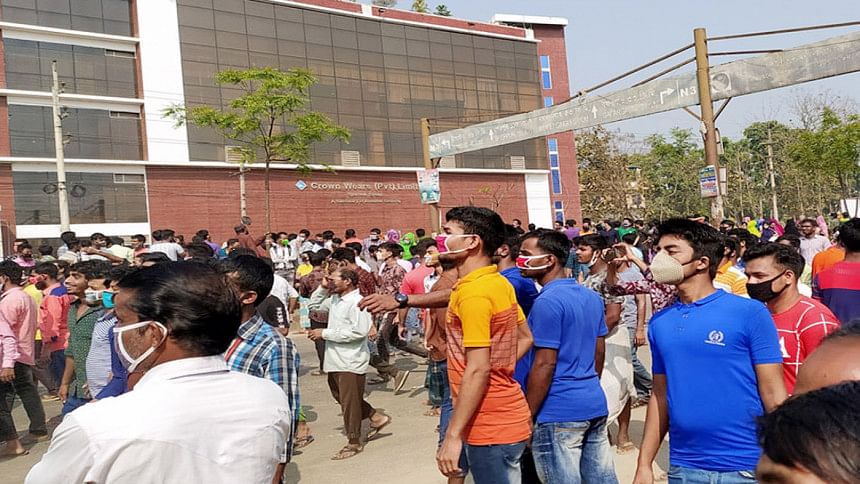 At least 25 people, most of whom were garment workers demanding their pending salaries, and three policemen were injured during a clash at Mymensingh's Bhaluka upazila this morning.
Three police officials were also injured.
Nearly hundred workers of 'Crown Wears (Pvt) Ltd' went to the factory at Jamirdia Masterbari in the upazila to join work but found a closure notice hanging on the factory gates.
The notice said the factory would be closed till April 14 and also said information on pending salaries will be provided later, reports our Mymensingh correspondent quoting Assistant Superintendent of Industrial Police in Bhaluka Md Nurun Nabi.
Talking to this correspondent, Md Zakaria Sohel, general manager (Admin, HR and Compliance) of the factory said they had opened the factory yesterday and continued work till 5:00pm, but following a central decision they announced the closure of the factory since today, said the general manager.
Most of the workers who showed up to work today were not aware of the closure, they said. 
Workers then took to the roads and blocked the Dhaka-Mymensingh highway demanding their salary for March.
Soon after, police rushed to the spot and tried to talk to the workers and met factory authorities for discussion as well, the ASP was quoted as saying.
Authorities initially tried to negotiate different dates to clear the salaries of the workers but the workers refused, continuing to demand their salaries.
According to police officials, the garments workers at one stage started throwing stones and brick chips at the police officials, resulting in the clash.
Police then fired 24 teargas canisters and 34 rounds of rubber bullets during the incident, leaving 25 people including three police officials injured, the ASP added.
The workers meanwhile claimed that a group of young men loyal to the factory came to the spot and tried to attack them.
Eventually after much negotiation, authorities pledged to pay the salary by April 8. Workers agreed to the revised date and ended their agitation.