Wenger under siege as Lincoln chase FA Cup's greatest shock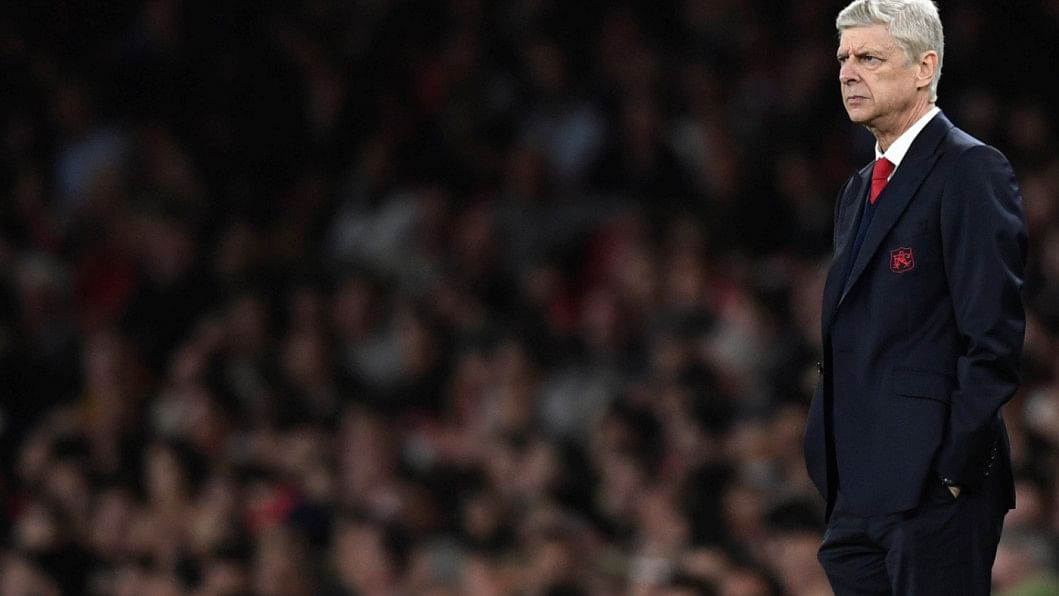 Just when Arsene Wenger thought life couldn't get any more stressful, the Arsenal manager finds himself on a hiding to nothing as minnows Lincoln eye more FA Cup history in Saturday's quarter-finals.
Wenger has endured a week from hell that started when Arsenal were thumped 3-1 at Liverpool following his decision to drop star forward Alexis Sanchez, who reportedly demanded a transfer in an angry row after that loss.
There was worse to come on Tuesday when Arsenal were eliminated from the Champions League in humiliating fashion as Bayern Munich's 5-1 victory condemned Wenger to his heaviest home defeat since 1998.
Wenger, who has yet to reveal if he will remain in charge next season, has been subjected to vitriolic abuse from Arsenal fans calling for his resignation and the visit of non-league Lincoln hardly promises to be a port in the storm for the beleaguered Frenchman.
With another supporter protest planned for the Emirates Stadium tie, suffering what would be one of the FA Cup's all-time great upsets would surely be the last straw for Wenger.
"I have worked very hard for 20 years to make our fans happy and when you lose the games, I understand they are not happy," Wenger said.
"I do not want to judge the protests, I am not able to. I don't work for my image, I work for this club with full commitment."
The contrasts between Arsenal's global reach and tiny Lincoln's far more humble ambitions make this the ultimate banana skin for Wenger, who has won the FA Cup six times in his 21-year reign.
Danny Cowley's fifth tier leaders are the first non-league club to reach the last eight in 103 years following a stunning 1-0 victory at Premier League Burnley in the fifth round.
"We understand that the chance is probably one in a thousand, but we will go there with the belief that this can be the one time," said Cowley, whose squad trained at West Ham on Friday.
"But I would never do the disservice to my players to tell them to wake up on Saturday morning and just enjoy the day. We are professional people, we work every day for this, it is our lives."
Revenge
On Monday, Manchester United manager Jose Mourinho aims to erase the memory of one of his most painful defeats by ending Chelsea's double challenge.
United were thrashed 4-0 at Chelsea in October and Mourinho was taunted by his old supporters on his first return since his sacking as Blues boss last season.
Asked if Mourinho's League Cup winners want revenge, United forward Marcus Rashford: "Yeah, definitely. They've got one over us.
"We're on a good run of form and so are they, so it'll be a good game."
But Chelsea, 10 points clear at the top of the Premier League, are closing in on the title and adding the FA Cup would cap an incredible first season for manager Antonio Conte.
Pep Guardiola faces a selection headache at Middlesbrough as the Manchester City manager juggles the demands of competing for silverware on two fronts.
Guardiola must decide whether to rest City's stars because they have a 5-3 lead to defend in a Champions League last 16 second leg clash at Monaco next week.
Guardiola's most recent squad rotation backfired when he started Wednesday's Premier League goalless draw against Stoke without David Silva and Raheem Sterling.
But City midfielder Yaya Toure hinted there will be more changes, saying: "We've got two games now where we need all the players."
Millwall manager Neil Harris has called for fans to keep the peace when the third tier giant killers travel to London rivals Tottenham.
With a history of violent clashes between hooligan gangs from Tottenham and Millwall, police have classified the tie as 'high risk'.
Harris, whose team upset Bournemouth, Watford and Leicester en route to the last eight, is keen to ensure there are no unsavoury incidents in the last FA Cup fixture at White Hart Lane before the stadium is demolished.
"You want to paint yourself in the right light as a club," he said.
"White Hart Lane is a football cathedral. It's going to be an electric atmosphere, one we should all embrace."
Fixtures
Saturday
Arsenal v Lincoln (1730 GMT), Middlesbrough v Manchester City (1215 GMT)
Sunday
Tottenham v Millwall (1400 GMT)
Monday
Chelsea v Manchester United (1945 GMT)