Jose eyes progress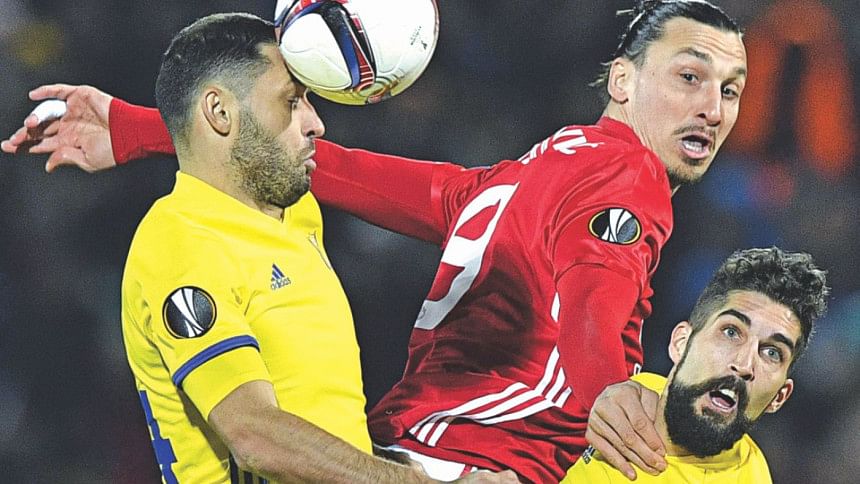 Manchester United manager Jose Mourinho is hopeful the obstacle of a trip to Chelsea in the FA Cup does not hinder his side's prospects of completing a Europa League last-16 win over Rostov.
United drew 1-1 in Russia in the first leg of their tie on Thursday after Henrikh Mkhitaryan's first-half opener was cancelled out by an Aleksandr Bukharov strike shortly after the break.
It was a good result after a long trip for a match played on a shocking surface at the Olimp 2 stadium -- so bad that Mourinho had questioned whether the match should have gone ahead at all.
United host Rostov in the return at Old Trafford next Thursday but before that they go to Chelsea in the FA Cup quarter-finals on Monday evening, meaning the Portuguese manager will have to adequately manage his squad to avoid fatigue.
And he acknowledged the importance of the Europa League as a potential route into next season's Champions League for a team currently sitting sixth in the Premier League.
"We want to keep the two goals open. In the Europa League, if you manage to go to the quarter finals, then in the quarter finals, you feel it so we have to try by every means," said Mourinho, whose side have already won the English League Cup this season. "We have a trophy in our pocket which is always a good thing, a good feeling for everyone. But now we have the Premier league to try to be in the top four, we have the Europa League to try to beat Rostov, and on Monday we cannot go with a bad team.
"Manchester United is too big. It's not Chelsea's fault that we'll play on Monday. So we have to make changes, for sure, but we cannot go to Stamford Bridge with a bad team."
Of the game in Rostov, the former Chelsea manager admitted disappointment at his side's inability to hold their lead but hinted that the outcome still suited him.
"You know, an away goal is always positive. It's better 1-1 than 0-0 but the game is open," said Mourinho, who won the UEFA Cup with Porto in 2003.
"The result is open and this Rostov team, they have experience at playing big matches, big opponents and big stadiums. I don't think it's a problem for them to compete against us.
"They play Sunday against Terek Grozny, we play Monday against Chelsea. For us, it's difficult but we are one step from being in the quarter-finals."
Rostov will travel to England without Timofei Kalachev and captain Aleksandr Gatskan, who will be suspended after picking up bookings. They also lost Vladimir Granat to a broken collarbone.
"Probably if this was a point, they would be happy with the point," Mourinho added.
The United manager also spoke of his relief that the evening went off without trouble after the build-up to the match was overshadowed by fears of violence between travelling English supporters and Russian hooligans.
"I think everything was magnificent. People have been nice to us since we landed," said Mourinho, whose side were backed by just under 250 of their fans on the long trip.
"During the game, they supported their team but they did it like it should be done. I think our supporters also were nice guests and they behaved properly.
"On the pitch, everything was an example because the players fought hard, they fought very hard for every ball but in a positive way.
"Everything was a good example and hopefully the Rostov fans that will go (to Manchester) next week, they have great conditions now to be welcome and for everything to be a good example."