Barca hailed as living legends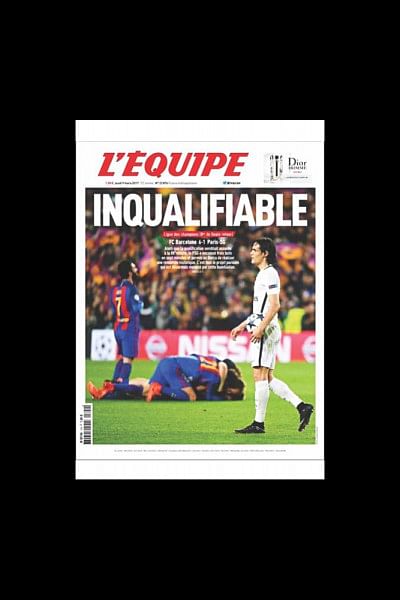 Barcelona were hailed as living legends Thursday after Neymar helped the Spanish giants pull off a Nou Camp miracle with a dying minutes Champions League win over stunned Paris Saint-Germain.
The Brazilian forward played the game of his life as Barcelona made up a 0-4 first leg deficit by winning 6-1 in front of nearly 100,000 ecstatic fans at the Camp Nou stadium for an astonishing 6-5 aggregate triumph.
"You have become legends," headlined the Barcelona Sport daily while El Munda spoke of the 'miracle of a lifetime.'
Neymar presided over a final seven minutes that plunged PSG into a waking nightmare. He scored an 88th-minute free kick and a penalty in the 91st before setting up Sergi Roberto's clincher in the fifth minute of injury time, sealing the 6-1 win.
The result sent the Spanish giants storming into the quarterfinals and left PSG in tatters.
"I know that we have made history. A team like this can do anything," Neymar told BeIN Sports.
Germany's football bible, Kicker, spoke of a "night of magic" while Bild said simply "Barcelona move mountains..."
The French press scrambled to find words harsh enough to describe PSG's shame.
"Crushed, trampled on, humiliated," said Le Figaro newspaper while L'Equipe sports daily said "Indescribable."
The win recalled Manchester United's injury-time double to win the 1999 title against Bayern Munich in the same stadium, and Liverpool's victory in the 2005 final after being 3-0 down to AC Milan at half-time.
"It is a difficult night to explain with words," said Barca boss Luis Enrique, who will leave the club at the end of the season.
"It was a horror movie, not a drama, with a Camp Nou that I have seen very few times as a player or coach.
"What defines this victory is the faith that the players and fans had."
The defeat raised questions over the future of PSG coach Unai Emery, as club president Nasser Al-Khelaifi ominously called it "very hard to accept".
"This is a nightmare for everybody. Is Unai Emery still credible? This is not the moment to talk of this. After the game, we are all upset," said the Qatari.
And PSG defender Thiago Motta's night went from bad to worse after he hit a supporter with his sportscar after flying back home early Thursday.
Around 30 supporters were waiting for the players as they emerged from Le Bourget airport outside Paris.