Food Frontiers Urban Food Systems Innovation Challenge launched by GAIN and UN WFP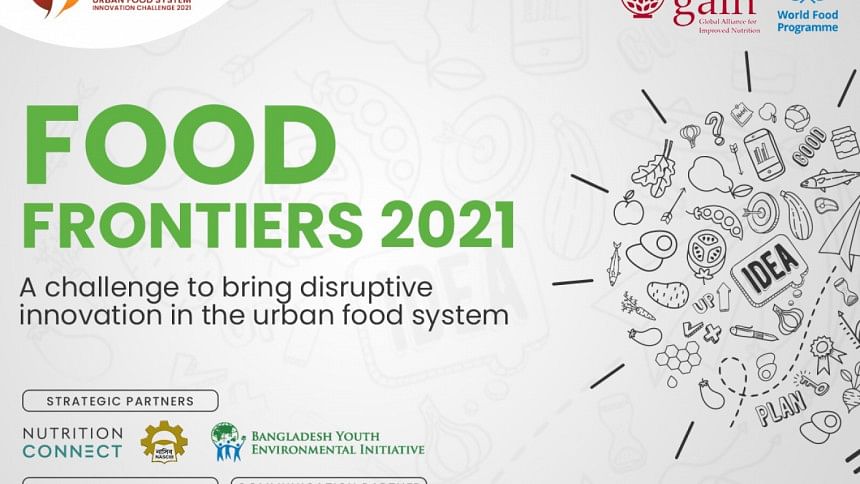 Scaling Up Nutrition (SUN) Business Network (SBN) Bangladesh co-convened by Global Alliance for Improved Nutrition (GAIN) and the UN World Food Programme (WFP) has launched an innovation challenge for rising youth entrepreneurs to bring disruptive innovation in the urban food system titled as 'Food Frontiers, Urban Food System Innovation Challenge, 2021'. The application submission will end on 3rd June, 2021. The winners of this competition will get pre-seed funding of a maximum of USD 15000 to implement their business ideas through grant and infrastructure support.
Food is the single strongest lever to optimize human health and environmental sustainability. Food production contributes to 70% of greenhouse gas emissions and groundwater depletion. Our food system is currently threatening both people and the planet. The growing population of Bangladesh poses an immense challenge of maintaining food safety and security Under the current scenario there needs to be a substantial reshaping of the business model operating across the food system, especially for urban areas.
The objective of Food Frontiers is to identify disruptive innovations in the urban food system of Bangladesh, build the capacity of youth entrepreneurs on sustainable food systems approach, develop business skills, co-design business models for transitioning to sustainable food systems and to build a pipeline of pre-seed investments for disruptive innovative ideas. The idea or business solution applying at the program should fall under three broad thematic areas concerning the urban food system. The thematic areas are, circular food flow economy, disruptive technological innovation and innovative marketing campaigns.
Under the circular food flow economy thematic area, it is expected that applications will be coming from early stage ideas, start-ups, SMEs or social enterprises in consortiums/alliances or in partnerships to develop a full cycle of food production, recycling and reusing renewable and nonrenewable resources in a closed loop system. Innovations are expected in reducing/recycling plastic wastes emanating from food packaging to productive utilization of organic food wastes.  
The second thematic area is disruptive technological Innovation under this thematic area, applications from individuals, businesses or students with technological innovations that demonstrate significant impact on food and nutrition in urban context with a clear commercial feasibility plan for scale up. Adoption of digital technologies such as blockchain and regenerative agriculture systems are the main forays that startups are expected to bring in the urban food system. 
Under the innovative marketing campaign thematic area entrepreneurs and aspiring marketers are expected  to build smart marketing campaigns to promote healthy food consumption or reducing food waste or increasing energy efficiency in food systems.
The 10 short-listed enterprises will go through a seven days virtual bootcamp session for customized investment readiness training, industry specific business building guidance, investor connection, one to one consultancy from seasoned mentors and successful foodpreneurs, ongoing support from SBN and GAIN and access to national food service business resources.
National Association of Small & Cottage Industries of Bangladesh (NASCIB) and Bangladesh Youth Environmental Initiative (BYEI) are strategic partners supporting the outreach and knowledge mobilization., The accelerator partner of this event is Stellar Value Partners (SVP Limited) and Turtle Ventures. Golpo is working as a communication partner of the program.
To know more information or apply please visit- www.foodfrontiers.live
To get the updates and latest activities please visit Food Frontiers social media pages-
https://www.facebook.com/foodfrontiers2021
https://www.linkedin.com/company/74100211/admin/
For further communication or query please email at [email protected]