Charitable Trust: Khaleda's graft case verdict on Oct 29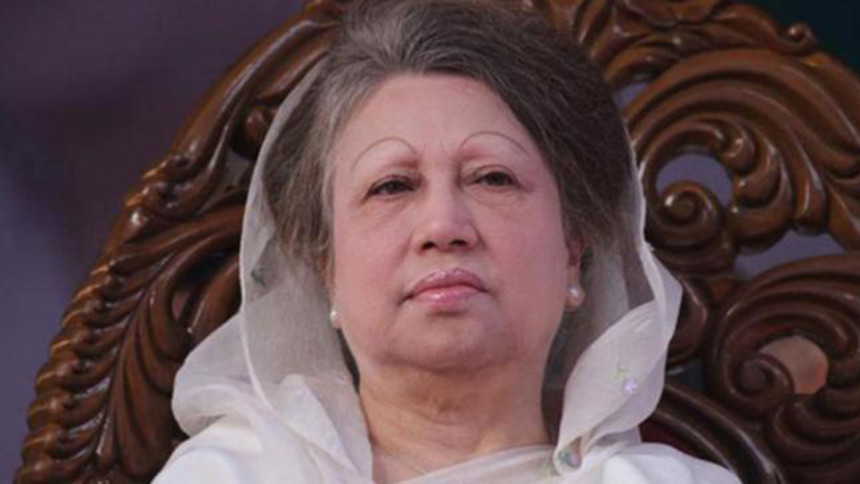 A special court yesterday set October 29 for delivering verdict in the Zia Charitable Trust corruption case against BNP Chairperson Khaleda Zia and three other accused.
Judge Md Akhtaruzzaman of Dhaka Special Judge Court-5 passed the order as the defence repeatedly refrained from taking part in the hearing, reports BSS.
"The court has set numerous dates in the last two and a half years for hearing arguments in the case. But in spite of adjourning the proceedings time and again, the defence did not take part in the hearing. So, after concluding all the legal procedures, the court is fixing October 29 for declaring the judgment," the court said in its order.
READ MORE: Punish me as much you want, says Khaleda
The court, however, extended Khaleda's bail in the case till October 29.
"Khaleda's counsel repeatedly wasted time of the court by filing time pleas. They don't take part in any kind of legal proceedings, but plead for bail whenever the bail period is over," said Anti-Corruption Commission lawyer Mosharraf Hossain Kajal.
On October 14, the High Court rejected a review petition filed by Khaleda, upholding a lower court order that had said it would continue the case trial in her absence.
The lower court on September 20 passed the order, saying that it would hear the case in Khaleda's absence as she was "unwilling" to appear before the makeshift court inside Old Dhaka Central Jail.
The ACC lodged the Zia Charitable Trust graft case against Khaleda and three others with Tejgaon Police Station in August 2011. According to the case statement, the former prime minister and three others abused their power and raised funds for the trust from unknown sources.
Three others are: Abul Harris Chowdhury, former political secretary to prime minister Khaleda, Ziaul Islam Munna, assistant private secretary (APS) to Harris, and Monirul Islam Khan, APS to former Dhaka City mayor Sadeque Hossain Khoka.
The court framed charges against Khaleda and the others in the case on March 19, 2014.
Khaleda, who has been in jail since her conviction in the Zia Orphanage Trust graft case on February 8, refused to appear before the court during the trial in the Zia Charitable Trust corruption case on "security reasons". Later, the government shifted the court to jail premises to ensure her safety.
Meanwhile, BNP Secretary General Mirza Fakhrul Islam Alamgir yesterday alleged that the date for delivering the verdict in the Zia Charitable Trust graft case against Khaleda and others was fixed "illegally at the behest of the government", adds UNB.
"The date for the verdict was announced absolutely on the government's instructions. They've been trying from the very beginning to convict our leader [Khaleda] without any trial," he said.
Fakhrul made the remarks while talking to reporters after the first meeting of the Jatiya Oikyafront at Jatiya Samajtantrik Dal (JSD) President ASM Abdur Rob's Uttara house.
He said the trial process in the case was not completed as the accused could not give self-defence statements and lawyers could not end their arguments. "We think it's contrary to justice. We protest it."