Plot to kill Joy
DB claims Shafik admitted meeting suspects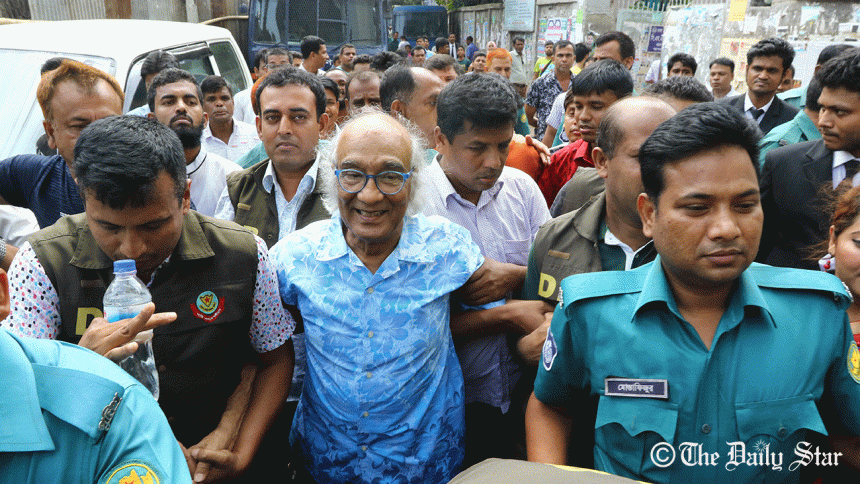 Detectives today claimed that journalist Shafik Rehman admitted that he had held several meetings with those suspected to be involved in a plot to abduct and kill Prime Minister Sheikh Hasina's son Sajeeb Wazed Joy.
Monirul Islam, additional commissioner of Dhaka Metropolitan Police said this, after seizing some documents from Rehman's house at Estakon in Dhaka.
Asked about Amar Desh acting editor Mahmudur Rahman's involvement in the incident, the police officer said detectives were looking into the matter.
The law enforcers have already submitted an application for Mahmudur's remand for further investigation in the case, he said.
"We are also investigating whether BNP chief's son Tarique Rahman and other senior party leaders were involved."
READ MORE: Bangladesh cops arrest journalist Shafik Rehman
Shafik knew Rizve Ahmed Caesar, another suspect in the plot who had collected information about Joy through some hired agents in USA, he said.
Earlier around 12:30pm, detectives took Rehman to his house and seized some files and documents, family members said.
A team of 30 DB men went there in three microbuses. Ten of them took part in the search.
"As a journalist, Shafik Rehman collected some papers related to that incident [bribing of an FBI special agent to collect information regarding a Bangladeshi political figure]," said Taleya Rahman, Shafik Rehman's wife.
When the detectives were looking for the papers related with this, Rehman himself found those out and handed those over to them, she added.
READ MORE: 'Murder attempt' on Joy: Shafik Rehman on 5-day remand
During the almost one-hour search, the DB team searched their house and office of Democracywatch.
On Saturday, plainclothes detectives entered his Eskaton residence in Dhaka identifying themselves as Boishakhi television reporters "to interview him". However, before leaving with him, they told family members that they were detectives, according to his wife.
Police at first denied arresting him when reporters contacted the Dhaka Metropolitan Police. Later on, Deputy Commissioner (Media) of DMP Maruf Hossain Sarder admitted that detectives arrested Rehman. But he denied that the DB men posed as journalists.
BACKGROUND
Shafik Rehman obtained British citizenship while working in the UK for a long time. He worked in various media outlets, including the BBC, but came in the limelight after becoming editor of weekly Jaijaidin in the 1980s.
He left Bangladesh during the autocratic rule of HM Ershad but returned home in 1991 after the dictator's fall. He currently produces and anchors a programme named Lal Golap (Red Rose) at private television channel Bangla Vision.
Police were investigating a case on charges of attempting "to abduct and murder Prime Minister Sheikh Hasina's son Joy", who lives in the US.
The case was filed by DB Inspector Fazlur Rahman with Paltan Police Station in August last year.
In the case, police mentioned the name of Mohammad Ullah Mamun, vice-president of BNP's cultural wing Jasas, as a conspirator.
The case statement says Mamun and some top leaders of the BNP and its allies met in the UK, the US and the Jasas office at the capital's Paltan and other parts of the country before September 2012 and conspired to abduct and kill the PM's son.
In March last year, Mamun's son Rizve Ahmed Caesar was convicted by a US court for bribing an FBI special agent to collect information regarding a Bangladeshi political figure.
The US Justice Department did not name the figure, but it is thought it was Joy.
In a Facebook post on March 9 last year, Joy, also ICT affairs adviser to the prime minister, accused BNP leaders of conspiring to abduct and kill him.