Refrain from Rampal project: Khaleda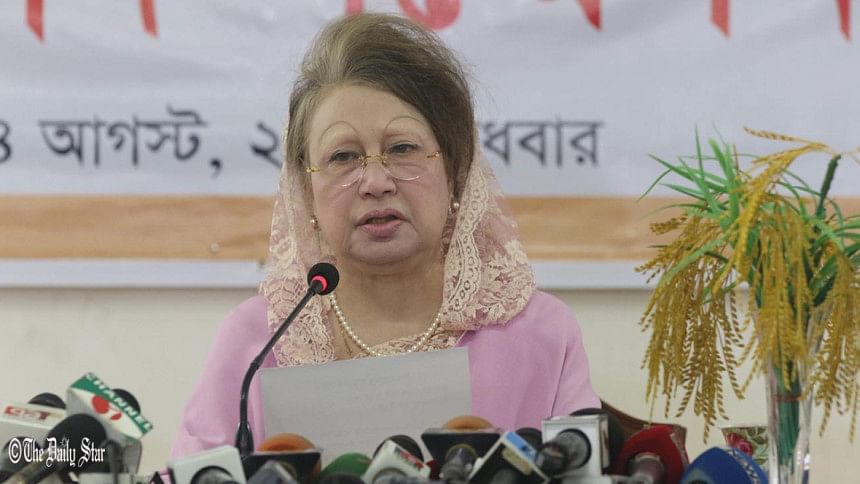 BNP Chairperson Khaleda Zia today urged the government to refrain from implementing Rampal power plant for the sake of the country's ecological balance and natural beauty.
"I am calling upon the people from all walks of life to raise the voices against the move to implement the project near the world's largest mangrove forest Sundarbans," Khaleda Zia said, citing several disadvantages of the much talked about Rampal power plant.
Terming the project as anti-people and against the country's overall interest, Khaleda on behalf of the 20-party alliance called upon the people to be vocal against implementation of the project.
"The ecological balance of our Sundarbans will be destroyed and our country will be turned into an unlivable state if the project is implemented," she said.
The BNP chief was addressing a press conference at her Gulshan office this afternoon.
Asking the government to find out the alternative of the power and energy, Khaleda said, "There are many options to generate power but no alternative of our Sundarbans."
Terming the government as autocratic and anti-people, Khaleda Zia said the ruling Awami League is going to implement the project ignoring peoples' interest.
Describing the power plant as a non-profitable project for Bangladesh, Khaleda said the government has undertaken the "loss project" without taking the country's environmental disaster into consideration.
"But, we want to know what is the motive behind the project and whose interest will be served after implementation of the project," she said.
Without giving any answer, the government is "letting loose police" to carry out attacks on those are waging protests against the power plant, the former prime minister said.          
About the project's financial aspect, Khaleda said Bangladesh Power Development Board will invest 15 percent while an Indian company NTPC will do the same. But the rest of 70 percent funding will come from bank loan, she said.
Bangladesh will be forced to pay the bank loan if the joint venture company is closed or failed to pay the bank loan, Khaleda said.
However, the Indian company will count 50 percent profit of the project without paying any tax after investing only 15 percent found in the project, she said.