PM pays homage to Bangabandhu at Dhanmondi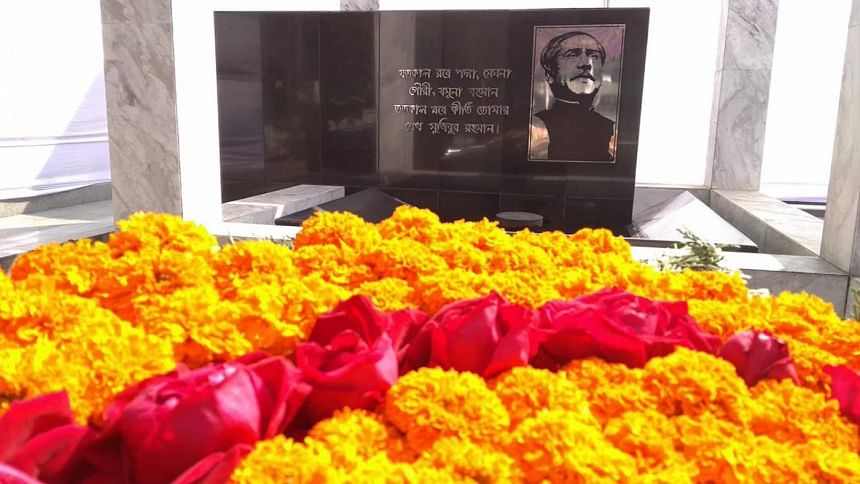 Prime Minister Sheikh Hasina today paid homage to Father of the Nation Bangabandhu Sheikh Mujibur Rahman and Liberation War martyrs on the occasion of formation of her government for the third consecutive term.
Sheikh Hasina paid tributes to Bangabandhu by placing a wreath at his portrait in front of Bangabandhu Bhaban at Dhanmondi this morning, a day after she took oath as the prime minister for the fourth time.
After laying the wreath, she stood in solemn silence for some time as a mark of profound respect to the memory of Bangabandhu, the architect of country's independence.
Flanked by the new cabinet colleagues, Sheikh Hasina, also the Awami League president, placed another wreath at Bangabandhu's portrait as the party chief.
The prime minister and her new cabinet colleagues later went to National Memorial at Savar and pay tributes to the Liberation War martyrs.
AL President Sheikh Hasina took oath as the prime minister for the fourth time, third in a row, with a 47-member council of ministers yesterday, a week after the Awami League-led Grand Alliance's
landslide victory in the 11th parliamentary election held on December 30 last year.
The new cabinet comprising 24 ministers, 19 state ministers and three deputy ministers took oath at a state ceremony at Bangabhaban Darbar Hall.