Historic 7th March: PM pays homage to Bangabandhu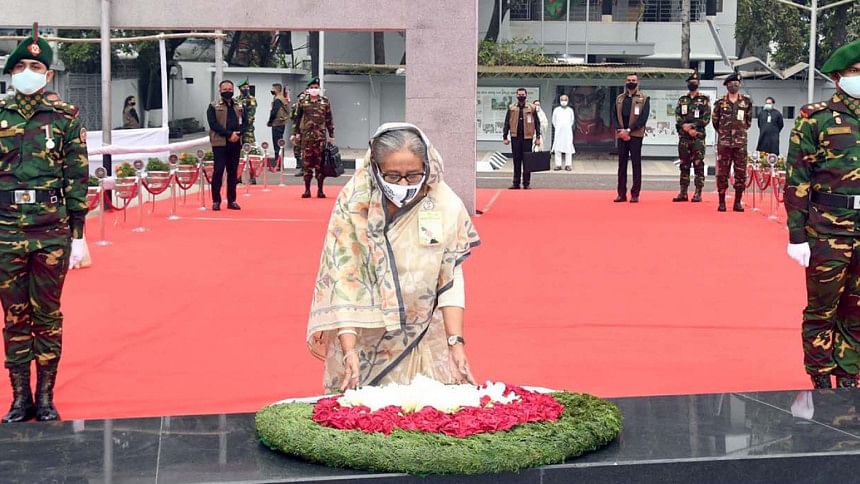 Prime Minister Sheikh Hasina today paid rich tributes to Father of the Nation Bangabandhu Sheikh Mujibur Rahman on the occasion of the historic March 7.
The prime minister placed wreaths at the portrait of the Father of the Nation in front of Bangabandhu Memorial Museum at Dhanmondi in the capital at 7:00am.
She first laid a wreath at the portrait of Bangabandhu as the prime minister. After placing the wreath, she stood in solemn silence for some time as a mark of profound respect to the memory of Bangabandhu, the architect of independence.
At that time, the younger daughter of Bangabandhu, Sheikh Rehana, joined the prime minister.
Munajat was offered seeking the eternal peace of the great leader, his martyred family members, and millions of martyrs who made their supreme sacrifice for the country.
On this day in 1971, Bangabandhu through his fiery and soulful address made a clarion call to the people to fight against the Pakistani rulers to achieve long-cherished independence.
Before a rally of a million of freedom-loving people at the then Race Course Maidan (now Suhrawardy Udyan) on March 7 in 1971, Bangabandhu firmly declared, "the struggle this time is for our freedom, the struggle this time is for our independence".