PM slams traffic rules violators
Says people still lack awareness despite road safety movement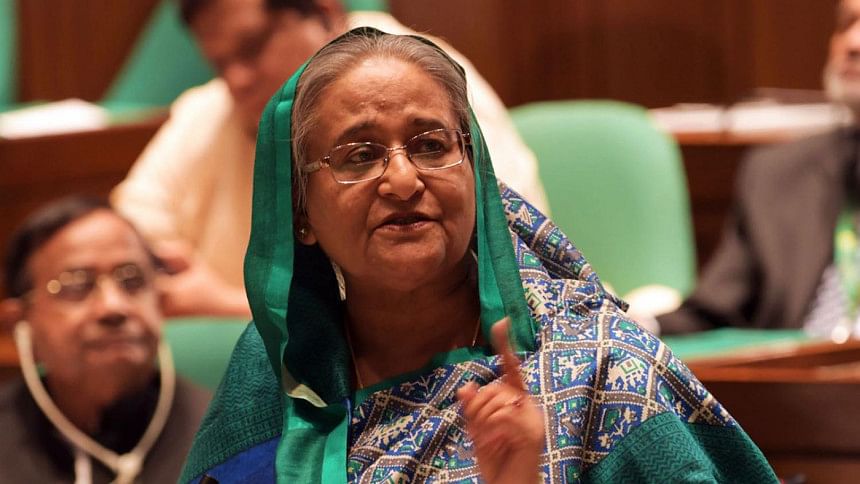 Even after the recent vigorous students' movement for road safety, people are still not conscious, said Prime Minister Sheikh Hasina in parliament yesterday.
"Such a big accident happened, such a movement was waged … Even after this, awareness is yet to be created among commuters. They are crossing the roads indiscriminately without following traffic rules," Hasina said responding to lawmakers' queries.
She said people have a peculiar mindset and they start crossing roads in front of vehicles at speed just raising a hand. It is not always possible to abruptly stop a bus at speed.
Coming down heavily on jaywalkers, Hasina said parents along with their young children jaywalk in front of vehicles at speed. Even though footbridges or underpasses are near, parents and even young people do not want to use them. They often run across the road, she said.
Pedestrians do not want to wait even a minute before crossing the roads or use footbridges or underpasses. Pedestrians' fault should be taken into consideration in cases of accidents, she said.
After an accident, people become all too eager to beat up the driver. In many cases, drivers leave hurriedly to save themselves from the mob and end up running over the injured, she added.
"If people stop beating up drivers involved in accidents, the number of accidents would come down by 50 percent," she said, adding that none should take the law in their own hands. The driver should be handed over to the police.
She said the government took various measures to ensure road safety, including marking Zebra-crossings, ensuring presence of traffic police and volunteers in front of schools, and construction of underpasses and footbridges.
Hasina said a team from the Prime Minister's Office monitored traffic management between Abdullahpur and Mayor Hanif Flyover and has identified issues regarding road safety. A monitoring cell has been formed to oversee the execution of directives in this regard, she said.
On traffic jams, Hasina said it was a common problem for all large cities. The situation would improve to a great extent after the Metro Rail project is implemented. The overall traffic management system would be improved in phases, she said.
CONSPIRATORS OF BANGABANDHU MURDER
In reply to another query, the PM said the government was considering the formation of a commission to identify other conspirators of the Bangabandhu murder.
She said a lot of information regarding the conspiracy behind the killing of the Father of the Nation were exposed during the two consecutive terms of the Awami League-led government.
"According to the information, some people and organisations from home and abroad were indirectly involved in the conspiracy," she said.
CONFIDENCE IN EC
The PM told the House that the Election Commission could hold the national polls independently.
In a scripted answer to a query, she said necessary funds have been allocated as per the requirements of the EC for holding the 11th parliamentary elections.