Bangabandhu comes home, completes victory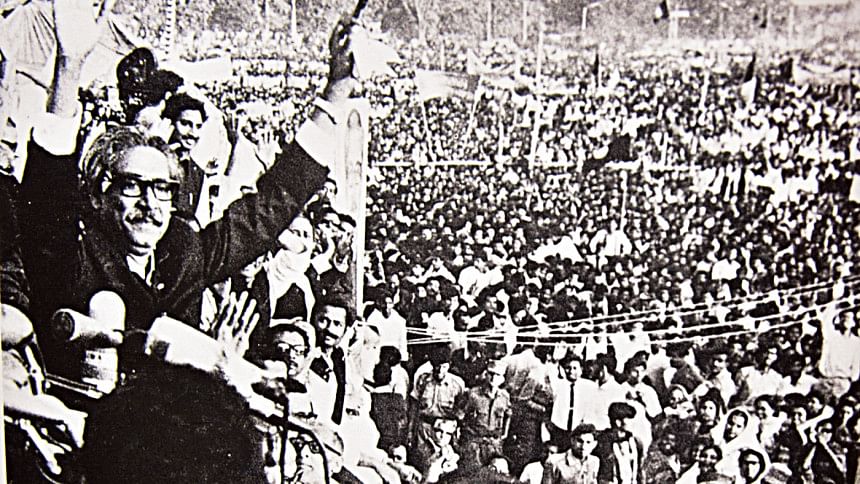 It was the British Royal Air Force comet jet that, on January 10, 1972, carried Father of the Nation Bangabandhu Sheikh Mujibur Rahman to his freed motherland -- the country he had led to independence.
People had been in a state of euphoria since the Pakistani forces surrendered on December 16, 1971.
However, a sense of incompleteness prevailed as the undisputed leader of liberation, Bangabandhu, was not there with them yet.
Sheikh Mujib was kept in solitary confinement in Pakistan since the Liberation War began on March 26. Even after defeat, Pakistani authorities were delaying his release, stoking tension and uncertainty among the people of the world about his fate.
But on this day 51 years ago, there he was, clad in an overcoat, emerging out of the plane around 1:44pm.
How much his arrival meant to the country was evident when people even went on to breach security arrangements to be close to their beloved leader.
Even just on the staircase, Mujib was surrounded with love and embraces from his people.
As he waved his hand, claps and shouts of "Joy Bangla" rose high into the air. Most who were present there had their eyes brimming with tears – the man who freed them stood right before them. 
As the president of the newly born state, Mujib was given a 21-cannon salute and a guard of honour.
"The scene, even from the air was totally overwhelming. There was an ocean of human heads …," Dr Kamal Hossain, eminent jurist and politician, wrote in his book titled "Bangladesh: Quest for Freedom and Justice".
Kamal was also jailed in Pakistan and accompanied Bangabandhu from there to Dhaka via London and Delhi.  
In his book, he further remembered how on December 26, Bangabandhu was brought to a police academy in Shihala, not far from Pakistan's Rawalpindi.
When Zulfiqar Ali Bhutto, the then president of Pakistan, visited him, Bangabandhu asked if he (Bhutto) was also detained.
In response, Bhutto proudly said he had come there as the president of Pakistan.
To that, Mujib retorted with laughter. "How did you become the president after I secured twice as many seats as you in the National Assembly?"
A clearly embarrassed Bhutto responded by saying Bangabandhu could become the president if he wished to.
"No. I do not have the desire for that. But I desire to go to Bangladesh as soon as possible," Mujib said.
Bhutto said he would make the necessary arrangements but needed a few days.
Then on January 8, 1972, he was finally released.
That very morning, he flew to London and arrived at the Heathrow airport.
As he walked into the airport, a tearful on-duty police official, an English citizen, said, "Sir, we had been praying for you" -- showing the world's support for Bangabandhu and Bangladesh in the fight for liberation.
While in London, Bangabandhu called for other states to recognise Bangladesh as an independent country.
Then UK Prime Minister Sir Edward Heath welcomed Sheikh Mujib in the evening and said they had, in principle, decided to recognise an independent Bangladesh.
Heath then arranged his own plane -- the British Royal Air Force comet jet – for Bangabandhu to fly to Dhaka via Delhi.
The plane reached Delhi's Palam Airport in the morning of January 10, where Indian president VV Giri, prime minister Indira Gandhi and other dignitaries received Mujib.
Addressing a public rally in the Indian city during his short layover, he expressed gratitude towards the people of India and its government for lending support to the Liberation War of Bangladesh.
Shortly afterwards, he started his journey towards his motherland.
After landing in Dhaka, Bangabandhu was taken on a truck accompanied by other leaders.
It went through cheering crowds all the way to the Ramna race course, where he made his historic homecoming speech.
"His unbridled joy came through in his speech, as did a deep sense of fulfillment of the mission to which he had dedicated his life," Kamal wrote.
"Today, when I landed in Dhaka, I couldn't hold back my tears, because never did I think I would be back to the land, the people, and the country, Bangladesh, that I love so much," Tarik Sujat quoted Bangabandhu as saying in his book titled Bangabandhur Swadesh Pattyabartan Comet Biman O Britsh Gopon Dalil.  
Mujib said he did not know whether he would be able to return to his people, adding, "I had only said one thing: I have no objection if you kill me, but please return my body to my Bangalees."
"…I did not know I was sentenced to death by hanging. A grave was dug for me beside my cell. I had prepared myself. I had said, I'm a Bangalee, I'm a man, I'm a Muslim; I can only die once but not twice. I had said that if death awaits me, I will approach it with a smile on my face. I will not dishonour my Bangalees, I will not beg for pardon."
Sheikh Muijib in his speech made sure to pay due tribute to the millions who sacrificed their lives during the war and played vital roles in rebuilding the nation.
After the rally, around 5:35pm, he boarded a car with a flag of independent Bangladesh and left for his Dhanmondi house.
He was greeted with the embrace and tears of joy of his eldest daughter and first born – Sheikh Hasina, the current prime minister of Bangladesh.
After exchanging hugs and tears with Sheikh Rehana and the others, he went to meet his parents.
He touched their feet first before greeting them.
And then, upon hugging his mother, he burst into tears and cried like a child in her arms.
He then met his wife Bangamata Sheikh Fazilutnnesa Mujib – who was considered his rock throughout his entire ordeal and for the rest of his life.