PM: Why Khaleda sheds tears for Fahim?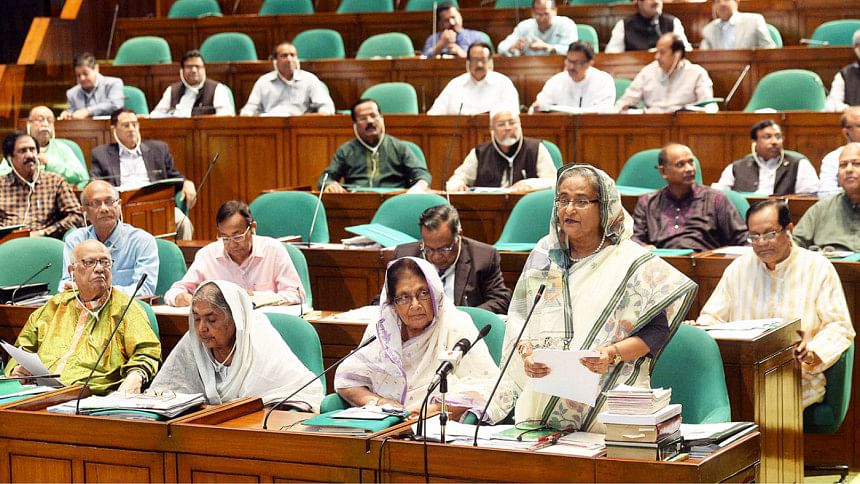 Prime Minister Sheikh Hasina today lambasted her arch rival Khaleda Zia for what she said "shedding crocodile tears" for militant suspect Golam Faizullah Fahim who lost his life in "crossfire".
"The person [Fahim] who attacked a Madaripur college teacher was caught red-handed by the local people. My question is why Khaleda Zia is shedding crocodile tears for him?" the premier said while participating in the discussion on national budget for 2016-17 fiscal.
She also congratulated the local people who captured Fahim after he along with other accomplices attacked the teacher in Madaripur.
On June 23, Khaleda said Fahim was killed in "a state-managed drama". "Police said Fahim was killed in crossfire, but actually it was not crossfire. He was just killed," Khaleda said at an iftar party at a hotel in Dhaka.
Today, criticising Khaleda for the remark, Hasina also said the comment proved that BNP-Jamaat has links to these secret killings.
"They're trying to create an unstable situation in the country through such killings as people restricted their evil moves earlier when they were engaged in killings through arson attacks in broad daylight."
On the secret killings, PM said, "For those who will commit such killings, we'll surely take action against them regardless of who they are. It is our duty to provide security to the people and we are very much aware in this regard."
Hasina also blamed Khaleda for her "continuous falsehood" at iftar mahfils.
Saying that her government took a stern stance not to allow any terrorism and militancy in the country, she added: "We also won't allow anyone to use our soil to commit terrorism and militant activities in others' land."
Hasina, also leader of the House, said the government has demonstrated a very strong stance in this connection.
"Still, some incidents are taking place. We are taking immediate actions against these. Law enforcement agencies are very much aware about these," she said.
The PM said there was a plan to carry out some big incidents in the country. "But our intelligence agencies gave us information in due time and we tackled those."
In a scripted answer, she said her government is firm to establish the rule of law, upholding the basic human rights of people through curbing militancy and terrorism.
On the progress of the Padma Bridge construction, Hasina said it would be possible to open the bridge for traffic by 2018 as the construction work is progressing satisfactorily.
Replying to another query, Hasina said around 106.5 million people have got jobs at home and abroad in the last seven years despite volatile situation in the labour market in Middle East and North African countries.