Pakistan voters mull options as curtain falls on polls campaign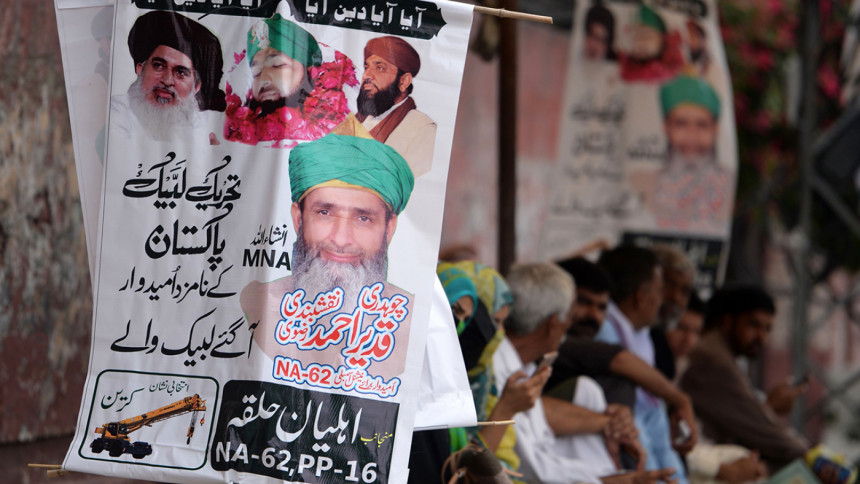 As election campaigns came to a close last night, Pakistan Muslim League-Nawaz (PML-N) and Pakistan Tehreek-i-Insaf (PTI) leadership rounded off their campaigns by predicting victory for themselves in the July 25 elections whereas Pakistan Peoples Party chairman promised a progressive Pakistan with a commitment to democracy.
On the last day of canvassing, PTI chief Imran Khan addressed four meetings in Lahore, PML-N president Shahbaz Sharif concluded his party's election campaign by holding a public meeting in Dera Ghazi Khan, while PPP chairman Bilawal Bhutto-Zardari addressed people in Shahdatkot, Garhi Khairi, Jacobabad, Shikarpur and Garhi Yasin before going to the graves of former prime ministers Benazir Bhutto and Zulfikar Ali Bhutto.
The election campaigns had picked up late this time but political leaders continued with their campaigns and remained undeterred despite multiple terror attacks targeting election candidates and activities and a threat warning issued by the National Counter Terrorism Authority to 65 political leaders.
Elections will take place on July 25 (tomorrow) and polling will continue from 8:00am to 6:00pm.
In Lahore, all the parties came out on the streets for a last splurge before the election under a cloudy sky. Rain in various parts of the city forced change of venue for many rallies and cancellation of some others. Khan's rallies in various constituencies represented the last PTI attempt to show that it was capable of toppling the PML-N. The participants in the PTI rallies matched the enthusiastic PML-N followers who attended Hamza Shahbaz's public meeting, as well as the rallies taken out by other PML-N candidates all over Punjab.
As PTI chief Imran Khan addressed four meetings In Lahore, PML-N president Shahbaz Sharif concluded his party's canvassing drive with a public meeting in Dera Ghazi Khan. The PML-N gave the job of concluding its election campaign in Lahore — the party's stronghold where it has traditionally organized large rallies to round off its election campaigns in the past — to Hamza Shahbaz who spoke to a large crowd at the historic Mochi Gate, which falls within his constituency NA-124. His father and PML-N president Shahbaz Sharif was scheduled to end his party's campaign in Rawalpindi, which the PML-N had apparently chosen over Lahore as the venue for its final meeting due to the great significance attached to the electoral contest in the garrison town. However, he was still in DG Khan till the filing of this report an hour and a half before midnight.
Addressing the crowd in DG Khan, Sharif spoke about the achievements of the PML-N government, urging the people to vote for his party to "free Nawaz Sharif and Maryam Nawaz from jail".
"Despite all odds PML-N is winning the July 25 polls. We will form the government at the Centre and in Punjab as our victory is certain," he told the gathering in the southern district of the province.
Both PML-N dissident Chaudhry Nisar Ali and Awami Muslim League chief Sheikh Rasheed are in the run for national seats from Rawalpindi with Imran Khan and senior PTI leader Asad Umar vying for the honours from the adjoining Islamabad. The PML-N itself has some of its top-notch leaders such as former prime minister Shahid Khaqan Abbasi and Tariq Fazal Chaudhry contesting from the same area.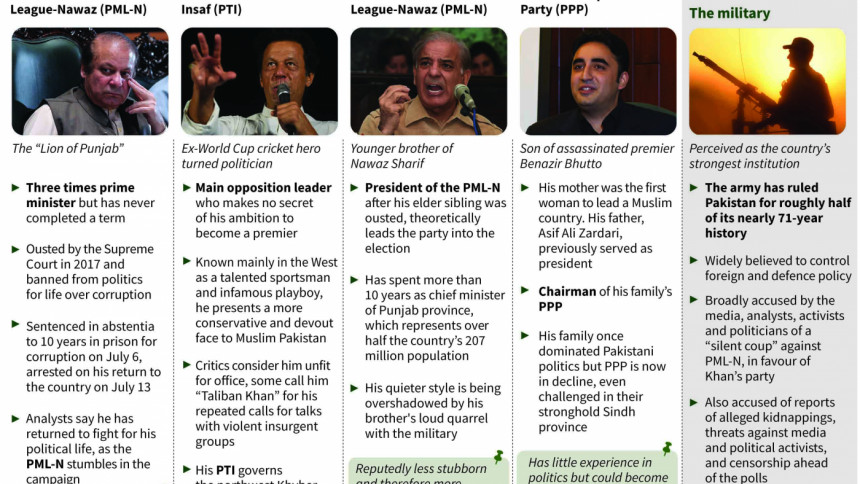 The Pakistan Peoples Party (PPP) candidates in some areas also strived for last-minute appeals to the people for vote as did nominees of other parties including those belonging to Labaik Tehreek Pakistan of Khadim Hussain Rizvi and Allah-o-Akbar Tehreek of Hafiz Saeed. To the surprise of many, the processions taken out by the religio-political parties were quite long, especially considering that some of these groups are taking part in the general election for the first time in most areas of the province. Even in Lahore, these groups appeared to have a bigger presence in the city on the eve of election than many old political parties like the PPP.
Khan addressed rallies at strategic points in the city to prop up his party's chances for July 25. One of his rallies was organized in the constituency from where he himself is a contestant, facing a big challenge from tough-talking PML-N's Khawaja Saad Rafique. He not only predicted victory for himself but also forecast a clean sweep of all 14 national and 30 provincial assembly seats in Lahore by his party.
Addressing his supporters, Khan said the PTI was on the verge of bringing the change that he had been promising to the people. "This is the time to change your destiny. You must come out to vote on July 25. You must bring others out to vote on the day," he concluded.
PPP chairman Bilawal Bhutto-Zardari ended his election campaign in Larkana on Monday night by offering fateha at the Bhutto mausoleum after visiting Shahadkot, Garhi Khairi, Jacobabad, Shikarpur and Garhi Yasin.
At the public meetings, the PPP chairman reiterated his party's commitment to democracy. "During my entire campaign, I have taken PPP's Manifesto everywhere with me. The reason is simple: I want to let the people of Pakistan know what the PPP stands for. We believe in freedom, democratic principles and we want the best for our nation," said the PPP chairman.
He spoke about how other parties indulged in point-scoring and calling each other names while the PPP leadership actually raised issues related to the well-being of the people of Pakistan. "We have never resorted to name-calling. Such tactics are only used by those who don't have anything substantial to say. I am here to serve my nation; nothing else matters. Fulfilling Shaheed Mohtarma Benazir Bhutto's mission is my ultimate goal."
Chairman PPP said he believes in a progressive Pakistan. "We will defeat extremism and terrorism. We will make Pakistan a tolerant country. While some leaders have only perpetuated a culture of intolerance in our society, the PPP leadership has set an example of civilised discourse. We cannot allow our society to be exploited by the forces of extremism. This is a very dangerous route and we must not go down this road, ever!"
Copyright: Dawn/ Asia News Network