Not a single arrest made without warrant
Home minister says about BNP's allegation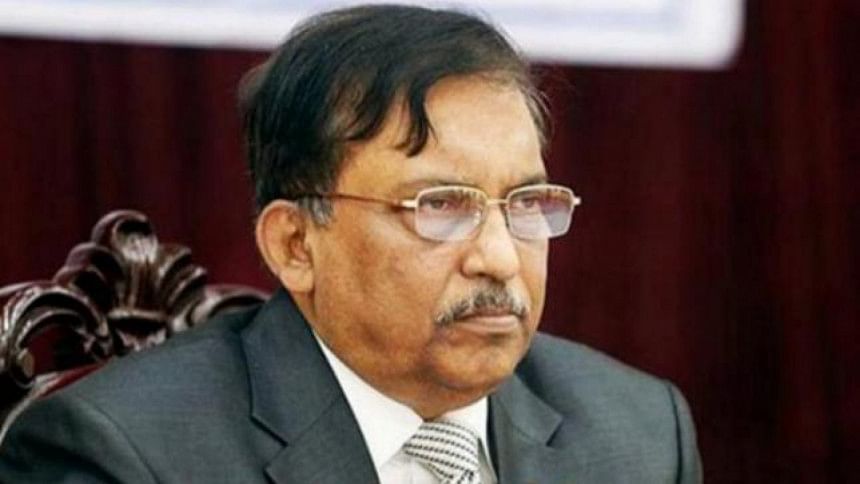 Refuting BNP's allegation of indiscriminate arrests of its leaders and activists, Home Minister Asaduzzaman Khan yesterday termed it "propaganda" and said not a single arrest has been made without warrant.
Bringing such allegations is a political strategy of BNP, the minister claimed, adding, "Only those who are accused in specific cases are being arrested."
He was talking to reporters after emerging from the launching ceremony of "The National Plan of Action (NPA) for Prevention of Human Trafficking 2018-2022" at Bangabandhu International Conference Centre (BICC) in Dhaka.
The minister said law enforcing agencies are being controlled by the Election Commission. They are arresting or taking action as per directives from the EC, he added.
"If there is an arrest warrant against a nomination seeker, law enforcers have no choice but to arrest them," he also said.
Asked whether they have identified those who are spreading rumours on social media, he said the law enforcing agencies are working on it and stern action will be taken against those involved.
While replying to a query about newspapers publishing fake news, the minister said the information ministry and EC have already been informed about it and the law enforcing agencies are working according to their instructions.
"NPA FOR PREVENTION OF HUMAN TRAFFICKING 2018-2022" LAUNCHED
United States Agency for International Development (USAID) and Winrock International jointly launched the National Plan of Action with the Ministry of Home Affairs yesterday.
For the past two years, Bangladesh has been rated as "Tier 2 Watch List country", just above Tier 3 – the lowest ranking in the US 'Trafficking-In-Persons' (TIP) report. The five-year-long project is a framework for combatting human trafficking in Bangladesh.
Terming human trafficking "modern-day slavery", speakers called for an end to this heinous crime on men, women, and children, and ensure justice for the victims of trafficking and their families, through effective implementation of laws in Bangladesh.
The home minister said the Bangladesh government has demonstrated a bold commitment in preventing human trafficking. Despite having its own problems, Bangladesh has been hosting more than one million Rohingyas coming from Myanmar, he added.
US Ambassador to Bangladesh Earl Robert Miller lauded the development and launching of the NPA. He further said combatting human trafficking is one of the US government's top priorities.
Derrick S Brown, mission director of USAID Bangladesh; Mostafa Kamal Uddin, secretary of Public Security Division at the Home Ministry; Liesbeth Zonneveld, chief of party of Winrock International, among others, spoke at the programme.