596 outlaws surrender
Lay down 68 firearms, 575 sharp weapons at Pabna event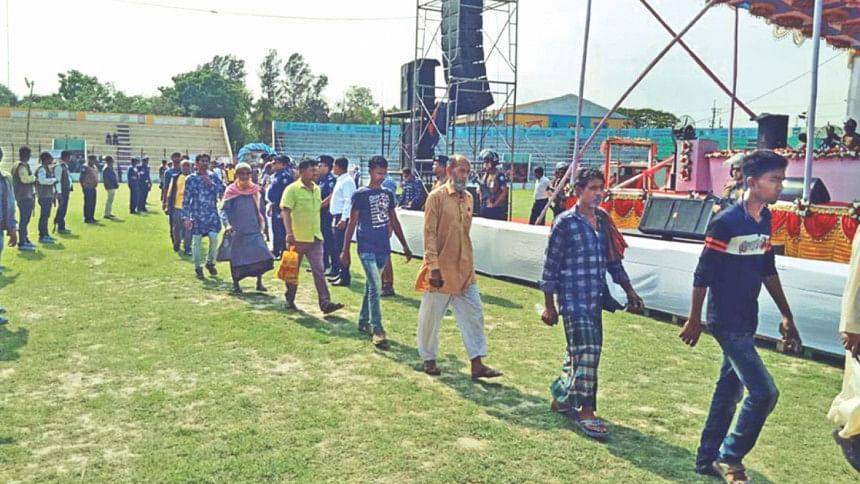 Some 596 operatives of different outlawed parties yesterday surrendered to Home Minister Asaduzzaman Khan by handing over their firearms in Pabna.
They belonged to Purba Banglar Communist Party (ML-Lal Pataka), Purba Banglar Sarbahara Party, New Biplobi Communist Party and Joypurhat-based Kadamati Party. 
Some 68 firearms and 575 sharp weapons were laid down at the surrender programme. Those were later put on display, said police.
Although 614 outlaws were supposed to surrender yesterday, some of them finally did not join the programme, said Md Rafikul Islam, superintendent of Pabna police. 
Organised by the Pabna police administration, the event was held at Shaheed Aminuddin Stadium in the afternoon with SP Rafikul in the chair.
Inspector General of Police Mohammad Javed Patwary and local lawmakers Shamsur Rahman Sherif, Golam Faruk Khandaker Prince, advocate Samsul Haque Tuku, Mokbul Hossain, Ahmed Firoz Kabir and Enamul Haque spoke on the occasion, welcoming the outlaws to normal life. 
The home minister said those who surrendered would be rehabilitated by the government. He gave each of them a gift packet.
"The government is determined to rehabilitate those who surrendered so that they can live in the society with dignity. We want other criminals to follow them for the sake of a peaceful society and a peaceful country," the home boss added.
Speaking at the programme, Abdur Razzak alias Art Babu, regional leader of Purba Banglar Communist Party (ML-Lal Pataka faction), said, "When I was a Rajshahi University student in early 90s, I chose the path of armed revolution for establishing socialism to end class discrimination. But things turned out to be different in reality. At one stage, we went on the wrong track."
Razzak said they surrendered with the hope of leading a normal life and thanked Prime Minister Sheikh Hasina for giving them the scope.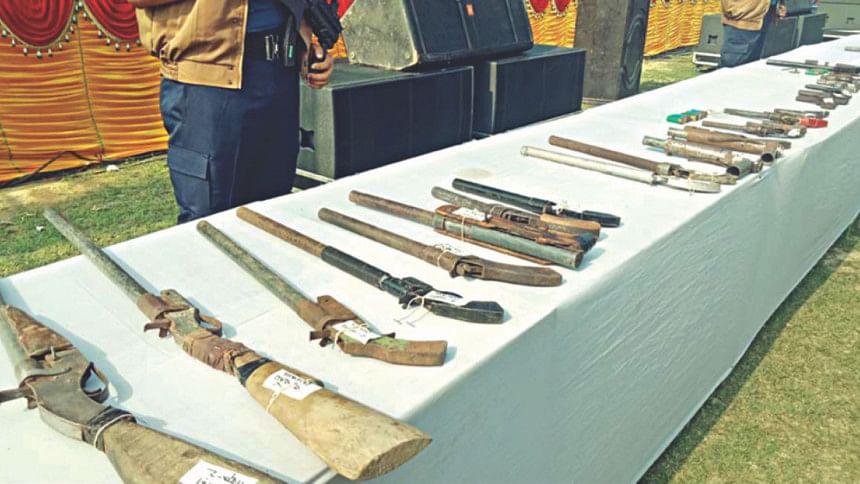 These underground ultra-left organisations are widely accused of killing, looting and robbing in the northern and southern regions. They are often locked in clash with one another.
Ratna Begum, wife of Lal Pataka operative Iqbal Hossain, said as her husband was an outlaw, he went into hiding many days. In his absence, she and her children had to go to sleep hungry many times and the kids could not go to school.
Ratna said she did not want others to suffer like her and urged the remaining outlaws to return to normal life for the sake of their families.
IGP Javed Patwary said the government is giving the criminals a chance to return to normal life.  
"We will monitor the activities of those who surrendered. But they will have to face trial in cases filed against them," he added.