Protesting JCD men come under BCL attack at JnU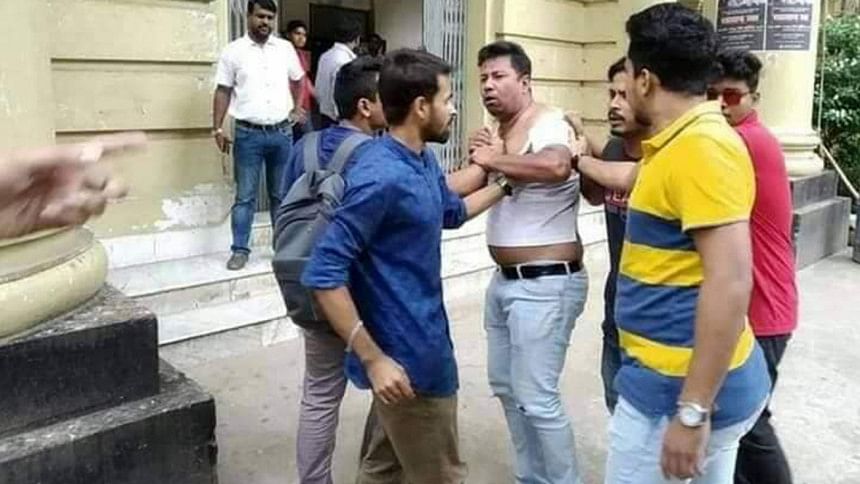 Members of Jatiyatabadi Chhatra Dal (JCD) of Jagannath University (JnU) unit came under attack allegedly by Chhatra League activists when they brought out a procession on the campus this morning, demanding punishment of Abrar Fahad's killers.

At least six leaders and activists of JCD, a pro-BNP student organisation, were injured in the attack, the Chhatra Dal claimed.

The injured are -- JnU unit's vice-president Mijanur Rahman Nahid, joint-general secretaries Ali Howlader and Mijanur Rahman Sharif, and activists Mehedi Hasan Himel, Shamsul Arefin and Jahid of JCD -- were taken to Dhaka National Medical College from where three were release after taking primary treatment.
The rest three -- Nahid, Ali and Sharif -- were taken to Islami Bank Hospital for better treatment as their condition said to be critical.

Witnesses said a group of BCL activists of JnU unit led by Atik Hasan Prince, a student of accounting and information systems department, attacked JCD men when around 30 of them were demonstrating on the campus around 9:30am, demanding punishment of Buet student Abrar's killers.

Shahriar Hossain, a JCD activist, told The Daily Star that, "BCL men swooped on us all of a sudden, leaving six of our leaders and activists injured when we brought a protest rally on the campus."

Contacted, Prince claimed that some Chhatra Dal men tried to create unrest on the campus and shouted "controversial" slogans against Prime Minister Sheikh Hasina.

"So, we chased them away," he added.

JnU Proctor Mostofa Kamal said they would take steps if anyone lodges a written complaint in this regard.

Abrar Fahad, a second-year student of EEE department, was beaten to death allegedly by some BCL leaders at the university's Sher-e-Bangla Hall sometime between 7:30pm Sunday and 2:30am Monday.

The gruesome murder has sparked widespread outrage among students of different public universities who have taken to the streets demanding punishment of the killers.