'Jamaat a threat to democracy, progress in Bangladesh'
US Congressman Jim Banks says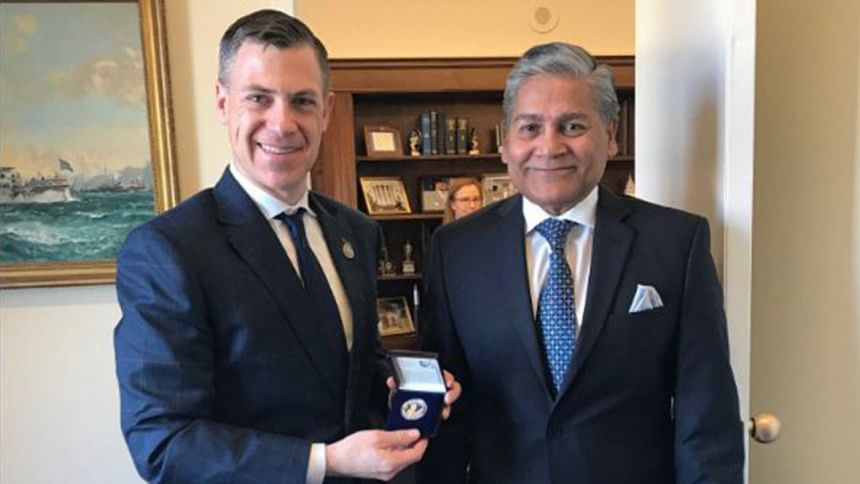 United States Congressman Jim Banks has said the US stands with Bangladeshi people seeking free, fair and safe democratic elections but cautioned that Islamist groups like Jamaat-e-Islami pose a great threat to the country's democracy and progress.
"Bangladesh is a young democracy that struggles with radical groups attempting to subvert Bangladesh's progress all while seeking political power for themselves," Jim Banks, US Representative for Indiana's 3rd congressional district, said while speaking at a panel discussion on 'Stability, Democracy, and Islamism in Bangladesh' at Hudson Institute in Washington, DC yesterday.
These violent theocratic groups have committed violent acts against religious minority Christians, Hindus, Buddhists and moderate Muslims in an attempt to silence their voices and discouraged them from participating in a democratic process, he said, according to a press release of Bangladesh embassy in Washington, DC.
Thanks to Bangladesh Ambassador to the United States Mohammad Ziauddin for meeting today. I strongly support Bangladesh's efforts to combat radical Islamist groups and affirm the rights of religious minorities. pic.twitter.com/1Avu7di6zs

— Jim Banks (@RepJimBanks) December 13, 2018
Just days ago, two campaign workers were killed and dozens injured as tensions rise before the elections scheduled to be held on December 30. Other political actors see these groups as a threat as well, he also said.
"The United States should support the efforts of Bangladesh government to combat the radical Islamist groups and to reaffirm the rights of the religious minorities," the congressman said.
The resolution he introduced has called on the USAID and the US State Department to refrain from any partnership or any funding arrangement from any organisations affiliated with radical Islamist groups in Bangladesh, the press release added.
He recalled that previous elections have been the breeding grounds for these violent radical groups who have committed hundreds of acts of violence against religious minorities, minority-owned businesses and houses of worships.
Terming Bangladesh a booming democratic country in the South Asia region with a growing presence in the global stage, Congressman Banks said, "Islamist groups like Jamaat-e-Islami threatened the country's prosperity."
The congressman also praised Bangladesh as one of the largest contributors of military personnel to the UN machines, playing a vital role in security cooperation, the release added.