Double-digit growth in next 5yrs: Finance minister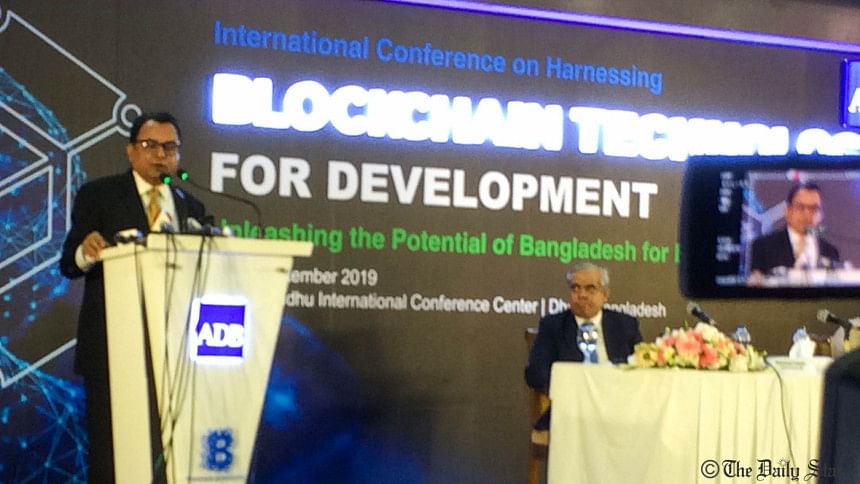 Finance Minister AHM Mustafa Kamal today said Bangladesh will achieve a double-digit growth within the next five years.
On completion of the Padma bridge, the country will see one per cent GDP growth while the other under-construction mega structures will generate the rest of the expected growth, the minister said while speaking as the chief guest at a conference of Asian Development Bank (ADB) at Bangabandhu International Conference Center in Dhaka.
Earlier this month, ADB projected 8 per cent GDP growth for Bangladesh for the current fiscal year.
ADB's Bangladesh Resident Mission organised the international conference named Harnessing Blockchain Technology for Development, calling for harnessing blockchain technology to further promote growth, inclusion, service delivery and smart governance in Bangladesh.
ADB Country Director of Bangladesh Resident Mission Manmohan Parkash in his speech said, "Blockchain is a cutting-edge high-level creative technology that can revolutionize many areas of modern life by improving transparency, accountability and efficiency in service delivery, governance, finance sector, industries, trade and other areas."
"Through this international conference, we want to introduce the blockchain technology, inspire dialogues among stakeholders, identify areas where the technology can be used to unleash the growth potential of the country," he added.
IT industry, educated youths, private sector and the government can immensely benefit by the early adoption of home-grown blockchain technology solutions to resolve problems, create new startups and jobs, attract investments from technology companies, and develop world-class business environment, Prakash further said.
Experts from Australia, India, Sweden and USA attended the event, along with policymakers, senior officials, private sector leaders and technology experts from Bangladesh. The international conference aims to unleash the potential of Bangladesh for blockchain applications, a press release of ADB read.
The ADB event also provides a venue to conduct dialogues with government, private sectors and academia to introduce the blockchain technology, and to identify areas where the technology can be used to unleash the growth potential of the country, it said.