Govt should punish money launderers, not reward them
Allowing them to whiten their money is not only immoral, but also illogical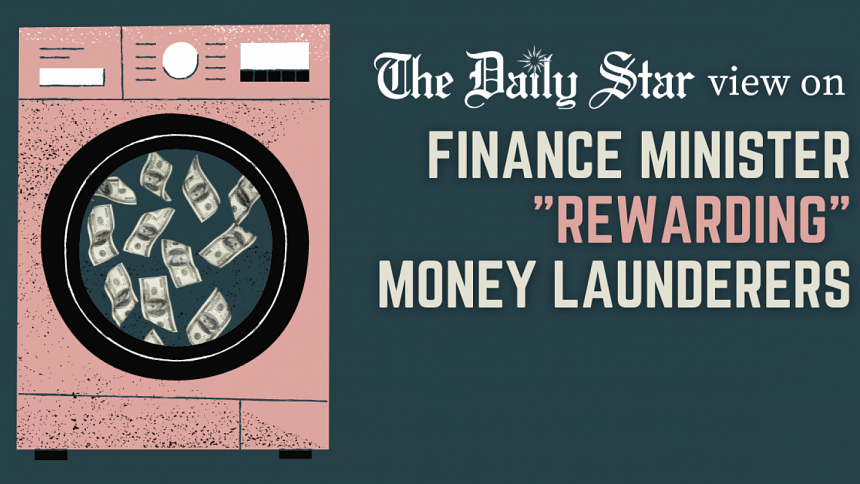 We are quite shocked at the proposal put forward by our finance minister in the proposed national budget to allow people to bring back money from abroad by paying only a nominal tax. In a post-budget discussion, he again defended the proposal and asked the concerned citizens not to oppose the move. According to the proposal, the money laundered out of Bangladesh can be legalised in exchange for only 7-15 percent tax. While the finance minister says that it will boost revenue and mobilise foreign currencies, we disagree with him and think that the move is immoral and would only encourage more money laundering in the future.
While the Centre for Policy Dialogue (CPD) has termed the proposal unacceptable and illogical from the economic, political and ethical perspective, the Transparency International Bangladesh (TIB) has said that this will give the money launderers unethical protection from the law and reward them instead of punishing them. We agree with their views and think that such a move will frustrate the regular taxpayers and businesspeople in the country. The Federation of Bangladesh Chambers of Commerce and Industry (FBCCI) has also expressed fear that this might encourage capital flight from the country.
The finance minister also gave examples of other countries such as Indonesia – which has reportedly brought back a large amount of money through such steps – to gather support in favour of his proposal. But we do not think Bangladesh's situation is comparable with any other country, because we have rarely seen the money launderers taking the opportunities given by the successive governments to whiten their money. According to the CPD, very little money has been legalised through such steps in the previous years. Why, then, is the government giving such scopes to them again and again?
While the budget has failed to address the plight of ordinary people as no substantive measures have been proposed to check inflation and rising inequality in society, giving money launderers the opportunity to whiten their ill-gotten money only goes to show the discriminatory policies of the government.
Instead of providing the money launderers further scopes for money-whitening, the government should take tough actions against them. As per our existing law, the punishment for money laundering is confiscation of the money laundered, fining them double the amount laundered and imprisonment for up to 12 years. What is stopping the government from enforcing the law and preventing money laundering from the country once and for all? Are we to believe that the government lacks the capacity, or the political will? It must take stock of its poorly thought-out policies that are enabling launderers, year after year.