Economy marches towards record 7.65pc growth
The Bangladesh economy is charging towards record growth figure for the second consecutive year, driven by double-digit growth in manufacturing and construction sectors.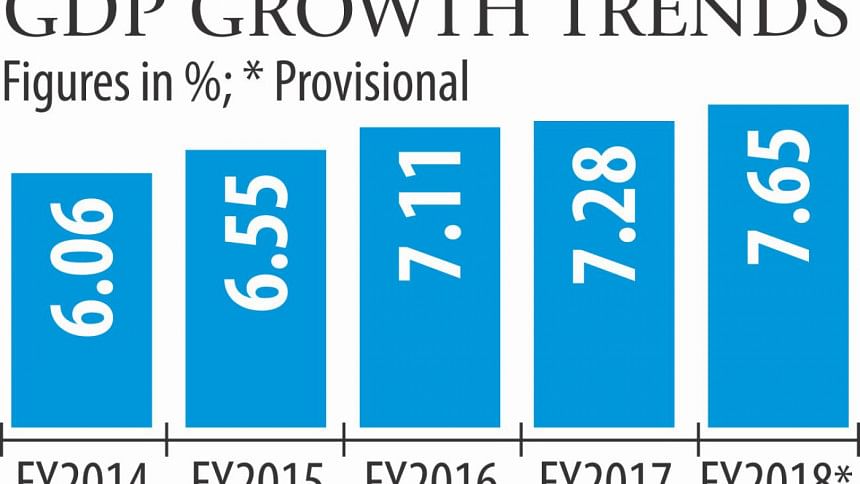 The Bangladesh economy is charging towards record growth figure for the second consecutive year, driven by double-digit growth in manufacturing and construction sectors. 
GDP growth in fiscal 2017-18 is likely to be 7.65 percent, up from 7.28 percent a year earlier, as per the estimate of the Bangladesh Bureau of Statistics.
This is the third consecutive year that the economic growth was above 7 percent after years of languishing in the neighbourhood of 6 percent.
The rise in construction growth is attributable to progress in implementation of mega projects and increased growth in housing construction, stimulated, among others, by recovery in remittance, said Zahid Hussain, lead economist at the World Bank's Dhaka office.
The provisional estimates show that the manufacturing sector grew 13.18 percent this fiscal year and the construction sector 10.11 percent.
"The final figures may be higher," said Planning Minister AHM Mustafa Kamal while unveiling the provisional estimates at a press conference held at the National Economic Council auditorium after the meeting of the Executive Committee of the National Economic Council.
The provisional figures are based on data from the past 6 to 9 months.
Various macroeconomic indicators are now showing positive trend, he said, citing export and remittance as examples.
"Due to these causes, growth was good. Besides, there is no depression in world economy, which also helped," the planning minister added.
Kamal's disclosure comes after Finance Minister AMA Muhith on Sunday said the economy is on track to log in better GDP growth figures than last year even though it is an election year.
The BBS data shows that the agriculture sector, whose contribution to the GDP is 14.10 percent, grew 3.06 percent in fiscal 2017-18, up from 2.97 percent last year.
The services sector, whose contribution to the GDP is 52.85 percent, grew 6.33 percent this year, down from 6.69 percent registered a year earlier.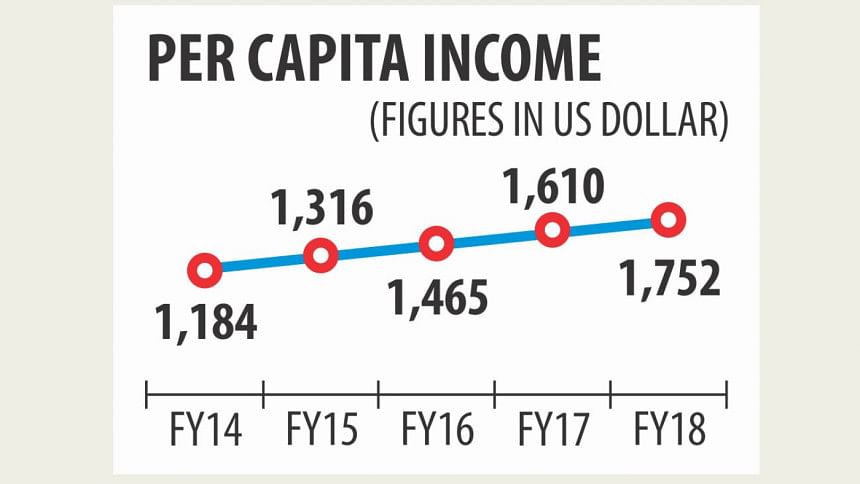 There was a decrease in growth of wholesale and retail trade, transport and communication, financial intermediation, education, health and social work sectors. Only hotel and restaurants saw higher growth.
The industrial sector, whose contribution to the GDP is 33.71 percent, grew 11.99 percent against 10.22 percent in fiscal 2016-17.
The work of various mega projects including the Padma bridge and metro-rail are advancing rapidly, said the BBS report.
"Investment in both the public and private sectors is rising this year. In the construction and housing sector, there is a positive trend this time. This is why the industrial output is increasing," Kamal said.
Hussain though found the manufacturing sector's growth to be puzzling.
"Where did it come from? Is it exports?  Clearly not, because the export to GDP ratio has declined to 14.04 percent from 14.36 percent. Is it addition of new manufacturing capacity?  Again, the answer appears to be no."
The private investment to GDP ratio increased marginally from 23.1 percent in fiscal 2016-17 to 23.25 percent in fiscal 2017-18. 
"This leaves increased capacity utilisation as the source of such high manufacturing growth.  Was there so much slack in manufacturing to begin with?"
But, gas production is projected to increase by 1.32 percent, coal production declined 20.47 percent, electricity production plus imports increased 9.4 percent, and industrial raw materials import in nominal dollars increased 8.2 percent.
Employment in manufacturing increased 2.3 percent in 2017, according to the latest labour force survey. 
"Growth in none of these inputs mirrors the image of 13.2 percent manufacturing growth. Hence, the puzzle," he added.
Meanwhile, at the Ecnec meeting yesterday, the planning minister presented the GDP size and per capita income in dollar term.
In dollar term, the GDP size is $274.5 billion this fiscal year, which was $249 billion last year. The country's per capita income is $1,752, which was $1,610 in fiscal 2016-17.