BNP accuses govt of destroying leather industry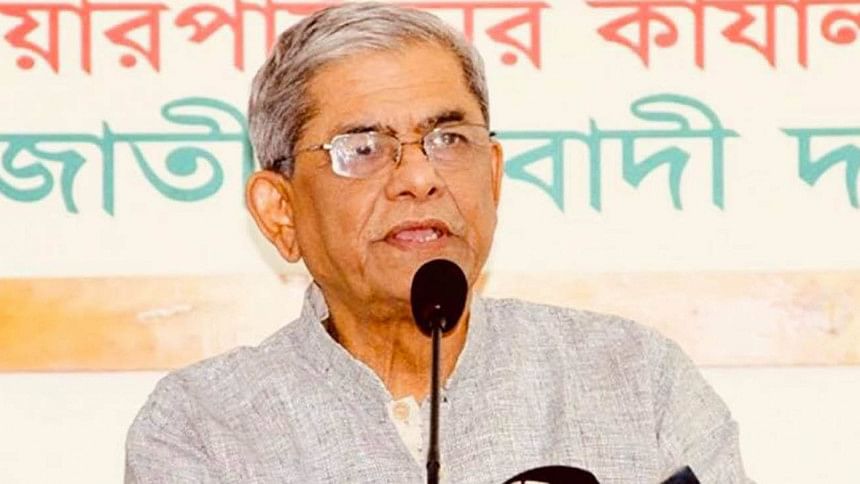 BNP today alleged that the government has destroyed the leather industry after that of jute in a planned way to make the country dependent on others.

"We earn foreign currency through the leather industry as huge rawhides are collected after every Eid-ul-Azha, but the government has destroyed it in a planned way. They did so in the past too," said BNP secretary general Mirza Fakhrul Islam Alamgir.

Speaking at a doa mahfil, he further said, "The government has made a good progress in making Bangladesh a subservient country as part of its far-reaching plot. They (govt) are not only repressing people, but also playing the biggest role in turning the country into a dependent one."

BNP arranged the programme on the ground floor of its Nayapaltan central office, marking the 74th birth anniversary of party's jailed chairperson Khaleda Zia.

Party leaders and activists joined the programme and prayed for Khaleda's long life and her early recovery from illness.

Recalling their party chairperson's contributions to the socio-economic development of the country, Fakhrul bemoaned that the government has kept her in jail deliberately to cripple the country and its economy.

He alleged that the government has destroyed all the democratic institutions to hang onto power. "The judiciary has been harmed badly as it has completely lost its independence."

Branding the government as an 'unelected and fascist' one, the BNP leader said it is now oppressing political and democratic activists by establishing its 'control' over the judiciary.

Fakhrul regretted that their party still could not free their ailing chairperson through a strong movement.

He urged BNP leaders and activists to get united and organised to have their chairperson released from jail through street agitations. "We've no other alternative to intensify the movement to free her."

BNP standing committee members Moudud Ahmed, Gayeshwar Chandra Roy, Nazrul Islam Khan, Selima Rahman, vice chairmen Shamsuzzaman Dudud, AZM Jahid Hossain, Netai Roy Chowdhury, Shawkat Mahmud and senior joint secretary general Ruhul Kabir Rizvi were, among others, present.

Khaleda has been in Old Dhaka Central Jail since her conviction in Zia Orphanage Trust graft case by a lower court on February 8, 2018. The BNP chief was shifted to Bangabandhu Sheikh Mujib Medical University on April 1 last for treatment and she has been staying there since then.

Her party said she turned '75' on Thursday, though there is a controversy over her actual birthday and year.

As in the last previous three years, BNP had no programme of cutting any cake to celebrate the birthday in the early hours of Thursday.

Amid criticisms by Awami League leaders for celebrating her birthday on the National Mourning Day, BNP marked her 72nd and 73rd and 74th birthdays through holding doa mahfil instead of cutting any cake.