Aynaghor: leather footwear by Sumaya Khan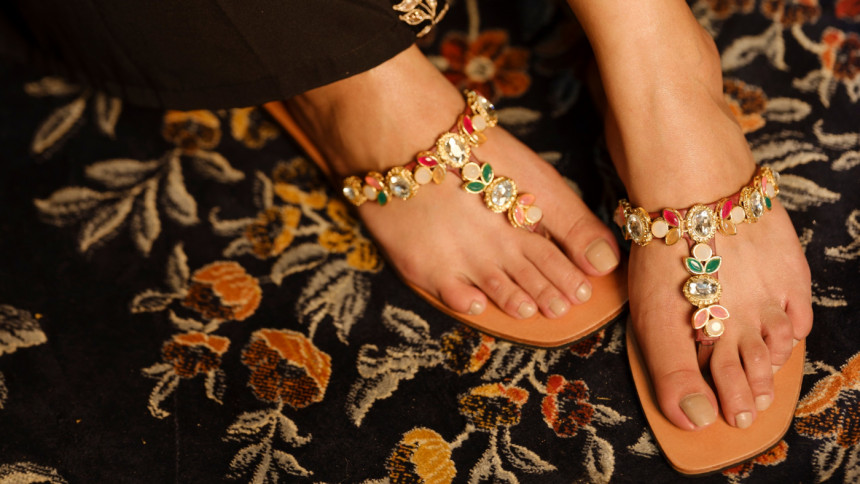 Sumaya Khan, the name and creative brains behind the illustrious clothing brand, Sumaya Khan Couture, has diversified. Taking her apparel brand a notch further in the style game, the talented designer has recently launched her own handcrafted leather footwear collection, Aynaghor.
A shoe enthusiast and collector herself, Sumaya knew that if she had to expand her brand, she would definitely go into shoes.
"The interest was always there since I love shoes. But producing shoes from scratch was a very new and educational experience for me," says Sumaya Khan.  
After a year of continuous learning along the job, Sumaya was finally ready with Aynaghor.
Aynaghor literally means a mirrored room and just like its name, the collection is designed in a way that makes women feel pretty and dressy, just like a flattering mirror.
A festive footwear collection, Sumaya maintains that Aynaghor does not go by any particular theme. However, her sleek and stylish sandals in soft, luxurious leather, embellished gold jutis, open-toed sandals with embroidery, pearl meshing or heavy stone work, and a whole lot of other classy and elegant designs are a delightful marriage between style and functionality.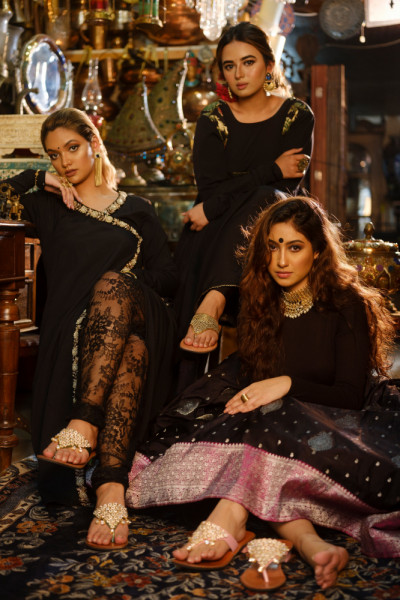 Not a fan of fast fashion, Sumaya Khan believes in durability in her products, be it clothes or footwear. "I wear and test my shoes for a few months to know if they are comfortable enough and sturdy enough for my customers."
Simultaneously, the young designer is also doing her bit towards the environment and society. "Shoe-making is a dying art — our grandmothers probably used to wear custom-made shoes. But now, the artisans are old and this art will have no continuity once they are gone."
To revive the almost-extinct skill, Sumaya made sure all the shoes in her collection were handcrafted. As a young entrepreneur, and a female one at that, Sumaya went through her fair share of problems.
"The artisans were rigid in their processes and would seldom be open to ideas. I could tell that they did not like being told what to do, especially by a woman. A man would have had an easier time getting them to comply." Learning the craft and the business was no small feat either but the determined and zealous businesswoman did not give up. "We don't have the effortless connection with our shoe-makers that we have with our tailors, for instance. So, understanding the art was difficult. I'm still learning."
As someone who is just wetting their feet in the shoe making line with this venture, Sumaya has received staggering response from customers. Until now, her shoe collection was being sold online but she has opened the doors of her own studio to her customers in Banani on 15 June, 2022.
Graciously sharing a sneak peek into her next collection, Sumaya mentioned bringing out boots for her winter shoe collection. "These will be traditional too, you'll see," she adds sneakily. The designer also plans to bring out a western shoe collection and a selection of pure leather bags to complement her clothes and shoes. If the quality and glam of Aynaghor are anything to go by, we can be sure that winter at Sumaya Khan Couture will be nothing short of extraordinary!
The handcrafted leather footwear collection, Aynaghor, is available at Sumaya Khan Couture Road 18, House 15, Block A, Banani, Dhaka.