Khaleda challenges sedition trial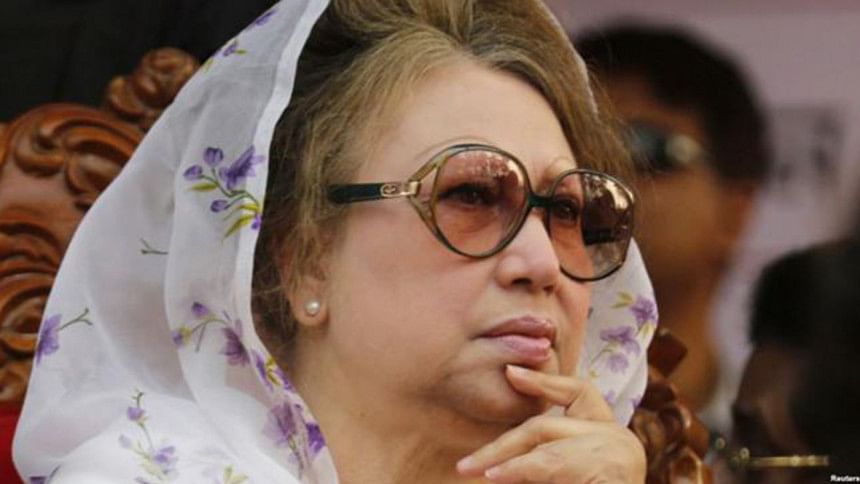 BNP Chairperson Khaleda Zia has filed a petition with the High Court challenging the trial proceedings of a sedition case against her.
She submitted the petition through her lawyers on January 5 praying to the HC seeking stay on the proceedings of the case which was lodged for her comments on the count of 1971 martyrs.
Deputy Attorney General Md Bashirullah told The Daily Star that the former prime minister said in her petition that Supreme Court lawyer Momtaz Uuddin Ahmed Mehedi, who is the plaintiff of the case, has no right to file such a case, as he is not a government official.
There is no ingredient of sedition in her comments for which the case was filed, he said citing from the petition. 
The bench of Justice Syed Muhammad Dastagir Husain and Justice Md Ataur Rahman Khan might hold hearing on the petition tomorrow, DAG Bashirullah said.
He said in the case complainant Momtaz Uuddin Ahmed Mehedi alleged Khaleda Zia on December 21, 2015 at a programme organized by Jatiyatabadi Muktijoddha Dal marking the 45th Victory Day said "there are controversies over how many were martyred in the Liberation War." 
The news was published in different newspapers the following day which hurt the complainant and it was tantamount to sedition.
She also said, "he (unpronounced name of Bangabandhu Sheikh Mujibur Rahman) did not want independence of Bangladesh, he (Bangabandhu) wanted to be prime minister of Pakistan, liberation war would not take place if Ziaur Rahman did not declare independence" adding that she made the comments to create division among patriotic people.  
A Dhaka court on August 10 last year accepted the charges against Khaleda in the case for its trial.