JCD wants peaceful coexistence on DU campus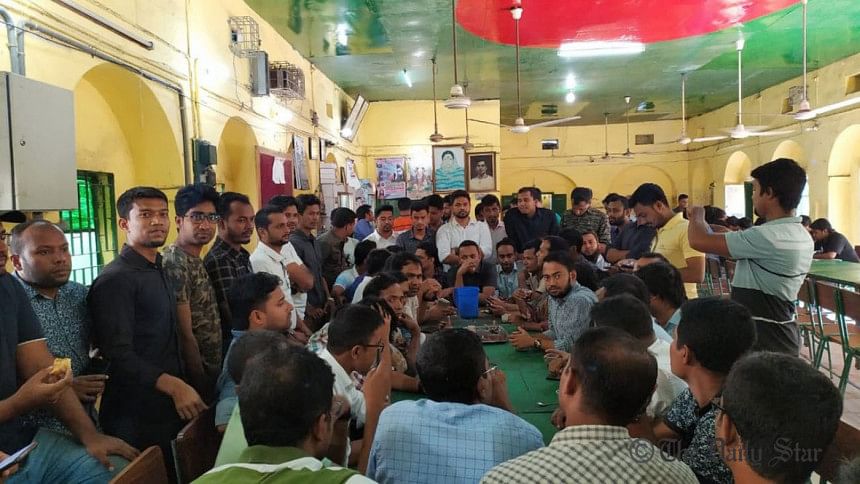 A day after being declared as persona non grata on the campus and beaten by Chhatra League men, Jatiyatabadi Chhatra Dal (JCD) leaders today entered Dhaka University campus and passed some time peacefully.
JCD DU unit President Al Mehedi Talukder and acting general secretary Hafizur Rahman along with over 100 Chhatra Dal activists started gathering at the Madhur canteen from 10:00 am to 1:00 pm.
"We pass some time on the campus peacefully and we want peaceful co-existence of leaders and activists of all student organizations," Tariqul Islam, joint convener of JCD SM Hall unit of the university.    
Leaders and activists of the ruling party's student wing Bangladesh Chhatra League were also seen staying there at the same time.
On Sunday, four JCD leaders and activists were injured in an attack carried out allegedly by a group of BCL and Muktijuddho Mancha activists when some JCD activists were attempting to go to the canteen.
On that day, Muktijuddho Mancha organised a press conference there, protesting a Facebook post by JCD General Secretary Iqbal Hossain Shyamol and alleged that the post went against the spirit of Liberation War and Father of the Nation Bangabandhu Sheikh Mujibur Rahman.
Apart from declaring the student body persona non grata on the campus, they also urged the government to ban BNP and its student body JCD and Jamaat and its student front Islam Chhatra Shibir.