DU's BCL-JCD activists clash near High Court; gunshots heard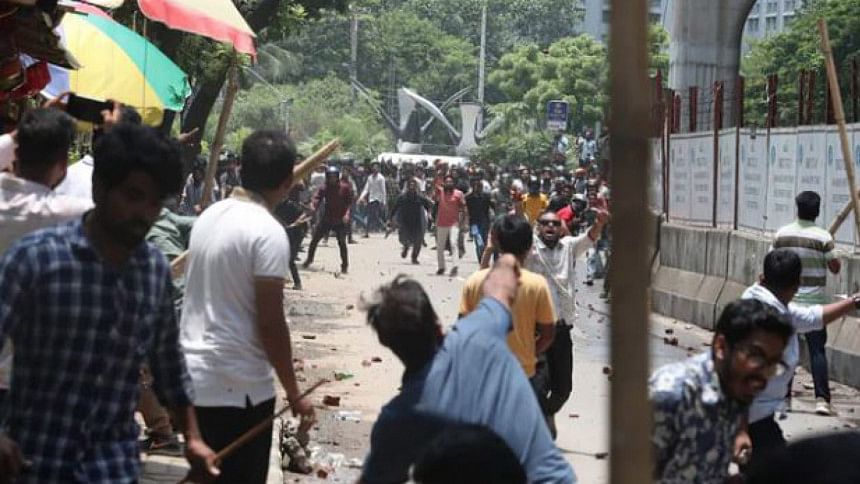 Activists of Bangladesh Chhatra League (BCL) and Jatiyatabadi Chhatra Dal (JCD) clashed near the High Court, adjacent to Dhaka University campus, this afternoon.
The incident occurred two days after BCL activists reportedly beat up JCD counterparts on DU campus.
Witnesses said today's clash started when BCL activists attacked JCD leaders and activists in front of the High Court when the latter group was on its way to DU campus around 12pm.
Some of the JCD activists managed to enter the High Court area but the BCL activists chased them and beat them up inside the court premises.
At one point, two Chhatra Dal activists lost consciousness but the BCL activists were still beating them with rods and sticks, the witnesses said.
Gunshots were heard during the clash. The Daily Star, however, could not independently verify which side opened fire.
Akhter Hossain, convener of JCD's DU unit, claimed that the leaders and activists of BCL city unit and BCL leaders, activists of Shahidullah Hall unit started the attack. BCL activists also fired two bullets during the attack, he claimed.
"At least 30 of our activists were injured in the attack and were receiving treatment at different hospitals. However, none was hit by bullets," Akhter said.
Denying the allegation, Saddam Hossain, general secretary of BCL's DU unit, said, "The JCD group was resisted by general students when they tried to enter the campus with guns and other weapons. At least 10 general students were injured while resisting the JCD members."
Contacted, Prof Golam Rabbani, proctor of Dhaka University, said, "I have informed the law enforcement agencies so that no one can destabilise the environment of the campus. Security has been beefed up on the campus."