NRC a threat to Bangladesh's sovereignty: Fakhrul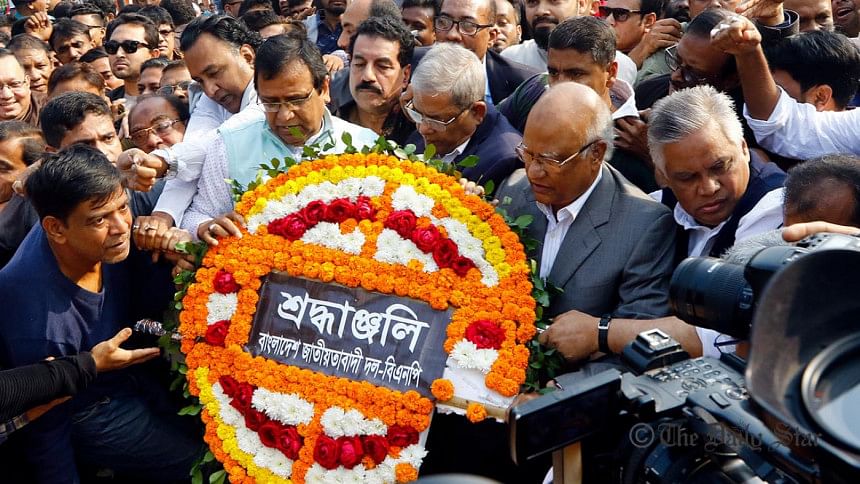 Expressing concern over the National Register of Citizens (NRC) in India's Assam, BNP Secretary General Mirza Fakhrul Islam Alamgir today said NRC is a threat to Bangladesh's independence and sovereignty.
The NRC will an unstable situation not only in Bangladesh but also in the entire subcontinent, he said.
The BNP leader was talking to reporters after placing wreath at the Martyred Intellectuals Memorial in Mirpur to pay homage to the martyred intellectuals on the occasion of Martyred Intellectuals Day today.
Country's people are concerned over the NRC but the government is nothing doing about it, Fakhrul alleged.
Over the cases filed against BNP leaders and activists, the BNP leader said the government is attempting to stun all democratic political parties from their activities by filling "false" cases.
"We will have to united the whole nation and fight together to restore the democracy across the country," he said.
He urged countrymen inclining party leaders to follow the paths of martyred intellectuals to protect the country's sovereignty and restore democracy.   
More than 19 lakh out of about 3.3 crore applicants have been left off the final National Register of Citizens (NRC), published on August 31.
The NRC authority headed by the apex court-appointed State Coordinator Prateek Hajela released the final NRC on its official website and through its social media handles.