I will be back, Khaleda tells weeping relatives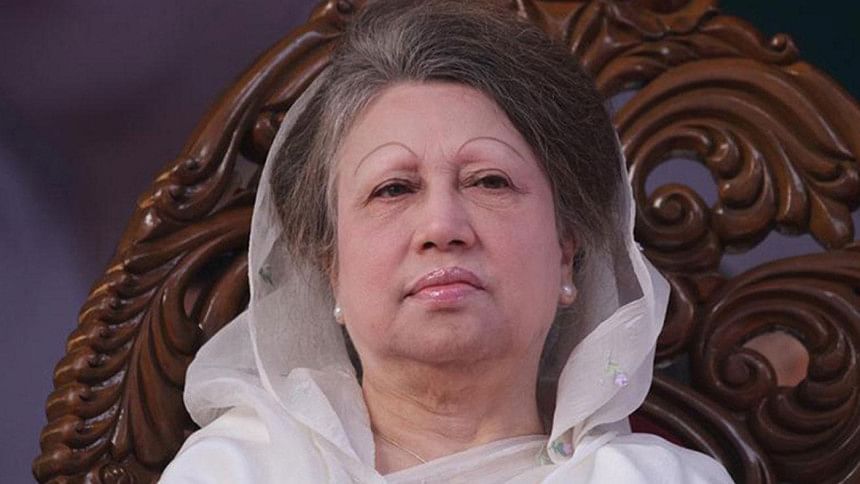 Wearing an off-white sari, BNP Chairperson Khaleda Zia, offered her prayers and comforted her relatives, most of whom, were in tears, as she boarded her motorcade from her Gulshan residence on way to the court set for delivering verdict in Zia Orphanage Trust graft case today.
As she was leaving her Gulshan residence – Feroza -- around 12:00pm, many of her relatives broke down in tears.
"There is no need to cry. I will be alright. You all wait, I will be back. Do not worry and be strong," Khaleda said while trying to comfort her weeping relatives.
Khaleda's elder sister, her sisters-in-law, her younger brother, nephews, members of Arafat Rahman Coco's in-laws' family, Nazrul Islam Khan, Barrister Kaiser Kamal, Barrister Nawshad Jamir and Lawyer AZ Mohammad Ali were accompanying the BNP chief to the court.
She also talked to her son Tarique Rahman, currently residing in England who has also been convicted in the Zia Orphanage Trust Graft case, his wife Zubaida Rahman and her granddaughter over phone before leaving her residence.
She also called the widow of her son Arafat Rahman Koko and his daughter. 
Khaleda Zia was carrying all her prescription medicines with her on her way to the court.
The night before 'Zia Orphanage Trust Graft Case' verdict
Following her press conference yesterday evening, the BNP chief sat for a meeting with the senior leaders of the party on the second floor of her Gulshan office and discussed the details of the Zia Orphanage Trust Graft case.
She urged her party leaders to be patient and said, "I have no fear about jail term and I am not bothered about that."
The BNP chief also asked her party leaders to maintain the unity of the party, before leaving the office around 9:10pm yesterday. On the other days Khaleda Zia usually stays at the Gulshan office till 12:00am to 12:30am.
As she left the Gulshan office last night, many women leaders and supporters of the party, including singer Baby Naznin, followed Khaleda's car in tears.
BNP Secretary General Mirza Fakhrul Islam Alamgir was the last to leave the Gulshan office.